Alibris Cares about education
With our love of books, education is a top priority for our company.
We were honored to partner with Year Up in 2009 by working with Ruben Molet, a Year Up apprentice. Ruben apprenticed with Alibris and immediately impressed us with his eagerness and intelligence. He has since graduated from Year Up, earning much praise, a special award for excellence, and an educational scholarship. We were so happy to have Ruben on board as an intern that we hired him when he graduated from the program! He's now helping to keep our desktop computers humming. Meet Ruben in the following video: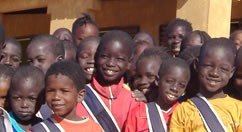 We actively support buildOn by volunteering at a Bay Area school and by funding the construction of two schools in Senegal. The school in Longhore was completed on December 8, 2008, and the school in Mboyenne was completed on January 18, 2009. As you can see in this photo, the kids are so happy with their new schools!
Through DonorsChoose.org we donate money to help local teachers purchase much-needed supplies for their classrooms.
The Alibris Collection Award is presented each year to two deserving libraries in the United States. This $3,000 grant is shared by the winning libraries and supports projects that advance the missions, priority areas, and goals of the selected libraries.

Can I Lick the Spoon? is a community cookbook that we published to benefit Laurel Elementary School in Oakland, California—compiled by the school's children, the folks at Alibris, and San Francisco Bay Area celebrity chefs. The kids at Laurel benefited for three years every time we sold one. This was such an amazing project that we received a community service award in 2000 from former President George H.W. Bush's organization, the Points of Light Foundation.
Inevitably, we have books that are usable but have not sold. Through an international program, DCWC Nepal, we have donated some of these to children in Nepal. We also donate many books to local organizations in Sparks, Nevada, where our distribution center is located.
We also receive review copies of many books. We donate boxes and boxes of these books to local libraries each year, where they remain in circulation for years and are enjoyed by scores of children and adults.
Alibris Cares about community
We give back to our community, as a company and as individuals.
Projects to support the community include:
As a company, we purchase our office supplies, including recycled printer paper, through Give Something Back. They donate more than half of their after-tax profits to community-based organizations.
At the holidays, employees choose two organizations to receive donations. Past recipients include the following:
Alibris employees receive two Community Service days per year, so we can give back without taking time from our own personal responsibilities.
Alibris Cares about our environment
A big part of our business is devoted to recycling and re-use.
Every time someone buys a used book, CD, or DVD from the Alibris marketplace and keeps it from ending up in a landfill, that's a benefit to the environment.
And we do much more—from using energy-efficient light bulbs in our corporate offices to supporting the bike-to-work movement by making it easy for our employees to get to work on two wheels instead of four.

Our Red & Green Team is a volunteer employee committee that regularly meets to discuss "matters of the heart and the earth." These meetings result in tangible recommendations that benefit our communities and our planet.
We use compostable products at our company events and even compost our coffee grounds.
We provide employees with vouchers for public transportation and van-pooling through the Commuter Check Program. In promoting the use of public transportation, we're doing our part to help improve air quality by reducing traffic congestion. Commuter Check is a pre-tax benefit so our employees also save on taxes.