O.K., so I'll admit it: everything I know about Young Adult books I learned when I was, well, a young adult. And at the risk of giving away my age (is it revealing too much that Men at Work is my favorite band?), let's just say there've been more than a few best-selling series released since I bid a fond farewell to my days as a young adult. And no, I'm not talking about the Lord of the Rings. I'm not that old.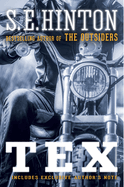 Thinking back, I'm starting to realize just how many great books I read—and still remember, as a teenager. Books like A Separate Peace, Catcher in the Rye, Lord of the Flies, Flowers for Algernon, and The Outsiders. Tangent: Is there anyone out there who didn't go through an S.E. Hinton phase? For me, it started with The Outsiders, then quickly spread to Rumble Fish, Tex, and That Was Then, This Is Now. Greasers, Socs, high school gangs… I'll admit I didn't have any of the same experiences, yet the characters were so specific and the drama so real that I was captivated. And then, finding out S.E. Hinton was (and is!) a woman—and published The Outsiders when she was just a freshman in college! Wow. Mind = blown.
Now would be a great time to bemoan the utter lack of quality Young Adult books for today's, um, Young Adults, but you know what? There's some seriously great stuff out there. Of course, everyone will point to the Hunger Games trilogy and Harry Potter phenomenon as good examples—and who am I to disagree (by the way, I just saw the trailer for Catching Fire tonight and I can't wait to see it). But just looking over some of the biggest Young Adult books of the last decade years, it's obvious that the range and quality of literature for teenagers is just as good as it ever was.
The Perks of Being a Wallflower, The Book Thief, and most recently, the Divergent trilogy (to name just a few)… all these wonderful books have spent weeks on the New York Times Bestseller list, but couldn't be more different in their themes. Tangent: One thing they do have in common: all three have either been or are being made into feature films, and what's up with that? Why do Young Adult books make such endearing and popular movies (I mean, c'mon, "Stay Gold, Ponyboy!")? Is it the highs and lows of adolescence? The raw honesty and real emotion of growing up? Or is it because Hollywood just keeps trying to crack the code of teenage ticket-buyers?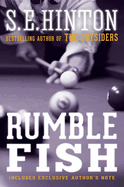 Young Adult fiction is here to stay—and honestly, may be more popular than ever. Every year, new books are published that continue to capture the hearts and imaginations of teenagers all around the world. Still, it's good to know Rumble Fish isn't going anywhere. I know my copy's in a box somewhere… shouldn't take too long to find it.
We want to hear from you! What are some of your favorite Young Adult books? Any you think deserve more credit than they get? Any you think get way too much credit? Let us know!