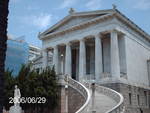 X Poems and Music by Christian
X Pubishing, Marketing and Distribution. Self-published scholastic books done professionally. LADG Labor Along Destined Geography in English with classical style. KYKLOS The Cycle of History in Modern Greek with parallel English translations and an accompaniment audio-CD sampler of bi-lingual poems with guitar tracks. Copies available. Current work in progress is only in Modern Greek. Early English poems will be a long-term release.
"Destiny is a state of mind." "There is harmony in the music of the spheres." American Made from the love of Greece. Ex-Borders Group, Inc. in-store bookseller for three years. Student university librarian for two years. Writer of poetry and Modern Greek for twenty years. Electric guitar inspired. First self-publishing of one hundred copies was a sell-out without the world-wide web. From creation and translation of a poem at the local level, to self-publishing a high-quality book with audio CD, and distributing a global bi-lingual product - I am an individual who has lived out his poetics to be capable of putting the gift of beautiful lyrics into readers' hands. Follow me on twitter: @Xristian806
E-mail X Poems and Music by Christian
Overall Seller Rating:
Alibris seller since March 2010
---
Search for books from author X Poems and Music by Christian Advanced Search
Search 4 books and 1 music item from this author
Study
Posted by X Poems and Music by Christian on September 15, 2013
Would you like to study Greek history with a modern twist? There's more than meets the eye in KYKLOS and LADG. Check out these books, or go more in depth with them. They are the results of my studies and could perhaps set you on a track of living breathing poetic life.
---