Posted December 18, 2009
We offer a broad selection of historical topics in British History, Europe, The Americas, U.S. Civil War, Military History, and much more!
---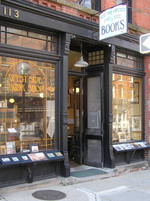 West Side Book Shop, ABAA
"Not meter but meter-making arguments make a poem" From historical criticism to continental theory, you'll find no end to our resources with parallel catalogues in Philosophy, Women Studies, Sociology, and Literature in Italian, French, German, Spanish, and much more. View our extensive array of catalogues.
Selling antiquarian and used books for over 30 years, including: First Editions, Rare Books, Americana, Fine Printing and Good Used Books in All Areas. Featuring the Thirty-Third Annual Ann Arbor Antiquarian Book Fair, Sunday, May 22, 2011, 11:00am - 5pm at the University of Michigan, Michigan Union Ballroom, 2nd Floor.
E-mail West Side Book Shop, ABAA
Overall Seller Rating:
Alibris seller since June 2006
---
Search for books from West Side Book Shop, ABAA Advanced Search
Search 4,377 books from this seller
Spotlight book from West Side Book Shop, ABAA Near Fine in J Fine jacket. 8vo Dust Jacket Condition: Fine. xii, (1), 244 pp, b&w frontis, foreword, abbreviations, Introduction, Text and Translation, notes, appendices, bibliography, indices. Edited and translated by Colin A. Ireland. Medieval and Renaissance Texts and Studies, Volume 208. "The present edition is based on...three separate recension, two of which are attributed to Flann Fina while the third is associated with Fithal"--Introduction. 7 pages of short inked lines in margins of ...
Featured books from West Side Book Shop, ABAA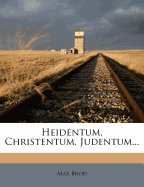 by
Brod, Max
$37.50
Very Good. No Jacket. Erster Band, 318 (1) pp, 1. Heidemtum-Christentum-Judentum (Grundriss), 2. Edles und unedles Ungluck. (Eine fundamentale Unterscheidung), 3. Das Reich der Freiheit (im Judentum), 4. Das Reich der Demut (im Judentum), 5. "Die Unvereinbarkeit des Zusammengehorigen, " 6. Die Gnade und das "Diesseitswunder, " 7. Die Liebe als Diesseitswunder. Dante. Kiekegaard. Zweiter Band, 353 (1) pp, 8. Liebe als Diesseitswunder. Das Lied der Lieder, 9. Die falsche Grundkonstruktion des ... by
Foscolo, Ugo
$27.50
Very Good- 8vo 544 (1) pp, avvertenza, Saggio sopra l'amore del Petrarca, Saggio sopra la poesia del Petrarca, Saggio sopra il carattere del Petrarca, Parallelo fra Dante e Petrarca, Sui Poemi narrativi e romanzeschi italiani, Della Gerusalemme Liberata di Torquarto Tasso, Poeti minori, Storia del sonetto italiano, Saggio di novelle di Luigi Sanvitale, Letterature italiana periodica, Sul Digamma eolico, Esperimento sopra un metodo d'istituzioni letteraria. Tradotto dal'Inglese, raccolto e ...
---
Miti, Leggende E Superstizioni Del Medio Evo. (in Uno Volume Completo) more books like this

by Graf, Arturo other copies of this book

Binding: H Hardcover Publisher: Casa Editrice Giovanni Chiantore (Successore Ermanono Loescher), Torino Date published: 1925

Description: Very Good. 8vo xix, 530 pp. Avvertenza (Premessa al primo volume dell'edizione contenente: Il mito del Paradiso terrestre; Il riposo del dannati; La credenza dei dannati), Il mito del Paradiso terrestre; Il riposo del dannati; La credenza dei dannati, La credenza nella fatalita, La leggenda di un pontefice (Silvestro II), Demonologia di Dante, Un monte di Pilato in Italia, Fu superstizio il Boccaccio, San Giuliano nel " Decamerone: e altrove, Il rifiuto di Celestino V, La leggenda di un ... Read More

Studies in Early Christian, Medieval, and Renaissance Art more books like this

by Krautheimer, Richard other copies of this book

Edition: F First Edition Binding: H Hardcover Publisher: New York University Press, New York Date published: 1969

Description: Fine. Small 4to xxviii, 464 pp, editor's preface, author's preface, Richard Krauheimer: Bibliograpy 1925 to 1967, list of 16 b&w text figures, list of 139 b&w plates, abbreviations, 21 essays, index. Pristine book in original Very Good Pictorial Slipcase. Clean, tight and strong binding with no underlining, highlighting or marginalia. Black cloth. Read More

Germany and the German Emperor more books like this

by Perris, Herbert other copies of this book

Edition: F First Edition Binding: H Hardcover Publisher: Henry Holt and Company, New York Date published: 1912

Description: Very Good-Fine. No Jacket. 8vo viii, 520 pp, Introduction, I. The Four Regions; II. The Legacy of Feudalism; III. The Legacy of War; IV. A Tragic Cycle of German Genius; V. Up From the Depths; VI. The Bismarckian Transformation; VII. The Nemesis of Force; VIII. William II. By Right Divine; IX. Welt-Politik; X. The economic Revolution of To-Day; XI. The Political Revolution of To-Morrow. First Edition, 1912. Minor edge wear with faintly age-toned text block edges, else, Pristine, no wear. Clean, ... Read More

Elementary Differential Equations and Boundary Value Problems more books like this

by Boyce, William E.; Diprima, Richard C. other copies of this book

Binding: H Hardcover Publisher: John Wiley & Sons, Inc., New York Date published: 1966

Description: Fine. No Jacket. 8vo vxi, 485 pp, Preface, 1. Introduction, 2. First Order Differential Equations, 3. Second Order Linear Equations, 4. Series Solutions of Second Order Linear Equations, 5. Higher Order Linear Equations, 6. The Laplace Transform, 7. Systems of First Order Equations, 8. Numerical Methods, 9. Linear Second Order Boundary Value Problems, 10. Fourier Series, 11. Linear Second Order Partial Differential Equations, references, answers to problem, index. Second Printing, January 1966. ... Read More

Weapons & Warfare [2 Volume Set] more books like this

by Powell, John [Edt. ] other copies of this book

Edition: F First Edition Binding: H Hardcover Publisher: Salem Press, Inc., Pasadena Date published: 2001 ISBN-13: 9781587650000 ISBN: 1587650002

Description: As New. 4to No Dust Jacket, As Issued. Vol. I, Ancient and Medieval Warfare (to 1500), xix, pp. 1-378, publisher's note, contributors, list of b&w illustrations with maps and time lines), alphabetized index of essays, categorized index of essays, Research Tools; Weapons and Forces; The Ancient World; The Medieval World; From Medieval to Modern. Vol. 2, Modern Weapons and Warfare (Since 1500), xxxiii, pp. 379-748, list of illustrations (with maps and time lines), alphabetized index of essays, ... Read More

Forgotten Frontiers: Dreiser and the Land of the Free more books like this

by Dudley, Dorothy other copies of this book

Edition: F First Edition Binding: H Hardcover Publisher: Harrison Smith & Robert Haas, New York Date published: 1932

Description: Very Good-Fine. No Jacket. Large 8vo v, 485 pp. preface, 65 chapters, conclusions. Includes maps. First Printing, 1932. Only the slightest wear to spine edges and fore-edge corner tips, and lightly age-toned text block edges, else, Pristine Interior. Clean, tight and strong binding with no underlining, highlighting or marginalia. Grayish-green cloth with printed paper labels to front board and spine. Read More

Stevens Thomson Mason-Misunderstood Patriot more books like this

by Sagendorph, Kent other copies of this book

Edition: F First Edition Binding: H Hardcover Publisher: E. P. Dutton & Company, Inc., New York Date published: 1947

Description: Near Fine in J Near Fine jacket. Large 8vo Dust Jacket Condition: Near Fine. 447 pp, preface, list of b&w illustrations, I. The Masons of Virginia, 1810-1812; II. Fresh Graves in Kentucky, 1812-1822; III. A Gentleman to See the President, 1822-1830; IV. Fauntlerop of the Frontier, October, 1830-July, 1831; V. The Beardless Moses, July, 1831-August 1834; VI. "That Young Hotsput! , " August, 1834-August, 1835; VII. Little Jack Horner, Auguist, 1835-May, 1836; VIII. Breaking Into the Union, May, ... Read More

Jasmin's Witch more books like this

by Ladurie, Emmanuel Le Roy other copies of this book

Edition: First American Edition Binding: H Hardcover Publisher: George Braziller, New York Date published: 1987 ISBN-13: 9780807611814 ISBN: 0807611816

Description: As New in J As New jacket. Large 8vo Dust Jacket Condition: As New. 222 pp, acknowledgments, list of b&w plates and maps, Jasmin, hairdresser-poet; Part I. Three Gascon Witches: Francouneto, Gerarde Mimale, Marie de Sansarric; Part II. Fracouneto; prose translation of the French version of 1842; Part III. Francouneto restored to her century; postscript, sources and bibliography, references, index. Translated by Brian Pearce. First American Edition, 1987. "This book traces account of witchcraft ... Read More

by Grey, Zane other copies of this book

Edition: Reprint Binding: H Hardcover Publisher: Grosset & Dunlap, New York Date published: 1917

Description: Frank Tenny Johnson. Very Good-Fine in J Very Good + jacket. 8vo Dust Jacket Condition: Very Good +. 320 (6) pp. Cover art by Frank Tenny Johnson with four scenes from the photoplay: When Romance Rides (A Goldwyn Picture). Not Price Clipped. Pencilled name on prelim. Two closed tears to rear panel dj with minute chips to spine corners to same. Johnson's cover illustration is partially rubbed. Only the faintest wear with age-toned text block edges. Clean, tight and strong binding with no ... Read More
---