Posted September 16, 2011
This debut poetry chapbook by Laura Schultz offers an enchanting collection of poems - vulnerable, haunting and evocative. Laura has a unique and rare depth in her poetry that reaches past the boundaries of self. She wields her paintbrush of....
---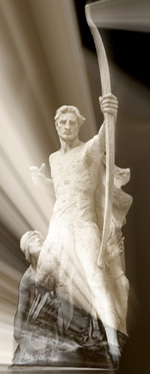 Silver Bow Publishing
We are a Canadian book publisher specializing in NEW books by international contemporary poets and vibrant new voices on today's poetry scene. We also sell NEW Music CDs all genres by international indie artists and bands. Visit our youtube channel for video samples of poetry and songs. www.youtube.com/saddlestone11
You'll find the hard to find books, and CDs HERE! We have NEW international rising stars of POETRY. We have vintage collector item books copyright 1800s. We have INDIE ARTISTS & BANDS in all genres of music. We are building our online catalogue with new entries every week, so if you can't find it this week, keep checking, you might find it next week! If you can't find it here.....we may have it hiding in our warehouse, so email us your request and we will check it out! [email protected]
E-mail Silver Bow Publishing
Overall Seller Rating:
Alibris seller since July 2011
---
Search for books from Silver Bow Publishing Advanced Search
Search 47 books from this seller
Spotlight book from Silver Bow Publishing
Entering the world of Celeste's Instructions to a Wild Tourist from the Divine Feminine is a pressing of the ear to the rumblings of your own soul. Each lyric invites a quantum leap to the place where tourism becomes homecoming and you find yourself touching the body of the earth where it touches the body of the cosmos. In these poems hear how the body sings/the body cries and whispers/ with a wash of wonder. ~ Susan McCaslin, author of The Disarmed Heart (St. Thomas Poetry Series) and Into the Mystic: My Years with Olga (Inanna) Reading Instructions to a Wild Tourist from the Divine Feminine is the most responsible action I have taken in a long time and Celeste Snowber does not miss the opportunity to divinely, without hesitation, remind me of this while reading. I feel happily obligated to share these instructions with other tourists in my life. For my colleagues, daughters, friends and others I have yet to meet, I have found perfect poems to share in this passionately ch
Featured books from Silver Bow Publishing
by
James, Candice
$21.00
New in new dust jacket. 91 p. "Short Shots" is a poetry book for both poetry lovers and non poetry lovers too. With a wide diversity of subject matter, there is something for everybody in this quaint yet compelling book. The reading is quick and easy and yet strikes to the heart of the matter. As the title suggests, the poems in this book are very short poems and that is why it is a perfect coffee table book, waiting room book, night table book or even bathroom book.
by
Deborah L. Kelly
$21.00
New in new dust jacket. 69 p. Journey through the spiritual mysteries of the universe, life and love with Deborah L. Kelly. She is a child of the cosmos and her poetry is a deep reflection of creation and the creator.
---
A Slience Of Echoes more books like this

by James, Candice other copies of this book

Edition: First edition Binding: Trade paperback Publisher: Silver Bow Publishing, Canada Date published: 2014 ISBN-13: 9781927616130 ISBN: 1927616131

Description: New in new dust jacket. Signed by author. 96 p. Candice James, Poet Laureate, 8th book of poetry offers an eclectic mix of both free verse and form poetry. The descriptive lyric and surrealism pervades throughout to lend an air of mystery to the mood of the book. Read More

Bone Hide Hair more books like this

by Donna Ross-Thengs other copies of this book

Edition: First edition Binding: Trade paperback Publisher: Silver Bow Publishing, Canada ISBN-13: 9781927616123 ISBN: 1927616123

Description: New in new dust jacket. 72 p. Includes index. A second offering from Donna Ross-Thengs. This book ofers a certain tenderness that weave throughout the collection. It is a powerful yet sensitive portraiture of family life, relationships, and the audacious nature of love. Read More

Ekphrasticism-Painted Words more books like this

by James, Candice other copies of this book

Edition: First edition Binding: Trade paperback Publisher: Silver Bow Publishing ISBN-13: 9781927616116 ISBN: 1927616115

Description: Portelance, Don. New in new dust jacket. 178 p. A beautiful full colour book of poetry and paintings. Artist Don Portelance has 82 paintings to which Poet Laureate Candice James has written poems to. A truly inspired book of poetry and paintings, with an eclectic mix of abstracts, still life, realist paintings and poetry that stretches the mind to the limits in relation to the visuals. Read More

The Broken Word more books like this

by Alan Hill other copies of this book

Binding: Trade paperback Publisher: Silver Bow Publishing Date published: 2014 ISBN-13: 9781927616048 ISBN: 1927616042

Description: New in new dust jacket. 71 p. Inhabiting a sibling's dark perspective and the memory of his own experience, Alan Hill investigates his relationship with his schitzophrenic brother and the effect on the family at large. These poems will surprise readers with some startling and intense images like "cigarettes at night/burning with the pur and atom slipping brightness/ of the first fires..."-Calvin Wharton Chair of the Creative Writing Dept. Douglas College. In this his second collection of poetry ... Read More

Purple Haze more books like this

by James, Candice other copies of this book

Edition: First edition Binding: Trade paperback Publisher: Libros Libertad Date published: 2014 ISBN-13: 9781926763316 ISBN: 1926763319

Description: New in new dust jacket. Signed by author. 105 p. Includes index. Purple haze purports to describe nondescript days, but that is just a poetic haze that subtly brings the reader to this poetryès real clarity, which is its ability to pose questions. These poems situate the I-You of the lyrical spoken voice in a passionate, sometimes erotic, interrogation of imagination andfeeling that is looking for answers. The echo i palpable while Candice James, Poet Laureate of New Westminster, sings-Scuze me ... Read More

Midnight Embers-A Book of Sonnets more books like this

by James, Candice other copies of this book

Edition: First edition Binding: Trade paperback Publisher: Libros Libertad Date published: 2012 ISBN-13: 9781926763224 ISBN: 192676322X

Description: New in new dust jacket. 118 p. Includes index. A book of Shakespearean sonnets by Poet Laureate Candice James. James adheres to the strict iambic pentameter and form of classical Shakespearean sonnets while using contemporary English language anc scenarios. Truly a masterpiece of 21st Century sonnets. Read More

A Split In The Water more books like this

by Candice James other copies of this book

Edition: First edition Binding: Paperback Publisher: Fiddlehead Poetry Books, New Westminster, BC CANADA Date published: 1979 ISBN-13: 9780920110591 ISBN: 0920110592

Description: Very good and Signed by author. 100 p. Includes index. This book is signed by the author and in Excellent condition-brand new in 1979 sitting on the shelf but slightly discoloured covers with age-1st edition-3 poetry chapbooks (1979) of surrealistic and abstract poems by Canadian Poet Laureate Candice James. This was her first poetry book and was published by Fiddlehead Poetry Books at the University of New Brunswick 500 copies 1st edition. Collector's Item Read More

Bridges And Clouds more books like this

by James, Candice other copies of this book

Edition: First edition Binding: Trade paperback Publisher: Silver Bow, New Westminster, BC Canada Date published: 2011 ISBN-13: 9780986809781 ISBN: 0986809780

Description: New in new dust jacket. Signed by author. 106 p. Includes index. Poet Laureate Candice James' 3rd book is a a collection of poems separated into the following sections: Nature poems; Love poems; India poems; Form poems; Best of The Rest. Cover design by Janet Kvammen. This book is a collection of both free verse and rhyming poetry. There is something for everyone in this book boasting realism, surrealism and eclectic mind wanderings. Read More

Shorelines more books like this

by Candice James other copies of this book

Edition: First edition Binding: Trade paperback Publisher: Silver Bow Publishing, New Westminster BC CANADA Date published: 2013 ISBN-13: 9781927616017 ISBN: 1927616018

Description: various. New in new dust jacket. 98 p. Includes: illustrations, index, bibliography. A 98 page poetry book of Villanelles with a full colour/full page painting for each poem by Candice James Poet Laureate. The artist paintings included are by Don Portelance, Janet Kvammen, Doreen Bruce, Valerie Barron-McRae, Rex Howard, Emily Cuthbertson and Candice James. The subject matter runs the gamut of everything from love, to nature to darker villanelles. Read More
---