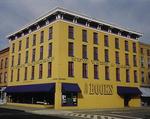 Riverow Bookshop
Architecture, Americana, New York State, Trade Catalogues, General Stock
Our main passion is the art of discovery. Here you will acquaint yourself with a variety of interesting books that have the potential of becoming your new treasures. Come visit us and you will find yourself immersed in the wonderful, unique scent of accomplished books, creaky hardwood floors and a journey that dates back through classic literature. While perusing our three floors of books, we will indulge you with a delicious cup of tea or a glass of wine. Riverow does sell books online. However, for the best shopping experience we encourage you to visit us in the quaint village of Owego, NY. You may find other interesting shops, food and lodging to fully enjoy a visit.
E-mail Riverow Bookshop
Overall Seller Rating:
Alibris seller since March 1999
---
Search for books from Riverow Bookshop Advanced Search
Search 32,057 books from this seller
Featured books from Riverow Bookshop
by
Olympic Committee
$900.00
Black & White/Color Illus. G/NO DUSTJACKET. Sm 4to., v. p., cover edges rubbed, page toning.
by
[Graham Laidler "Pont"]
$12.60
Black & White Illustrations. G/G. Sm 8vo., 96 pp., DJ rubbed, frayed, chipped, tears, toning, cover bumped, writing on ffe, page toning.
---
Printed Document of the Certificate of Elections Hereby Determine, Declare, and Certify the Following Were Elected Representative of the State of New-York, in the Thirty-Third Congress, to Wit: ...Twenty-Seventh District, John J. Taylor... more books like this

by Henry S. Randall, Secretary Of State other copies of this book

Date published: 1852

Description: --/No Dustjacket. Signed Henry S. Randall, Secretary of State. 4to. on 1 side of 4 pages. Reference. Henry S. Randall 1811-1876, Cortland County wrote The Life of Thomas Jefferson, published in three volumes in 1858, considered the most complete and authoritative biography ever written on Jefferson, because he was the only biographer permitted to interview Jefferson's immediate family. Read More

Travels Through Europe, Asia and Into Part of Africa: Containing a Great Variety of Geographical, Topographical, and Political Observations on Those Parts of the World, Especially on Italy, Turkey, Greece, Crim and Noghaian Tartars, Circassian, Sweden,... more books like this

by La Motraye, Aubry De other copies of this book

Edition: First Edition Binding: Leather Date published: 1723

Description: Black & White Illustrations. FR/No Dustjacket. Folio, Complete but needs rebinding. 2 Volumes. (6), (4) 1-440 pages; (3) 4-432, (1) 2-72 which are appendix and contents. Volume 1 has 26 plates and 2 maps, Volume 2 has 17 plates and 2 maps, errata. A total of 43 plates and 4 maps. 4 leafs of subscribers. Some plates drawn by HOGARTH. Reference Cox volume 1 pages 77-78; Graesse; Not in Blacker II sale. FIRST EDITION. Leather covers are present but unattached as well as the binding, first ... Read More

A Plot Or Map of a Tract of 69, 000 Acres of Land Granted Feb. 3rd, 1770 By Letters Patent to Charles Reade, Esq. & Others in the County of Tyron Provence of New York more books like this

Binding: Manuscript Date published: 1770

Description: VG/No Dustjacket. Previously folded, but in very good condition. 14 3/4" X 23 1/2" on linen using black and red ink. Many readable names include Thomas, Sara, Susan and Theo Wharton; Richard, John, Wm. Lovette Smith; Gouvener Franklin, Alexander Wallace, Henry Hill, John Richardson, Samuel P. Moore, Richard Willis, Arion Bradford. The major boundary is the Susquehanna River with streams coming from the north such as Unadilla Creek, Otsdawa Creek, Otego Creek, and Charlotte River. This area is ... Read More

Annalium De Vita Et Rebus Gestis Illustrissimi Principis, Friderici II. Electoris Palatini, Libri XIV...Et Iam Primum in Lucem EmißI. Inveniet in Hac Historia Lector Mira Multa, & Quae Non Tantum Delectare, Sed & Erudire Ac Instruere Possint.... more books like this

by Thomas (Leodius), Hubert (1495-1555). other copies of this book

Edition: First Edition Binding: 1/4 Leather Publisher: Johann Ammon., Frankfurt, Germany Date published: 1624

Description: Black & White Illustrations. VG/No Dustjacket. Sm 4to., [8], 303, [19] p., Exterior hinges cracking, minor age toning. Illustrated with 11 full plates plus one in the text. [bound with] Philipp Reinhard. Stemma Leostenianum Genealogia illustrium et generosorum dominorum ac heroum, comitum in Lovvenstein, VVertheim, Rupeforti, Montacuto, & c. Frankfurt, Johann Ammon. 1624. Signatures: a-bâ´ c². Errata: leaf c2r. Description: [20] pages, [1] folded leaf of plates: genealogical table, portraits; ... Read More

Original Watercolor Birds of Fiji more books like this

by Belcher, W. J. other copies of this book

Binding: Watercolor Date published: 1929

Description: VG/No Dustjacket. For more details go to Riverowgallerydotcom. Francis R. Cope, Jr. author, was very interested in natural history, conservation-Woodbourne Orchards ["Donated to The Nature Conservancy in April 1956 by conservationist Francis R. Cope, Jr., this is one of the Conservancy's first preserves-and marks the start of its work in America's Keystone State nearly half a century ago."], and acquired a noted ornithology book collection that now resides at the Library Company of Philadelphia ... Read More

Secessionism and Austrian Graphic Art 1900-1920. From the Collection of the Neue Galerie Der Stadt Linz more books like this

by Baum, Peter, Organizer other copies of this book

Binding: Paperback Publisher: Smithsonian Traveling Exhibition Service, Washington, DC Date published: (1990)

Description: Color, Black & White Illus. VG/NO DUSTJACKET. 4to., 126 pp., shelfwear. Read More

Finger Plays for Nursery and Kindergarten more books like this

by Poulsson, Emilie other copies of this book

Edition: 90th Thousand Publisher: Lothrop, Lee and Shepard Co., Boston, MA Date published: (1921)

Description: Black & White Illustrations. Good plus condition: spine faded/No Dustjacket. 8vo., 80 pp. Read More

Wind That Shakes the Barley: a Novel of the Life and Loves of Robert Burns more books like this

by Barke, James other copies of this book

Edition: 8th Impression Binding: Cloth Publisher: Collins, London, UK Date published: (1953)

Description: Not Illustrated. G/G. 8vo., 384 pp., Small tear in spine, corner gently bumped; dj has small tears, foxed. The first volume of biographical fiction covering the first twenty-five years of Robert Burns's life. The second volume: The Song in the Green Thorn Tree. The third volume: The Wonder of All the Gay World. The fourth volume: The Crest of the Broken Wave. Read More

Theory of Elasticity Applied to a System of Continuous Girders and Columns more books like this

by Steiner, Charles other copies of this book

Edition: First Edition Publisher: Self, Elmira, N. Y. Date published: 1895

Description: Black & White Illustrations. Good plus condition: yellowed, tipped worn; bent/No Dustjacket. 8vo., 15pp. Read More

Hilltop Boys a Story of School Life more books like this

by Burleigh, Cyril other copies of this book

Binding: Cloth Publisher: Goldsmith Publishing Company, Cleveland, OH Date published: (1917)

Description: Frontispiece. FR/P. 12mo., 190 pp., DJ chipped, Read More
---