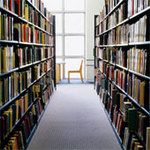 Mostly Books
Our specialties are: Textbooks, Romance, Religious, Historicals, Travel, International Publications, and Cookbooks as well as Out-of-Print and Hard-to-Find titles. Ask about your favorite LP JAZZ ALBUM from the 30's-60's we may have it in our music store!!E-mail us with your search requests for titles not listed in our inventory!!
Our store stocks thousands of titles including TEXTBOOKS (NEW & USED), Books that are COLLECTABLE, AUTOGRAPHED, CURRENT BEST SELLERS, WAR, HISTORY, FIRST EDITIONS, GENEALOGY, FANTASY, SCIENCE FICTION, COOKBOOKS, and much more. Our business continues to grow after 25 years so we are qualified to help you build your home or office library and will gladly do book searches on your behalf. We ship all books in secure, trackable packaging within 2 business days. Contact MaryBeth at [email protected] New stock arrives daily.
E-mail Mostly Books
Overall Seller Rating:
Alibris seller since August 2003
---
Search for books from Mostly Books Advanced Search
Search 16,264 books and 1 movie from this seller
Spotlight book from Mostly Books Book Good null Good 16mo-over 5? ? "-6? ? " tall. CONTENTS include: University Calendar; History of the Woman's College; Extracts from Faculty Legislation; Chart of Woman's College government office point-system (unmarked); Map including West campus buildings and Woman's College buildings; Statement, "I have read every word in this pamphlet..." intact, unmarked...much more. 151 pages. Clean text/ tight bindings/ white boards have a crease down front and some soiling. Great memento! !
Featured books from Mostly Books by
Fang, J.
$29.95
Book Good null Good+ 4to-over 9? ? "-12" tall. Text has minor notes written in pencil. Introduction and preface has underlining, notes written. "This book is designed for use either as a supplement to all current standard textbooks or as a textbook for a formal course in abstract algebra. " 339 pages. Few stains on the outer page edges. Cover has some wear, scuff marks. "Schaum's outline series....including 785 solved problems. Completely solved in detail. " by
Michel, Henri
$199.95
Very good in very good dust jacket. Book Very Good in Very Good jacket 8vo-over 7? "-9? " tall. HISTORY OF THE SECOND WORLD WAR 2 VOLUMES, in slip case. Un'opera fondamentale per la conoscenza del nostro tempo scritta da uno storico insigne. (A funamental work for the acquaintance of our time, written from one historical insigne. ) Italian language.
---
Mobile: a Story of a Beautiful City 1702-1979 more books like this

by McCoy, Lee other copies of this book

Binding: Softcover Publisher: Lee McCoy, Mobile, Alabama Date published: 1980

Description: Very Good. Book. 8vo-over 7¾-9¾" tall. "The ladies of ballet troups and opera companies danced and sang with flowers in their hair when they discovered that Mobile hospitality includes camellias and gardenias for everyone. "Such is the essence of the city. " Carl Carmer felt it when he wrote, "Mobile stays in the hearts, loveliest of cities. " 236 years ago, d'Artaguett said, when writing to Ponc2hatrain, "It is a very fine place. " In this brief visit, may you experience those elusive ... Read More

condition:

Book:

Seller Name & Rating:

Mostly Books, AL, USA

International Law 1918: History-Aliens-Citizenship-Prisoners-Spi more books like this

by Singer, Berthold Ll.D. other copies of this book

Edition: First Edition Binding: Softcover Publisher: T. H. Flood & Co., Publishers, Chicago, IL, U.S.A. Date published: 1918

Description: Very Good. Book. 8vo-over 7¾-9¾" tall. Pages tight and intact. Previous owners name, etc. inside front cover. Stamp at top of first page. Page attached inside front board separated, though intact, at bottom. Some rubbing, creases, expected foxing. This book is especially prepared for our Army, Naval and Aviation Forces. It is a ready compendium for any question which may come up in their everyday work with reference to International Law. International Law teaches civilization, its fundamental ... Read More

condition:

Book:

Seller Name & Rating:

Mostly Books, AL, USA

Astronomy: Principles and Practice (1977 Edition) more books like this

by Roy, A. E.; Clarke, D. other copies of this book

Edition: First Edition Binding: Leatherette Publisher: Crane, Russack & Company, New York, NY Date published: 1977

Description: Very good in very good dust jacket. Book Very Good in Very Good jacket null Very Good in Very Good jacket Text Book. 4to-over 9? ? "-12" tall. The first of two textbooks written to meet the needs for a comprehensive and systematic treatment of astronomy, including the physical and mathematical groundwork so often omitted from other works. DJ has some wear along bottom of front, previous owner's name inscribed inside front of book. Read More

condition:

Book:

Seller Name & Rating:

Mostly Books, AL, USA

Matter: Building Block of the Universe-Activity Book; Review and Reinforcement Guide; Test Book (3 Books) more books like this

Binding: Softcover Publisher: Prentice Hall, Needham, MA, U.S.A. Date published: 1995 ISBN-13: 9780139861598 ISBN: 0139861599

Description: Book Fine null As New 4to-over 9? ? "-12" tall. "The Review and Reinforcement Guide accompanies the textbook in the Prentice Hall Science program has been designed specifically to help your students in their science course..." All the materials in the Activity Book have been developed to faciliate student comprehension of, and interest in, science...." As new. ISBN 0-13-986159-9; 0-13-402140-1; 0-13-986977-8. 3 books $22.95. Read More

condition:

Book:

Seller Name & Rating:

Mostly Books, AL, USA

Cuaderno/Manual De Laboratorio to Accompany Un Paso Mas: an Intermediate Spanish Course more books like this

by Kupferschmid, Gene S. other copies of this book

Binding: Softcover Publisher: McGraw-Hill Publishing Co., Inc., New York, New York, U.S.A. Date published: 1990 ISBN-13: 9780075576471 ISBN: 0075576473

Description: Book Very Good null Very Good 4to-over 9? ? "-12" tall. "This manual for Un paso mas provides students with the opportunity to develop listening, speaking, reading, and writing skills on an individual basis. Instructors can use assignments in the manual to follow student progress and adjust their use of class time accordingly. " 332 pages. Clean text. Cover has light wear, chipping, creasing and book tape on spine. Read More

condition:

Book:

Seller Name & Rating:

Mostly Books, AL, USA

Exploring Psychology more books like this

by Myers, David G. other copies of this book

Edition: Fourth Edition Binding: Pictorial Hardcover Publisher: Worth Pub, New York, New York, U.S.A. Date published: 1998 ISBN-13: 9781572596566 ISBN: 1572596562

Description: Book Very Good null Very Good 4to-over 9? ? "-12" tall. "Like the human beings whom psychologists study, textbooks, too, develop with age. From its conception in 1982 and through the first several editions of its childhood and youth, this book, like the field it reports, has matured..." Clean text. Boards have light wear. 555+ pages. Read More

condition:

Book:

Seller Name & Rating:

Mostly Books, AL, USA

Deux Mondes: a Communicative Approach (3rd Ed. ) (Instructor's Edition) more books like this

by Terrell, Tracy D.; Rogers, Mary B.; Barnes, Betsy K.; Spielmann, Guy other copies of this book

Edition: Third Edition Binding: Hardcover Publisher: Mcgraw-hill Book Co., Boston, MA Date published: 1997 ISBN-13: 9780070646896 ISBN: 0070646899

Description: Book Very Good null Very Good 8vo-over 7? ? "-9? ? " tall. "As its title suggests, Deux mondes focuses on two worlds: the world of the students using the text and the world of the French language and Francophone cultures. " Clean text, boards have some wear, 505 pages. Read More

condition:

Book:

Seller Name & Rating:

Mostly Books, AL, USA

No Mardi Gras for the Dead more books like this

by Donaldson, D. J. other copies of this book

Edition: First Edition Binding: Hardcover Publisher: New York: St. Martins Press, 1992, New York Date published: 1992 ISBN-13: 9780312082710 ISBN: 0312082711

Description: Very good in fair dust jacket. Book Very Good in Fair jacket null Very Good in Fair jacket 8vo-over 7? ? "-9? ? " tall. Hard Cover. Fair. First Edition. 8vo-over 7? ? "-9? ? " tall. Book very good conditon, clean text, paper jacket has some wear and couple tears at top. Dr. Kit Franklyn is sexy, smart, and a top criminal psychologist. She's also an amateur horticulturist, but when she decides to put a new rose trellis in her garden, she doesn't count on her dog Lucky discovering a human jaw ... Read More

condition:

Book:

Seller Name & Rating:

Mostly Books, AL, USA

Mobile Mardi Gras Annual 1948 (Vol. 1, No. 2) more books like this

by Mobile Carnival Association other copies of this book

Binding: Softcover Publisher: Mobile, AL, U.S.A. : Rapier House, 1948, Mobile, AL, U.S.A. Date published: 1948

Description: Book Very Good null Very Good Pamphlet. 4to-over 9? ? "-12" tall. Soft Cover. Pamphlet. 4to-over 9? ? "-12" tall. This is the Mobile, Alabama Mardi Gras Annual program for 1948, Volume 1, number 2. Loaded with Mardi Gras facts and photographs of the court members. Cover illustration by Mobile renaissance artist Eugene Walter. Very Good condition, slight crease on top right. Read More

condition:

Book:

Seller Name & Rating:

Mostly Books, AL, USA
---