Search for books from Michael Garrison Advanced Search
Search 7,098 books and 1 music item from this seller
Spotlight book from Michael Garrison Good. No dust jacket. Cover soiling and wear. Spine breaking loose. Good for its age. 554 p. Sixty-Second Edition, 1931. Large folio, 15.5 x 21". "Book No. 620207, This book is the property of Rand McNally & Company and must be returned..."
Featured books from Michael Garrison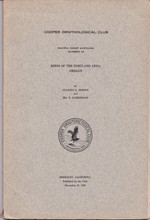 by
Stanley G. Jewett and Ira N. Galbrielson
$50.00
Good. No dust jacket. Mild shelf wear and sunning. Some uncut pages. 54 p. Original, not a reprint. Cooper Ornithological Club. Pacific Coast Avifauna, Number 19. by
Wright, Roy V., editor
$250.00
Good. No dust jacket. Binding poor with tape repairs. Insides very good. A hard to find classic. 1284 p. "Definitions and Illustrations of American Locomotives, Their Parts and Equipment, Together with Typical Illustrations of Machine Tools and Devices Used in Their Construction and Repair."
---
The Art of the World: Illustrated in the Paintings, Statuary and Architecture of the World's Columbian Exposition

Binding: Hardcover Publisher: D. Appleton And Company, New York Date published: 1893

Description: Very good. No dust jacket. Deluxe Edition, No. 494 of 1, 000. Mild bumps and soiling to covers. 10 volume set. Many photogravures, typogravures and portraits. Ten portfolios/volumes. Read More

The History of England (Ten Volumes)

Binding: Hardcover Publisher: Longman, Brown, Green, and Longmans etc., London Date published: 1848

Description: Good. No dust jacket. Ornate spines with spine panels. Wear typical of age. Photos available. 10 volume set. "A new edition, with the author's last corrections and improvements." Six volumes by Hume, four by Smollett. Read More

Massey-Ferguson Service Library

Binding: Ringbound Publisher: Massey-Ferguson

Description: Very good. No dust jacket. 1970's & 1980's era. I worked as Service Manager and bought the set when the company went bankrupt. A re-printers dream. 28 volume set. Twenty Eight original service manuals including 4 binders of service bulletins, tractors include 20, 32, 255, 285, 1085. 1105, 1500, 2745, 4000 series and more. Read More

Victorian Ghost Stories: an Oxford Anthology By Cox, Michael; Gilbert, R. a.

Description: Fair. Read More

Glimpses of Masonic History By Leadbeater, C. W

Description: Fair. Few bent corners. pages and binding all in tact. Read More

Something in Common: an IWW Bibliography

Edition: Illustrated Binding: Hardcover Publisher: Wayne State University Press, Detroit Date published: 1986 ISBN-13: 9780814317969 ISBN: 0814317960

Description: Good, mild bumping of spine. See photo. Clean text. The definitive bibliography of the Industrial Workers of the World. Read More

Edition: First edition Binding: Hardcover Publisher: Jungle Publishing, NY Date published: 1906

Description: Good. No dust jacket. Usual wear to cover spine, front pic. of factories & union handshake good. 413 p. Appears to have all the right "points" for true 1st edition. 1-Jungle Publishing, 2-Sustainers' Edition plate, 3-Ads in rear, 4-Unbroken type in 1906. Copyright page reads: "Copyright, 1905, 1906, By Upton Sinclair. Published February, 1906. " I believe this to be a copy of the famous "lost edition". Will provide photo's upon request. Read More

The Old Sheriff and other true tales

Edition: First edition Binding: Hardcover Publisher: Margent Press, New York Date published: 1937

Description: Very good in good dust jacket. DJ chipped along top edge, stain on lower back. Inside very good. Tales of the old west. Nice letter written and signed by author laid in on stationary and envelope from the "Pioneer Hotel" Tucson, Arizona Read More

Yard & Garden Tractor Vol 2 Multi-Cylinder Models

Edition: First edition Binding: Trade paperback Publisher: Haynes Manuals Date published: 1991 ISBN-13: 9780872884694 ISBN: 0872884694

Description: Good. No dust jacket. Ex. Library, cover and first few pages loose and worn. Inside all good. 451 p. Big manual covering the larger riding mowers inc. JD, AC, Cub Cadet, MTD, Murray and others. Read More
---