Search for books from Don's Book Store Advanced Search
Search 8,685 books from this seller
Spotlight book from Don's Book Store
As New. No Dust Jacket. 7 1/4" x 10 1/4" Volume 1 is 601 Pages plus 8 Photographic pages of 1963 Grand Officers and 29 Pages of Friends Remembered dating back to 1938. Volume 2 continues with numbered pages 602 through 1271 and consists of Section 3 the Histories of the more than 100 chapters listed in order of founding dates. This a beautiful set with more than 1200 pages filled with history, photographs of events and individuals, and hundreds of names assiciated with this sorority. Alpha ...
Featured books from Don's Book Store
by
Reichl, Ruth
$16.00
Near Fine in Very Good jacket. 6 1/2" X 9 1/2" 22 8 Pages with Recipe Index. Tight book with no marks or stamps. The author's delicious and readable account of her experience undercover in her position as food critic for The New York Times. She throws back the curtain on the sumptuously appointed stages of the epicurean world to reveal the comic absurdity, artifice and excellence there, giving us (along with some of her favorite recipes and reviews) her remarkable reflections on role playing ...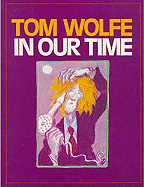 by
Wolfe, Tom
$15.00
Very Good in Good jacket. 8 1/2" X 11" 119 Pages. Bound with lavender boards with a quarter-spine magenta cloth, gilt-titled. Brodart covered dust jacket. Second Printing Illustrated throughout with collection of cartoons and caricatures by Wolfe. No, no son that's not how it works, When you're forty-five or fifty, you'll get a new wife. a young one, a girl in her twenties. What happens to the old one? Well, she opens up a needlepoint shop and sells yarn to her friends and joins a discussjion ...
---
Edition: First Edition Binding: Hard Back Publisher: Morrow, 1984, New York Date published: 1984

Description: Fine in Good jacket. 8vo-over 7¾"-9¾" tall. Mike Wallace's Own Story Co-Author Gary Paul Gates. Read More

(Ir)Rational Parks: an Offbeat Look at Wilderness, Tourism, & America

Edition: First Edition Stated Binding: Trade Paperback Publisher: Geobopological Survey, Seattle, Washington, U.S.A. Date published: 1995 ISBN-13: 9780964677708 ISBN: 0964677709

Description: As New. 5 1/2" x 8 1/2" Signed by Author 240 Pages. Signed (IR) Rationally yours, David Blomstrom above the author's drawing of a bear on the title page. A treasury of hilarious questions, quips, and anecdotes from our national parks and other wilderness preserves and historic sites. It also features provocative and wacky essays on natural history, wilderness, and Americana. And check out the cartoon! Read More

Conversations With Peter Taylor

Edition: First Printing Binding: Trade Paperback Publisher: University Press of Mississippi, Jackson, Mississippi, U.S.A. Date published: 1987 ISBN-13: 9780878053254 ISBN: 0878053255

Description: Near Fiine. 6" x 9" 178 Pages Indexed. Includes fourteen interviews with the famous (Pulitzer and Hemingway prizes), short story author. Contents: Writer Peter Taylor is Home, Goodwin Interview with Peter Taylor, Just Who Was That Ward-Belmont Girl Nude in the Closet, A Private World of Southern Writing, Remembers Robert Lowell, The Inspired Voice of Mythical Tennessee, Writing Teaching Making Discoveries, DuPree Intview with Peter Taylor, PW Interviews Peter Taylor, Symbols and themes Mature ... Read More

Synopsis of Treatments of Psychiatric Disorders-Second Edition

Edition: First Printing Binding: Trade Paperback Publisher: American Psychiatric Press, Inc., Washington, DC Date published: 1996 ISBN-13: 9780880488594 ISBN: 088048859X

Description: Near Fine. 7" x 9 1/2" 1107 Pages Indexed. Copyright page says First Edition. Front and back covers say Second Edition. The second edition of the treatment companion to DSM-IV, is a compendium of state-of-the-art treatments for all major psychiatric disorders. It extracts and condenses all of the most important and practical information from every chapter of that publication for use in this Synopsis edition. The editors, section editors, and chapter authors, all of whom are recognized experts ... Read More

The Interpersonal World of the Infant: a View From Psychoanalysis and Development Psychology

Edition: 22nd Printing Binding: Hard Back Publisher: HarperCollins-Basic Books, Scrantan, Pennsylvania, U.S.A. Date published: 1985 ISBN-13: 9780465034031 ISBN: 0465034039

Description: As New in Very Good jacket. 6" x 9 1/2" 304 Pages Indexed. Unlike those who view early develoment as a gradual process of separation and inndividuation, Stern argues that infants differentiate themselves almost from birth and then progress through increeasingly complex modes of relatedness. He describes this process in fascinating detail, vividly showinghow infants and their caregivers communicate and share their experience. Stern challenges not only the traditional developmental sequency but ... Read More

Crawford's Encyclopedia of Comic Books

Edition: First Edition Binding: Hard Back Publisher: Jonathan David Publishers, Middle Village, New York Date published: 1978 ISBN-13: 9780824602215 ISBN: 0824602218

Description: Near Fine. No Dust Jacket. 8 1/2" X 11" 438 Pages Indexed. Front board has bumped bottom corner. There is a bit of glue showing through the first and second title pages from the spine binding. A couple of instances of very minor front board edge and top corner wear. Interior text is faultless. Illustrated throughout with reprints mostly in black and white but there are a few in color. Contents in 14 Chapters: D-C Comics, Quality Comics, King Features Syndicate, Fawcett Publications, Fiction ... Read More

Contemporary American Folk Art: a Collector's Guide

Edition: First Edition First Printing Stated Binding: Trade Paperback Publisher: Abbeville Press Publishers, New York, New York, U.S.A. Date published: 1996 ISBN-13: 9781558598973 ISBN: 1558598979

Description: Near Fine. 5 1/2" x 8 1/2" 320 Pages Indexed. Bottom of front cover has a light 3 inch crease extending upward. In Six Parts: The East, Appalachia, The South, the Midwest, the Southwest, and The West. Each part consists of Illustrated Biographies, Color Plates, and Museum ang Gallery Guide. Subjects included are: Evaluating Folk Art, Buying Folk Art, Selling Folk Art, and Folk Art at Auction. Also included is conservation Advice, Glossary, Price Guide, and Selected Reading. In 1931 Holger ... Read More

Edition: Second Printing Binding: Hard Back Publisher: Random House, Inc., New York Date published: 1966

Description: Near Fine in Fair jacket. 6" X 8 1/2" 214 Pages. June 1966 Edition. Dust jacket has unclipped pirce $4.95 and some edge wear and chipping and tears not exceeding 3/4 inch. Timidity of opinion will get you nowhere, and writing for anyone's apoproval but your own will get you there fast. So I shall make no effort to present my opinions in equivocal style. You will always know which side I am on. What I intend to offer in these messages are comments on the human race in my time, as seen by my ... Read More

Elements of Democratic Government-New Edition Revised and Enlarged

Edition: Second Printing Binding: Hard Back Publisher: Oxford UniversityPress, New York Date published: 1952

Description: Very Good. No Dust Jacket. 6" x 9" 643 Pages. Tight, bright, and clean book with many pages marked paragraph brackets in soft lead pencil that is erasable. No other defects noted. Second American Edition Revised and Enlarged 1951. This book is the 1952 Second Printing of the 1951 Revised Edition. Includes Bibliography. It is a text book focusing on the constitutions of the United States, England, and France and included are the constitutions of those three countries. This book expresses the ... Read More
---