Posted March 28, 2010
Having become an iconic New Hampshire reclusive during his later decades, the 'mystery' of author J. D. Salinger's whereabouts has fed the intrigue and the perpetuating classroom and booklover discussions. At least twice a year, young folks....
---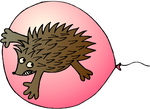 Hedgehog's Whimsey Books
New England, US History, Writers, Journalism, Arab Studies, Fiction, Sustainability, Children's, Hand & Visual Arts, Music, Old Newspapers, more ...
Hi, Folks ... Mom said, 'I need to downsize'. Moving to assisted living, what she couldn't take included 8,000-plus books & records. A decade later, my upcountry barn is bursting. Books multiply as others recycle priorities. I now have 30,000 or more books looking for good homes, and my learning curve has been a roller coaster. I celebrate word-crafters, thought-tumblers, laughter ... the arts of communication at every turn. I preserve, protect, and share. I am also Hedgehog Publishing, 'Words & Pictures by & for Folks with Prickly Backs, Soft Bellies, & Small Brains'.
E-mail Hedgehog's Whimsey Books
Overall Seller Rating:
Alibris seller since April 2009
---
Search for books from Hedgehog's Whimsey Books Advanced Search
Search 6,971 books, 4 movies, and 155 music items from this seller
Posts from Hedgehog's Whimsey Books
J. D. Salinger - posted by Hedgehog's Whimsey Books on March 28, 2010
Having become an iconic New Hampshire reclusive during his later decades, the 'mystery' of author J. D. Salinger's whereabouts has fed the intrigue and the perpetuating classroom and booklover discussions. At least twice a year, young folks in particular would come into Hedgehog's Whimsey Books in Newport NH, down the road from Cornish, look for his titles, and then sheepishly asking to be directed to his home so they could meet the master. I shouldn't, wouldn't, I.... read more
---
Have you read aloud lately? - posted by Hedgehog's Whimsey Books on February 6, 2010
In the old days ... and the older days before those ... reading aloud was a family and classroom and summer camp and sometimes a romantic activity. Maybe this still goes on in remote quiet corners or at sparsely-filled public gatherings. If so, I applaud (quietly so as to not interrupt). Parlors and park benches and linen-tossed beds, I suspect, witnessed many a poem recited to and by lovers. Classrooms still ring with noteworthy speeches like Abe Lincoln's 'Gettysburg Address' and Martin.... read more
---
Retro Gifts for Any Occasion - posted by Hedgehog's Whimsey Books on November 28, 2009
A favorite picture storybook of my childhood, read over and over, was about a man in a blue suit who had lots and lots of pockets. Its cover background was pink. I don't remember the title, author, or illustrator. And, I don't know which of my four siblings or my many nieces and nephews adopted that storybook, or even whether we wore it out first among ourselves. So, I'm still looking for it; and I tell customers who find my store that my search is one of the.... read more
---
Sarah Hale and a National Thanksgiving Day - posted by Hedgehog's Whimsey Books on November 20, 2009
Over her 40-year career editing Godey's The Lady's Book and Magazine during the 1800s, Sarah Josepha (Buell) Hale was consistent in encouraging girls and women to pursue higher education, in providing avenues and examples for self-improvement, in providing a literary outlet for women, in offering hand arts patterns and advice on keeping a home, and in pushing for a national American Thanksgiving Day. Her ideal Thanksgiving was much like her experience growing up on a.... read more
---
---