Posted March 28, 2010
Having become an iconic New Hampshire reclusive during his later decades, the 'mystery' of author J. D. Salinger's whereabouts has fed the intrigue and the perpetuating classroom and booklover discussions. At least twice a year, young folks....
---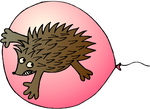 Hedgehog's Whimsey Books
New England, US History, Writers, Journalism, Arab Studies, Fiction, Sustainability, Children's, Hand & Visual Arts, Music, Old Newspapers, more ...
Hi, Folks ... Mom said, 'I need to downsize'. Moving to assisted living, what she couldn't take included 8,000-plus books & records. A decade later, my upcountry barn is bursting. Books multiply as others recycle priorities. I now have 30,000 or more books looking for good homes, and my learning curve has been a roller coaster. I celebrate word-crafters, thought-tumblers, laughter ... the arts of communication at every turn. I preserve, protect, and share. I am also Hedgehog Publishing, 'Words & Pictures by & for Folks with Prickly Backs, Soft Bellies, & Small Brains'.
E-mail Hedgehog's Whimsey Books
Overall Seller Rating:
Alibris seller since April 2009
---
Search for books from Hedgehog's Whimsey Books Advanced Search
Search 6,896 books, 2 movies, and 166 music items from this seller
Spotlight book from Hedgehog's Whimsey Books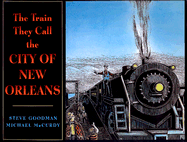 McCurdy, Michael (Illustrated by). Fine in fine dust jacket. Light shelf wear or blemishing. Unread. Illustrated glossy paper over boards, matched on jacket. Picture book. 32 p. Map. Color woodcut-style Illustrations. Audience: Children/juvenile. Trains / Folk popular song: Chicago-based songwriter Steve Goodman wrote these lines in 1970 when he was about 21; performer Arlo Guthrie made it a household tune as it earned a Grammy Award; and multi-award-winning book illustrator Michael McCurdy ...
Featured books from Hedgehog's Whimsey Books
by
Kennedy, Richard
$4.00
Simont, Marc (Illustrated by). Very good. No dust jacket. Minor cover soiling. Light edge wear. Clean interior. Color illustrated paper over boards. 48 p. Audience: Children/juvenile. American Old West / Children's humorous picture storybook: Bravery, wit, and clear thinking all give the boy Wally the edge when Hogbone the thief and bully, with his 15 other bad guys ride into town. The citizenry hides and the sheriff and his deputies are fishing "a holler away". The bad guys are going to rob ... by
Rogers, Sherbrooke
$34.00
Very good. No dust jacket as issued. Signed by author. Moderate spotting to cover bear top. Minor spine sun-fade. Inscribed by author, 1985. 135 p.; 23 cm. Pink stiff paper covers; black titles; seated Hale, silhouette in oval. Bibliography. Index. Biography: Native to Newport NH--where Richards Free Library celebrates her history with the coveted Sarah Josepha Hale Award annually for contributions to literature by a New England-based author--Hale was a 19th century writer, social reformer, and ...
---
The Pegmatite Mines Known as Palermo, North Groton, New Hampshire; more books like this

by Whitmore, Robert W., And Lawrence Jr., Robert C. other copies of this book

Edition: First edition Binding: Hardcover Publisher: Friends of Palermo Mines., Weare NH. Date published: 2004 ISBN-13: 9780974061344 ISBN: 0974061344

Description: Wilda, Frederick C. (Mineral Illustrations by). New in new dust jacket. Slightest of rubbing to spine corners of brown "leatherette" covers. 219 p. Includes: Color & B&W illustrations, diagrams, maps, index, bibliography. Exquisitely detailed and thorough; quality book design and artwork; cystals include whitmoreite named for the owner of Palermo (and author); historic photos; map overlays; This is an extraordinary piece of history as well as a wonderful reference for geologists; Self-published ... Read More

Flower-o'-the-Corn more books like this

by Crockett, S. R. other copies of this book

Edition: 1st American edition; same date title, copyright pages Binding: Hardcover Publisher: McClure, Phillips & Co., New York. Date published: 1903

Description: Very good in poor dust jacket. Jacket in pieces tucked inside. Vibrant color cover. Minor darkening on part of spine. Top page block spotting. Earlier pinhole (5) bug history to rear spine fold, long abandoned. First edition. 411 p. Blue cloth over boards, decorated with blue-yellow-white-red, initials "F L". Fiction by the Scottish author of "The Banner of Blue" and other novels, this one set at opening in the Meuse Valley. A captain is recalling his youth to his aide. Read More

The Quartz Eye, A Mystery in Ultra Violet more books like this

by Webster, Henry Kitchell other copies of this book

Edition: Stated 1st; also 1928 Crowell edition as "Ultraviolet" Binding: Hardcover Publisher: Bobbs Merrill., Indianapolis. Date published: 1928

Description: Very good in fair dust jacket. Jacket has several major repaired tears, and soiling. Book had been protected. First edition. 321 p. Green cloth over boards. and cover titles. Artsy jacket. A mystery spanning 3 days of humor, science, and lively activity as "Some-one-who-wanted-something" was searching frantically and investigator Wallace Carter's new friend from the Follies, Linda Defoe, was central to the search by that some-one. Read More

Gesangbuch fur die evangelifche kirche more books like this

Binding: Full leather Publisher: Verlags-Compfoir des evangelifdjen, Stuttgart, Germany. Date published: 1885

Description: Good in fair dust jacket. Slipcase, lower edge torn across one lower length, and short top spine edge of box. Volume has moderate leather edge wear, seams, spine ends. Small soil patches inside. Repair to seam after Contents. 434, 134 p. Black stamped leather over boards; gilt tltles, front, back, spine. Gilt page blocks. String binding. 6.5x4.25in. Slipcase: black textured paper over boards. Two books in one, all in old German. This bookseller is not an old German, but with help, this seems to ... Read More

The Blacking Factory and Pennsylvania Gothic; Two haunting and macabre stories about adolescence, A short novel and a long story more books like this

by Sheed, Wilfrid other copies of this book

Edition: First edition Binding: Mass-market paperback Publisher: Ballantine Books by arr. w/ Farrar, Straus and Giroux., New York. Date published: 1969 ISBN-13: 9780034501766 ISBN: 0034501762

Description: Gallardo, Gervasio (Cover design by). Very good. Light cover wear. Age-toning. 246 p. Mass-market (rack) paperback. Color artwork on cover. Fiction: Themes of teen years, told with wit. The "Blacking Factory" refers to Charles Dickens's experience at 12 being removed suddenly from school and put to work in a blacking factory. For 20 years, he did not tell of this anguish. Read More

Jack LaLanne's Slim and Trim Diet and Exercise Guide (Woman's World Library) more books like this

by LaLanne, Jack, and Eisenger, Larry (Series Editor-in-Chief) other copies of this book

Edition: #205 Binding: Hardcover Publisher: Fawcett Publications Inc., New York. Date published: 1969

Description: Gowland, Peter (Photographs by) Very good. No dust jacket. Moderate soiling, foxing to exterior. Back inside spine seam separated but not loose. 128 p. Includes: illustrations, diagrams. Hardcover 8.5x11in. Color pictorial cover; Color & B&W demonstration photos inside. Red end papers. TV exercise personality Jack LaLanne is pictured throughout, with chapters for physical workouts on parts of the body. Diet and recipe information in last chapters. Read More

Tenthragon, a psychological fantasy more books like this

by Savery, Constance other copies of this book

Edition: Presumed 1st with this title Binding: Hardcover Publisher: Alfred H King., New York. Date published: 1930

Description: Good. No dust jacket. Surface soiling; small rip at bottom of spine. Page section just beginning to weaken near center. some foreign matter speckling near spine (paint? ). First edition. 314 p. Light olive green cloth with black titles. A Rare publication: the only fantasy novel by Constance Savery, who later authored youth historical novels. First published in England as "Forbidden Doors" in 1929, this work is an unsettling tale of a boy who goes to live in a duplex shared by 2 brothers. The ... Read More

I am Not Afraid--Are You? more books like this

by Ricker, Marilla M other copies of this book

Edition: 1st edition, presumed Binding: Hardcover Publisher: Self-published. Printers: Roycrofters., New Hampshire / East Aurora NY. Date published: 1917

Description: Very good. No dust jacket. Signed by author. Author inscription w/ signature. Light spine wear. Beautifully designed and bound. Frontispiece tissue in place over steel plate photo. First edition. 127 p. Soft brown leather overlapping spine. Green paper over boards. White stamped titles, front. Brown spine title box, w/ gilt titles. 5.5x8.25in. Untrimmed right & lower blocks. Gilt top. B&W portrait, frontispiece. Red titles inside. Ornate drop caps, red. Feminism / New Hampshire native. ... Read More

Java Head more books like this

by Hergesheimer, Joseph other copies of this book

Edition: 4th printing of 1946 resetting, 1918 first publication Binding: Hardcover Publisher: Alfred A. Knopf., New York. Date published: 1979 ISBN-13: 9780394431161 ISBN: 0394431162

Description: Dwiggins, W.A. (1946 decorations, typography, binding design by). Fine in fine dust jacket. Few small blemishes. Red Cloth over boards. Gold spine titles, decorative floral art. Blind-stamped front floral graphic. Jacket in light green, blue, cream. Audience: General/trade. Seafaring historical fiction described on back jacket by author, "a pattern of lives in a dilemma I was innately moved to describe" in offering what he did not think of as a novel. Theme in developing characters: "paradox of ... Read More
---