Search for books from Garage To Dollars Advanced Search
Search 1,815 books and 18 movies from this seller
Spotlight book from Garage To Dollars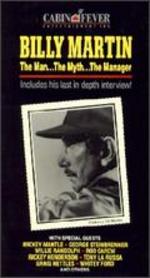 Billy Martin, Jill Martin. Good in good packaging. Originally released: 1990. Language: English. Run time: 60 mins. "Includes this last in depth interview with special guests Mickey Mantle, George Steinbrenner, Willie Randolph, Rod Carew, Rickey Henderson, Tony LaRussa, Craig Nettles, Whitey Ford and others. " VHS, run time approximately 63 minutes, in lightweight cardboard sleeve.
Featured books from Garage To Dollars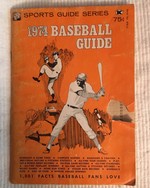 by
Clary, Jack (Compiled and editied by)
$5.99

Fair Minus. No dust jacket as issued. structurally intact, some light yellowing to pages, soil and wear, shows some edge and corner wear on cover, some tatter and damage on cover, ink underlined text. 96 p. Includes illustrations. stadium illustrations, with lots of statistics 1, 001 facts baseball fans love-rosters, 1974 team roster, 1974 schedule, stats, managers and coaches, records, Hall of Fame and more...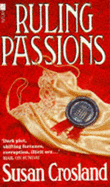 by
Crosland, Susan
$1.99

Fine in very good dust jacket. Gift Quality. Pages and binding clean, tight, white, and unmarked. A nice copy. Dust jacket clean. 376 p.
---
Old clocks for modern use, with a guide to their mechanism

$3.79

Binding: Hardcover Publisher: Bell Date published: 1951

Description: Fair. No dust jacket. Binding and pages tight. light yellowing to pages. Spine broken at top outside of book. Library discard with typical markings and pocket inside back cover. 174p., ill., 23 cm. Black and white photos Read More

Secrets of taking good pictures

Binding: Hardcover Publisher: Hanover House; Bailey & Swinfen Date published: 1955

Description: Fair in good dust jacket. Ex-library. Pages clean, white and intact. Binding has started to come loose from the cover in front not in back. Dust jacket protected by mylar cover, but mylar is recent, jacket shows fading and has a tear in the back Ex... 144p., ill., 22 cm. A nice readable copy, with great photos from the 1950's! Read More

Taming and training cockatiels

$1.99

Binding: Hardcover Publisher: T.F. H, Neptune: Reigate Date published: 1979 ISBN-13: 9780876669815 ISBN: 087666981X

Description: Very good. No dust jacket as issued. Pages clean, white, and tight, unmarked. Spine and binding tight. Cover clean, shows just one bumped corner (top right), else like new. 3-93, [1]p. : ill. (some col. ), ports. (some col); 21 cm. Includes: Illustrations, Portraits. Text and col. ill. on lining papers. Bibliography: p.92-93. Read More

$2.49

Edition: Book Club Edition Binding: Hardcover Publisher: Random House, New York Date published: 1948

Description: Good in good dust jacket. Pages claean and unmarked, Spine and binding tight. Dust jacket has wear at the corners and edges, but has protected the book well. Owners anme in ink inside front cover. 341 p.; 22 cm. Read More

$4.69

Binding: Trade paperback Publisher: Que Date published: 1995 ISBN-13: 9780789703712 ISBN: 0789703718

Description: Very good. No dust jacket as issued. Pages clean, white and unmarked. Spine and binding tight. Light cover corner and edge wear. A nice copy! 461 p.; 1.27" x 9.12" x 7.34". The perfect companion for busy people who want the basics now and more complete information later. Read More

$12.95

Binding: Hardcover Publisher: Crown Publishing Group (NY) Date published: 1996 ISBN-13: 9780517595756 ISBN: 0517595753

Description: Fine in fine dust jacket. Signed by author. Signed by Dave Barry on title page 'For Betty & Bob Dave Barry' Book could pass for new, no evident use. 0.80" x 8.39" x 5.77". Read More

$2.99

Binding: Hardcover Publisher: Cliff Notes Inc. Date published: 1980 ISBN-13: 9780396077855 ISBN: 0396077854

Description: Fair in fair dust jacket. Ex-library. Pages intact, light corner wear and smudging. Binding loosed from spine, but still intact. Dust jacket protected by mylar, mylar toorn & shows creasing. Library discard w/ typical markings and pocket inside back... 64 p. several black and whit photos Read More

Edition: New and rev Binding: Hardcover Publisher: Halcyon House, Garden City, N.Y. Date published: 1947

Description: Good. No dust jacket. Pages clean and unmarked, a touch of age yellowing. Blue cloth cover with gold lettering and designs on the spine. Cover shows light scuffing and corner and edge wear. xxiii, 486 p. music. 22 cm. Includes Music. A guide to classical composers and pieces from history-Bach, Bartok, Prokofieff, Mendelssohn, Rachmaninov and many more. Read More

Napoleon III; a great life in brief

$1.99

Binding: Hardcover Publisher: Knopf, New York Date published: 1955

Description: Good in good dust jacket. Ex-library. structurally intact, faint yellowing to pages, light soil and wear, library system withdrawn with typical markings and pocket, cello cover over dustjacket has kept book in better condition. 207 p. 19 cm. Great lives in brief, a new series of biographies.. From the Great Lives in Brief series, a look at one of the most romantic and significant lives of the nineteenth century-Napoleon III-nephew of Napoleon I, grandson of Empress Josephine and husband of ... Read More
---