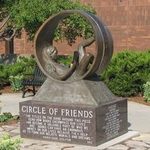 Friends of the L.E. Phillips M
Our collection includes thousands of fiction and nonfiction ex-library books, audiobooks on CD, and movie/TV DVDs. You will also find many high-quality items donated by local community members among the books and media that we offer for sale.
Friendly Reader is the online book sale group of the Friends of the L.E. Phillips Memorial Public Library in Eau Claire, Wisconsin, USA. We are a staff of dedicated, book-loving volunteers. We sell ex-library books and media, as well as donations from the community. Your purchase from our online store helps our library provide additional equipment, programs, and services. Thank you for your support!
E-mail Friends of the L.E. Phillips M
Overall Seller Rating:
Alibris seller since March 2016
---
Search for books from Friends of the L.E. Phillips M Advanced Search
Search 1,284 books, 85 movies, and 24 music items from this seller
Spotlight book from Friends of the L.E. Phillips M John R. Hale, Lecturer. Run time: 720 minutes. 1598037730 Four discs. Language: English. Like new. 24 lectures (30 min. each). Course guidebook includes professor biography, scope, maps and bibliography. Through Professor Hale's vibrant commentary and extensive field footage, you discover monumental ancient cities, classical ruins, temples, shrines, fortresses, stadiums, theaters, churches, and palaces. In each site, you explore the critical history and culture that defined them and the ways ...
Featured books from Friends of the L.E. Phillips M $9.95
Professor Robert L. Dise, Jr., University of Northern Iowa. Run time: 1, 080 Minutes. ISBN 1598035576 Six discs. Language: English. 36 lectures; 30 minutes per lecture; on 6 videodiscs in 3 containers; with an accompanying course guidebook which includes professor biography, course scope, lecture guides, timeline, glossary, biographical notes and bibliography. Complete your knowledge of the ancient world with this comprehensive look at the dozen empires that flourished in the 2, 000 years ... $9.95
javascript: history. go(-1)Lecturer: Sean Carroll, California Institute of Technology. Run time: 720 mins. 4 discs. Language: English. 24 lectures lasting 30 minutes each.
---
Mr. Lincoln: The Life of Abraham Lincoln (Great Courses #8561)

Binding: Audiobook DVD Publisher: Teaching Company Date published: 2005 ISBN-13: 9781598030099 ISBN: 1598030094

Description: Very good in very good dust jacket. Ex-library. Ex-library with the usual stamps, stickers, and markings. In multi-DVD case. Discs are in excellent condition. Coursebook is clean and protected by clear library cover. Six DVDs and perfect-bound coursebook. Audience: General/trade. Disc 1: lecture 1. Young man Lincoln--lecture 2. Whig meteor--lecture 3. Lincoln, law, and politics--lecture 4. The mind of Abraham Lincoln--lecture 5. Lincoln and slavery--lecture 6. The great debates--Disc 2: lecture ... Read More

Argumentation: the Study of Effective Reasoning, Parts 1 and 2 (Great Courses #4294)

Edition: 2nd Edition Binding: Audiobook DVD Publisher: The Teaching Company, Chantilly, VA Date published: 2005 ISBN-13: 9781598031164 ISBN: 1598031163

Description: Fine. No Jacket. Audiobook The Great Courses series. Part 1 and Part 2. Appears un-used. NOT ex-library. Includes two cases holding 4 DVDs and corresponding coursebooks. 24 lectures of 30 minutes each. Read More

The Origin of Civilization (Great Courses #3130) DVD

Format: DVD Studio: The Teaching Company Date: 2010

Description: Scott MacEachern, Professor of Anthropology at Bowdoin College. Run time: 1440 minutes. 8 discs. Language: English. In 4 containers: each container has 2 DVDs. Includes 1 course guidebook. Course guidebook includes professor biography, course scope, lecture outlines, timeline, glossary, biographical notes and bibliography. Forty-eight lectures of thirty minutes each. A 48-lecture course that reveals the stories of how human beings around the world transitioned from small farming communities ... Read More

Zero To Infinity a History of Numbers (Great Courses #1499)

Format: DVD Studio: Teaching Company Date: 2007

Description: Burger, Edward B. (Williams College) Run time: 720 minutes. Parts 1 & 2 on 4 DVDs plus 128-page coursebook. Shrink-wrapped. Numbers surround us. They mark our days, light our nights, foretell our weather, and keep us on course. They drive commerce and sustain civilization. But what are they? These 24 lectures, 30-minutes each, explore this fascinating question and the equally fascinating history of numbers. Read More

Great Hunting Lodges of North America: Wingshooting's Finest Destinations

Binding: Hardcover Publisher: Rizzoli International Publications, New York, NY Date published: 2010 ISBN-13: 9780847834655 ISBN: 0847834654

Description: Very good in very good dust jacket. Ex-library. Ex-library with the usual stamps, stickers, and markings. 223 p. The dust cover is preserved by a protective library covering. The pages and photographs are clear and bright. The spine is reinforced by brown library tape on the front and back end pages. There is a memorial bookplate on the front end page. The bottom of the boards shows minor rubbing from shelf wear. The boards are protected by a library covering and dust cover. Read More

Reporting World War II Vol. 1 (LOA #77): American Journalism 1938-1944

Binding: Hardcover Publisher: Library of America, New York, NY Date published: 1995 ISBN-13: 9781883011048 ISBN: 1883011043

Description: Very good in very good dust jacket. Ex-library. Excellent condition, but ex-library, with usual stickers and markings, but otherwise like new and unread. Sewn binding. Cloth over boards. With dust jacket. 912 p. Contains: Illustrations. Library of America Classic Journalism Collection, 1. Audience: General/trade. This Library of America volume is the first of a unique two-volume anthology. Drawn from original newspaper and magazine reports, radio transcripts, and wartime books, Reporting World ... Read More

Korean, a Complete Course for Beginners: Learn to Speak, Understand, Read, and Write Korean With Confidence

Binding: Softcover Publisher: Living Language, New York, New York Date published: 2007 ISBN-13: 9781400023486 ISBN: 1400023483

Description: Fine. Audio Book "Living Language Series" Six CDs. Read More

Language: Irish Edition: Revised and Expanded Binding: Audio Book (CD) Publisher: Educational Services Corporation, Washington, D. C. Date published: 1994 ISBN-13: 9781931850049 ISBN: 1931850046

Description: Good in Good jacket. Ex-Library Good to very good condition, but ex-library with usual markings and stickers. Two audio CDs with 53-page phrase and study guide. Read More

Complete Works and Life of Laurence Sterne (Volume IV)

Edition: Limited Edition Binding: Hardcover Publisher: The Clonmel Society, J.F. Taylor & Company, New York and London Date published: 1899

Description: Wilbur Cross (introduction) Very Good. Book "Letter of Laurence Sterne vols II & III". 1899. Edition de Luxe. Set #388 of 1000 limited edition printing by The Clonmel Society. Brown fabric board, gilt top of pages, remaining sides deckled. Title on paper pasted to spine. Signature of former owner and "May 1912" on inside front cover/end paper are the only markings. Minimal shelf wear for age of book. Read More
---