Search for books from Design Books Advanced Search
Search 4,293 books from this seller
Spotlight book from Design Books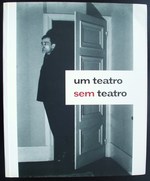 Fine. This is a fine softcover copy with no wear at all. Completely clean inside and out. Spine uncreased, binding firm. Text in Catalan and Portuguese. This catalog was prepared to accompany the large scale survey of modernist theater and performance art mounted at the Museu d'Art Contemporani de Barcelona and the Museu Coleccio Berardo in 2007. It contains hundreds of vintage photographs of the important avant garde theater artists and groups. Lots of illustrations of programs, graphic ...
Featured books from Design Books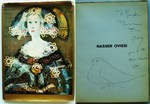 by
Arean, Carlos
$300.00
Very Good in Very Good jacket. Signed by Artist. This is a very good hardcover copy in an about very good dust jacket. The jacket has a little wear around the edges. This copy signed and briefly inscribed by Nasser Ovissi and with a drawing by him on the half-title page. Text in Spanish and English. 69 plates, 64 in color, 5 in black and white. Exhibition history. 13" high X 9" wide, 83 pages. This book will be securely wrapped and packed in a sturdy box and shipped with tracking.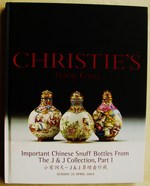 by
Christie's
$295.00
Near Fine. This is a near fine hardcover 5 volume set with almost no wear. No marks inside or out, completely clean. These sales were held on different dates in Hong Kong and New York. Part 1 was held in Hong Kong on Sunday April 25, 2004. Text in Chinese and English. Introduction by Hugh Moss. Lots numbered 881 through 888. All with lengthy catalogue entries and color photographs. Parts 2 through 5 were held in New York on March 30, 2005, March 29, 2006, March 22, 2007and September 17, 2008. ...
---
Russian Furniture in the Collection of the Hermitage more books like this

by Sokolova, T. other copies of this book

Binding: Hardcover Publisher: Printed in Soviet Union Date published: 1973

Description: Fine in Fine jacket. This is a fine hardcover copy in a near fine dustjacket and very good slipcase. Text in English and Russian. Introduction in English as well as descriptions of plates at end in English. 195 plates in black & white and color. All the furniture is 18th through late 19th century Russian work. Most photographs show the furniture in room settings, but close-ups of individual pieces. The book is organized into sections: 18th century, 19th century, to give the reader a sense of ... Read More

condition:

Book:

Seller Name & Rating:

Design Books, NY, USA

Die Anderen Nürnberger. Technisches Spielzeug Aus Der "Guten Alten Zeit" Band 2 more books like this

by Baecker, Carlernst And Dieter Haas other copies of this book

Binding: Hardcover Publisher: Hobby Haas, Frankfurt A.M., Germany Date published: 1973

Description: Very Good. This is a very good hardcover copy with just light wear. Bound in the original publisher's orange boards printed in black and white. Completely clean outside. Very clean inside, page edges darkening a little. Text in German. Preface in German and English. This is Band 2 only of this monumental multi-volume survey of old German toys reproducing many old catalogs by the Nurnberger toy manufacturers. Thousands of fine black & white illustrations of German toys, mostly metal toys, ... Read More

condition:

Book:

Seller Name & Rating:

Design Books, NY, USA

Naifs Espanoles Contemporaneos and El Ingenuismo En Espana more books like this

by Vallejo-Nagera, Juan Antonio other copies of this book

Binding: Hardcover Date published: 1975

Description: Very Good in Very Good jacket. Signed by Author These are very good hardcover copies in very good dust jackets of Vallejo-Nagera's two books on Spanish primitive or naive painters. Completely clean inside and out. Dust jackets have a little wear to the corners. Text in Spanish. Both volumes belonged to Eduardo Abril Lamarque, the Cuban artist and illustrator. The first volume, 'Naifs Espanoles Contemporaneos' is inscribed by Vallejo-Nagera to Eduardo and Milagro Lamarque on the half title page ... Read More

condition:

Book:

Seller Name & Rating:

Design Books, NY, USA

Leger and the Modern Spirit 1918--1931 more books like this

by Fabre, Gladys And Barbara Rose And Marie-Odile Briot other copies of this book

Binding: Softcover Publisher: Musee d'Art Moderne De La Ville De Paris, Paris Date published: 1982 ISBN-13: 9781299914186 ISBN: 1299914187

Description: Very Good. This is a very good softcover copy with only slight wear, just a little rubbing to the raised surface of the embossed wheel on the front cover, otherwise very clean inside and out. This catalog was prepared to accompany the exhibition at the Musee d'Art Moderne in Paris in the spring of 1982. A fascinating thematic exhibition focusing on the modernity of French paintings and decorative arts through the prism of Fernand Leger. Three essays by the author/curators. Profusely ... Read More

condition:

Book:

Seller Name & Rating:

Design Books, NY, USA

Gli Anni Di Plastica more books like this

by Alferj, Pasqale And Francesca Cernia other copies of this book

Binding: Cloth Publisher: Electa Editrice, Milan Date published: 1983 ISBN-13: 9788843509836 ISBN: 8843509837

Description: Very Good in Very Good jacket. This is a very good hardcover copy in a very good dust jacket with almost no wear. No tears, chips or marks to the jacket. Completely clean inside. Text in English and Italian. Well illustrated sudy of early plastic, bakelite and other substances such as celluloid, phenolyic resin and the like. 139 objects in the catalog, many of them shown in color plates. Lots of jewelry, eyeglasses, purses, clocks, lamps, tableware and other things. Chronology. Bibliography. ... Read More

condition:

Book:

Seller Name & Rating:

Design Books, NY, USA

Markus Lupertz Schilderijen/Bilder 1973-1986 more books like this

by Lupertz, Markus other copies of this book

Language: Dutch/Flemish Binding: Softcover Publisher: Museum Boymans-van Beuningen, Rotterdam Date published: 1987 ISBN-13: 9789069180106 ISBN: 9069180103

Description: Good. This is a good softcover copy, it would be very good but for 1 page with 4 lines of text partly highlighted. This is the only flaw. The covers are unmarked and the rest of the text and the plates are quite clean, and the spine uncreased. Text in German and Dutch. This is an exhibition catalog. Essays by Karel Shampers, Rudi Fuchs and Godert van Colmjon. 53 color illustrations (including 3 fold-outs), and many black & white illus. in the text. 10" high X 8" wide, 116 pages. Read More

condition:

Book:

Seller Name & Rating:

Design Books, NY, USA

Colette New Paintings & Work more books like this

by Colette other copies of this book

Binding: Softcover Publisher: Verlag Kammerer & Unverzagt, Hamburg Date published: 1985

Description: Very Good. This is a very good soft cover copy, with a slight bump to the top of the spine, otherwise flawless and unopened, unread. Completely clean inside and out. Text in English and German. This is an exhibition catalog. Short essays by authors. Illustrated in color and black & white. 13" high X 8" wide, 56 pages. Read More

condition:

Book:

Seller Name & Rating:

Design Books, NY, USA

Edo-Zoshi Image of Ukiyoe, Now more books like this

by Nobuo, Kanemoto other copies of this book

Edition: First Edition Binding: Softcover Publisher: Kyoto Shoin Co., Ltd., Kyoto Date published: 1987 ISBN-13: 9784763630636 ISBN: 4763630636

Description: Very Good. This is a very good softcover copy, with only light cover wear, very clean inside. Brief text in Japanese. This book is the record of Nobuo's work re-creating the Ukiyoe women of the late Edo period. With exacting attention to all the details of costume, he has presented us with an updated version of Ukiyoe. Printed in lush full color in a small folio size book. Biographical sketch. 12" high X 9" wide, 93 pages. Read More

condition:

Book:

Seller Name & Rating:

Design Books, NY, USA

Old Plantation Houses in Louisiana more books like this

by Spratling, William other copies of this book

Binding: Cloth Publisher: William Helburn Inc., New York Date published: 1927

Description: Very Good in Very Good jacket. This is a hardcover copy in a very nice pink dust jacket, that is not price-clipped ($5.00) that is also printed with a woodcut illustration of the fabled "Oak Alley". The book itself is in very good condition, as the light brown cloth covers are very clean and unmarked, even the tipped-on title on pink paper (the same paper as the jacket) looks as fresh as the day it was published. Inside the book there is some offsetting on the printed pink paper paste-down, ... Read More

condition:

Book:

Seller Name & Rating:

Design Books, NY, USA
---