Posted April 24, 2015
I was listening to an interview with a writer of many books whose son had told him, "Dad, younger people don't read anymore, we like visual things like film, etc." Oh, how wrong he is, I hope. Because people who don't read and learn....
---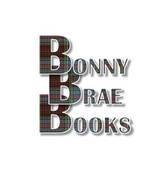 Bonny Brae Books
Collections, in addition to Theology, are Biography and Autobiography, Fiction, Crafts, Ethics, English history and literature, Historical Novels, Mysteries, Music and Art, Psychology, American history and literature, plus many books about WWII, Japanese literature, culture and history; I have many books in the Japanese language. My Music items are LP s, on Japanese vinyl, all in Fine condition and ranging from Avant garde to Punk rock, from Duane Allman to Arbeit Macht Frei.
I love books, I like to read them, collect them, organize them, repair them, and now, at age 80, I've started selling them, the entire library. My husband was a Baptist minister and missionary for 60 years so many books are theological in nature; however, we both majored in Science so our inventory is quite varied. We lived in Japan for 22 years and have a great interest in Japan, its culture and history.Many of my books were published before the age of ISBN's and some are rare and collectible; many are first editions. I try to write clearly about the condition of the books, since many are quite old.
E-mail Bonny Brae Books
Overall Seller Rating:
Alibris seller since May 2010
---
Search for books from Bonny Brae Books Advanced Search
Search 1,663 books, 6 movies, and 93 music items from this seller
Fathers Day, 2012
Posted by Bonny Brae Books on June 2, 2012
Fathers do not have to be perfect. They can make mistakes, if they'll apologize and try to make amends afterwards. They can do wrong, if they'll try to make it Right afterwards. I remember my own father. He certainly wasn't perfect. He had a very short temper, but, he didn't hold a grudge. He was rather intolerant, but, he was not unjust. He never finished high school, but, he loved to read and taught us the love of reading well before we went to school. He loved my mother, totally, and he loved his children, working hard all his life trying to give us opportunities he never had.
He took us to Church and taught us to pray before meals and at bedtime. He insisted on honesty and taught us to work and to value work. He read to us, and wanted us to have a college education, and, he was so proud of us when we did well in school, or out of it. Yes, we need to celebrate Fathers.
---