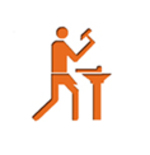 Artisan North America
We have a large selection of new books and DVDs in: BLACKSMITHING, KNIFEMAKING, JEWELRY MAKING, METAL ART & COPPERSMITHING, METALWORKING & MACHINING, LEATHERWORKING , WOODWORKING, METALWORKING for AUTOS & MOTORCYCLES. Here to the left are 4 menu options. The last one is: "Search Artisan North America by catalog". Click on that to find the subject areas which interest you. They will appear here below. Then click on one subject area and the books and DVDs in that catalog will appear here below.
Here at Artisan you will find outstanding books and DVDs for professionals, apprentices, and serious hobbyists. Each month we continue to add useful and hard-to-find items from foreign and American publishers and manufacturers. All of our items are NEW. Many of our books and DVDs are from small publishers and are not available in most bookstores. Others we have in exclusive distribution for North America. Whatever your profession or interest, you'll be happy with our excellent selection.
E-mail Artisan North America
Overall Seller Rating:
Alibris seller since March 2007
---
Search for books from Artisan North America Advanced Search
Search 1,314 books and 533 movies from this seller
Spotlight book from Artisan North America
An excellent book from Blue Moon Press translated from the German. Clear explanations and clarifying photos/drawings (over 500! ) in Blue Moon's proven style. This step-by-step approach gives the adventurous beginner confidence and surprises the expert with new insights.
Featured books from Artisan North America
by
Ludwig Olson
$205.00
Good. Updated; Expanded 15th Printing MAUSER BOLT RIFLES is the most complete, precise, authoritative and comprehensive work ever done on Mauser bolt rifles...so inclusive that a thorough knowledge of it will make you a Mauser expert in your own right! Within its covers are: Exhaustive data on each development, all specific characteristics, variations, models, innovations, modifications. Countries who made or bought Mausers and their changes and markings. Complete ammo data, ballistics, ...
by
A. B. & W. T. Westervelt
$7.95
In use since the 1600s, weathervanes were both utilitarian and functional, enlivening the landscape with humorous and bold designs. Among the largest companies specializing in the manufacture of weather vanes was A.B.; W.T. Westervelt of New York City. This is a reprint of the 1883 illustrated catalog featuring over 550 copper weather vanes and finials. The wide range of styles and motifs, from ocean steamer to Indian chief, are illustrated with line engravings and are accompanied by ...
---
Wrought Iron in Architecture By Gerald K. Geerlings: an Illustrated Survey more books like this

by Gerald K. Geerlings other copies of this book

Edition: Revised edition Binding: Paperback Publisher: Dover Publications Date published: 1984 ISBN-13: 9780486245355 ISBN: 0486245357

Description: New. This exceptional volume documents the many uses of wrought iron in architecture from the fourteenth century through the twentieth. 380 bw illustrations show gates, railings, screens, lighting fixtures, bannisters, balconies, and much else. Includes examples from Italy, Spain, England, Germany, France, Belgium, Holland, America. Indispensable Sourcebook. Introduction. 8 3/8 x 11 1/4, 202 pages, copyright 2004. Read More

Spanish Decorative Ironwork By Luis Labarta more books like this

by Luis Labarta other copies of this book

Binding: Paperback Publisher: Dover Publications Date published: 2000 ISBN-13: 9780486409627 ISBN: 0486409627

Description: New. Over 300 outstanding illustrations, thoughtfully selected and excellently reproduced from an extremely rare publication depict ornate altar screens, doors, chandeliers, balcony railings, candelabra, tombstone crosses, pulpits, gates, window screens, and more. Brief captions identify the types, origins, and dates of pieces in this excellent collection for artists, smiths, interior designers, craftspeople, and lovers of antiques. Read More

A Pictorial Encyclopedia of Decorative Ironwork By Otto Hoever more books like this

by Otto Hoever other copies of this book

Publisher: Dover Publications Date published: 2001 ISBN-13: 9780486417288 ISBN: 048641728X

Description: New. Over 450 black-and-white photographs, royalty-free, show ironwork masterpieces from all over Europe: doors, gates, railings, grilles, door knockers, locks, lanterns, candelabra, firedogs, chandeliers, much more. Beautiful examples from Notre Dame; Chichester Cathedral; Barcelona Cathedral; Fredericksborg Castle, Denmark; Versailles; scores of other sites. Read More

A Reverence for Wood By Eric Sloane more books like this

by Eric Sloane other copies of this book

Binding: Paperback Publisher: Dover Publications Date published: 2004 ISBN-13: 9780486433943 ISBN: 0486433943

Description: This refreshing and delightfully written book underscores the important role that wood has played in the development of American life and culture. Charmingly illustrated with author Eric Sloane's own sketches, the text illuminates with rare insight the enormously varied and useful qualities of wood. Covering such topics as the aesthetics of wood, wooden implements, and carpentry, Sloane remarks expansively and with affection on the resourcefulness of early Americans in their use of this ... Read More

Masterpieces of Eighteenth-Century French Ironwork By F. Contet: With Over 300 Illustrations more books like this

by F. Contet other copies of this book

Binding: Paperback Publisher: Dover Publications Date published: 2004 ISBN-13: 9780486434049 ISBN: 0486434044

Description: New. This magnificent display of all 166 plates from an extremely rare set of portfolios depicts scores of examples of the ironworker's art, among them beautiful gates, balustrades, balcony railings, window grilles, church screens, and lantern holders. A superb collection of royalty-free images for use by designers, smiths, architecture enthusiasts, and lovers of antiques. Read More

Traditional Ironwork Designs By Josef Feller more books like this

by J G Holmstrom other copies of this book

Binding: Paperback Publisher: Dover Publications Date published: 2005 ISBN-13: 9780486443621 ISBN: 0486443620

Description: New. From an exceptional collection of outstanding examples of German ironwork comes this rich source of royalty-free images for artists and craftspeople. More than 270 illustrations depict a wide range of magnificent ironwork from the city of Dusseldorf, with finely rendered examples of the craft ranging from elaborate castle gates to ornate weather vanes. Balustrades, screens, balcony railings, and other decorative ironwork abound in this handsome compilation. Derived from a rare, turn-of ... Read More

Classic Wrought Ironwork Patterns and Designs By Tunstall Small more books like this

by Tunstall Small other copies of this book

Binding: Paperback Publisher: Dover Publications Date published: 2005 ISBN-13: 9780486443645 ISBN: 0486443647

Description: New. Forty plates of meticulously rendered designs replicate authentic ironwork projects that span some 600 years of metalcrafting. Patterns selected from English churches, chapels, tombs, castles, and other architectural sites depict twelfth-century hinges, fifteenth-century grilles and railings, and seventeenth-century knockers, handles, latches, and other ornamental elements. Ideal for today's metal crafters looking to recreate the decorative architectural accessories from an earlier era, ... Read More

The Metalworker's Art: a Pictorial Celebration By the Boston Architectural Club more books like this

by Boston Architectural Club other copies of this book

Binding: Paperback Publisher: Dover Publications Inc. Date published: 2011 ISBN-13: 9780486473130 ISBN: 0486473139

Description: A broad survey of metalwork from ancient times to the twentieth century, this acclaimed monograph displays 115 illustrations of ornamental designs. Images range from the windows and balconies of ancient Italian villages to the gates of English cathedrals and universities and the facades of New York City banks and hotels. Visually arresting examples of decorative ironwork include Parisian cabaret signs, Greek coins, and the gateway to a Scottish castle, plus lamps, doorknockers, stair railings, ... Read More

Secrets of Good Design for Artists, Artisans and Crafters By Burl N. Osburn more books like this

by Burl N. Osburn other copies of this book

Binding: Paperback Publisher: Dover Publications Date published: 2011 ISBN-13: 9780486480411 ISBN: 0486480410

Description: Practical and aesthetically pleasing, this meditation on the constituents of good design considers all manner of construction, form, and ornamentation. It answers many questions about design choices, from basic to specific, with clear, condensed, and practical directions. Its appeal also lies in the integrity of its own design, consisting of hand-lettered text and pleasingly styled and proportioned illustrations. Author Burl N. Osburn addresses basic questions What are the qualities of good ... Read More
---