Search for books from Appledore Books, ABAA Advanced Search
Search 6,689 books from this seller
Spotlight book from Appledore Books, ABAA
Dust Jacket Included. This wonderful and ambitious bibliography, in its original 1960 edition is Fine in a VG+/Near Fine dustjacket. A nice item.
Featured books from Appledore Books, ABAA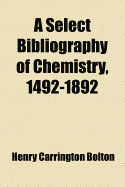 by
Henry Carrington Bolton
$150.00
This 1893 wrappered original ed., handsomely rebound in a cobalt-blue cloth spans a four hundred year history of the literature of chemistry. This is a VG+ copy.
by
Adele Coulin Weibel
$225.00
Dust Jacket Included. Major study on the history of textile art. 1952 1st ed. The book is Fine and the dustjacket NF with the slightest trace of darkening along the spine.
---
With Fly, Plug and Bait more books like this

by Ray Bergman other copies of this book

Binding: Hardcover Publisher: William Morrow 1947 Date published: 1947

Description: This is the signed/limited ed., 1 of only 249 copies. The binding is a handsome dark green 3/4 leather with a ridged leather spine. Moderate fraying to spine edges, still a sturdy and tight copy with its original dark green slipcase, which is fragile. The book is VG and the slipcase VG-. No dustjacket, as issued. Signed by Author(s). Read More

Bibliographical History of Electricity and Magnetism more books like this

by Paul F. Mottelay, Phd other copies of this book

Edition: 1st Binding: Hardcover Publisher: Cgarles Griffin & Co., London Date published: 1922

Description: 1922 1st ed., thick 4to., 673 pgs. VG in a deep blue cloth with bright gilt lettering on the spine. A sweeping bibliographic study on the literature of electricity and magnetism. Read More

Dendereh 1898 more books like this

by W.M. Flinders Petrie other copies of this book

Binding: Hardcover Publisher: The Egypt Exploration Fund Date published: 1900

Description: 17th memoir of the Egypt Exploration Fund, this folio, published in 1900, is VG without dustjacket as issued in pasted-on boards. Minor scuffing to covers but overall bright and well-preserved. Many rich photographic plates, color fronntispiece. This copy lacking 5 of the 37 plates. Read More

Suspect Documents: Their Scientific Examination more books like this

by Wilson R. Harrison other copies of this book

Edition: 1st Binding: Hardcover Publisher: Praeger Publishers Date published: 1958

Description: Dust Jacket Included. 1958 1st ed., thick 4to., 583 pgs. Uncommon title in the science of forgery detection. Near Fine in a VG, price-intact dustjacket with one chip along top edge of the jacket spine. Single strips of clear tape have been discreetly applied along several edges of the jacket, doing little to mar the overall appearance. Read More

Centenary History of the South Place Society more books like this

by Moncure D. Conway other copies of this book

Edition: 1st Binding: Hardcover Publisher: Williams and Norgate Date published: 1894

Description: 1894 1st ed., 8vo., 186 pgs. 1/4 vellum binding along spine, rest light green boards. VG-with minimal rubbing to covers and darkening to the spine. Read More

Seabiscuit: an American Legend more books like this

by Laura Hillenbrand other copies of this book

Edition: 1st Binding: Hardcover Date published: 2001

Description: Dust Jacket Included. 2001 Random House 1st edition. A Fine copy in a Fine, unpriceclipped dustjacket. Read More

Wee Gillis more books like this

by Munro Leaf other copies of this book

Edition: 1st Binding: Hardcover Publisher: Thistle Date published: 1938

Description: The Thistle Edition, 1938. True 1st ed. and also a signed/limited (1 of 525 copies). Signed by both Munro Leaf and the illustrator Robert Lawson. This is a very handsome copy, Fine in its buckram binding with a dark green label and gold printing on the cover. Signed by Author(s). Read More

Causality and Chance in Modern Physics more books like this

by David Bohm other copies of this book

Edition: 1st Binding: Hardcover Publisher: Van Nostrand Company Date published: 1957

Description: Dust Jacket Included. 1957 1st ed., 8vo. A VG copy, with minor foxing to the endpapers, in a crisp, VG+ dustjacket. Read More

American Jewry and the Civil War more books like this

by Bertram W. Korn other copies of this book

Edition: 1st Binding: Hardcover Publisher: Jewish Publication Society Date published: 1951

Description: Dust Jacket Included. 1951 1st ed., 4to. A sharp, bright copy, VG in a VG, price-intact dustjacket with a tiny amount of chipping to the head and tail of the spine. Wonderful study of American Jewry and its connection to the Civil War. Read More
---