Posted December 30, 2010
While we carry stock across a wide range of subjects, our special interests are military history [incl a small new book collections from boutique publishers], collectable childen's books, australiana and south australiana. We have....
---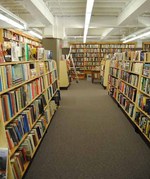 Adelaide Booksellers
We specialize in Military History, Collectable Childrens Books, Australiana, South Australiana, History, Science, Politics, Art
Our spacious shop, located in the heart of Adelaide s Central Business District, is at 12 Twin Street, one street east of Adelaide Arcade and a few steps from Rundle Mall. We stock over 30,000 titles (of which nearly 20,000 are net listed) across a very wide range of topics but our specialties are: Militaria, Literature, Biography, Art, Australiana, Children's Books While not specialties we also have good stock in: Natural History, Music, Cinema, Politics Science, Travel. We are members of ANZAAB and ABA.
E-mail Adelaide Booksellers
Overall Seller Rating:
Alibris seller since March 1999
---
Search for books from Adelaide Booksellers Advanced Search
Search 14,477 books from this seller
Featured books from Adelaide Booksellers
by
Zogbaum, Heidi
$41.34
MINT-a NEW copy. Black and white map.133 pages Seventeenth century Catalina de Erauso, known as the Lieutenant Nun, is one of the most colourful figures in the conquest of the Americas.
by
Casey, Maryrose
$41.34
Octavo Size [approx 15.5 x 22.8cm]. MINT-a NEW copy. Illustrated with Black and White Photographs and maps.183 pages Since the late eighteenth century, Aboriginal and Torres Strait Islander initiated performances have been an important part of cross-cultural communication in Australia. This book investigates Aboriginal and Torres Strait Islander historical practices for performances for entertainment; how they adapted to colonisation and how these performance practices extend contemporary ...
---
Art and Archaeology in China more books like this

by Capon, Edward other copies of this book

Edition: 1st Edition Binding: Softcover Publisher: Macmillan, Melbourne Date published: 1977 ISBN-13: 9780333229378 ISBN: 0333229371

Description: Square Quarto size [25x25cm approx] Very Good condition in Very Good Dustjacket. Softcover in Dustjacket. Colour photographs.190pages. Read More

Viking America the Norse Crossings and Their Legacy more books like this

by Enterline, James Robert other copies of this book

Edition: 1st UK Edition Binding: Hardback Publisher: New English Library, London Date published: 1973 ISBN-13: 9780450014796 ISBN: 0450014797

Description: Large octavo size [16x24cm approx]. Very Good condition in Very Good Dustjacket. DJ protected in purpose-made plastic sleeve. A nice copy but with pages a little tanned [common]. Black & white illustrations. Endpaper maps.217 pages. Read More

Leaving Home: a Collection of Lake Wobegon Stories more books like this

by Keillor, Garrison other copies of this book

Edition: 1st Edition Binding: Hardcover Publisher: Viking, New York Date published: 1987 ISBN-13: 9780670819768 ISBN: 067081976X

Description: Octavo Size [approx 15.5 x 22.8cm]. Near Fine copy in a Very Good dustjacket. DJ now protected in purpose-made plastic sleeve. An excellent copy.244 pages. Read More

Gargantua and Pantagruel more books like this

by Rabelais, Francis; Saurat, Denis [Introduction] other copies of this book

Edition: 1st Thus Binding: Hardback Publisher: John Westhouse, London Date published: 1945

Description: Octavo Size [approx 15.5 x 22.8cm]. Very Good condition in Good Dustjacket-now protected in purpose-made plastic sleeve. Light wear to dustjacket edges and corners and some age-toning. Illustrated with black & white drawings by R.A. Brandt.267pages. Read More

What's What About Wine: an Australian Wine Primer more books like this

by James, Walter other copies of this book

Edition: 1st Edition Binding: Softbound Publisher: Georgian House, Melbourne Date published: 1953

Description: Octavo Size [approx 15.5 x 22.8cm]. Very Good condition. Paper wrappers. Some age-discolouration to edges and spine. Black & white illustrations.45 pages. Read More

Island Continent Aspects of the Historical Geography of Australia and Its Territories more books like this

by Price, A. Grenfell other copies of this book

Edition: 1st Edition Binding: Hardback Publisher: Angus & Robertson, Sydney Date published: 1972 ISBN-13: 9780207124129 ISBN: 0207124124

Description: Large octavo size [16x24cm approx]. Very Good in Very Good Dustjacket. DJ protected in purpose-made plastic sleeve. A nice copy. Black & white illustrations.283 pages. Read More

So Small a World more books like this

by Mountfort, Guy other copies of this book

Edition: 1st Edition Binding: Hardback Publisher: Hutchinson, London Date published: 1974 ISBN-13: 9780091205904 ISBN: 0091205905

Description: Octavo Size [approx 15.5 x 22.8cm]. Very Good condition in Very Good Dustjacket. DJ protected in purpose-made plastic sleeve. Light wear to dustjacket edges and corners. Illustrated with Black and White Photographs.224 pages. A distinguished naturalist looks back on 45 years of travel and exploration. Read More

Art and Design in Europe and America 1800-1900 more books like this

by Victoria & Albert Museum other copies of this book

Edition: 1st Edition Binding: Hardback Publisher: The Herbert Press, London Date published: 1987 ISBN-13: 9780906969731 ISBN: 0906969735

Description: Small Quarto Size. Very Good in Very Good Dustjacket. DJ protected in purpose-made plastic sleeve. A nice copy. Colour & b/w plates. Introduction by Simon Jervis.224pages. From the collection of London's Victoria and Albert Museum. Read More

Images of South Australia more books like this

by Swann, Bruce other copies of this book

Edition: 1st Edition Binding: Hardback Publisher: Wakefield Press, Adelaide Date published: 1985 ISBN-13: 9780949268341 ISBN: 0949268348

Description: Oblong Small Quarto Size [approx 27x22cm]. Very Good condition in Good+ Dustjacket. DJ has tape repaired tear and small piece clipped off bottom edge-now protected in purpose-made plastic sleeve. Colour and black & white illustrations.96 pages. Read More

Wildlife Conservation more books like this

by Frith, H.J. other copies of this book

Edition: Revised Edition Binding: Hardback Publisher: Angus & Robertson, Sydney Date published: 1979 ISBN-13: 9780207136498 ISBN: 0207136491

Description: Large octavo size [16x24cm approx]. Very Good condition in Very Good Dustjacket. DJ protected in purpose-made plastic sleeve. A nice copy. Illustrated with Colour and Black & White Photographs.414 pages. Read More
---