Wendell Berry
WENDELL BERRY , an essayist, novelist, and poet, has been honored with the T. S. Eliot Prize, the Aiken Taylor Award in Modern American Poetry, the John Hay Award of the Orion Society, and the Dayton Literary Peace Prize Richard C. Holbrooke Distinguished Achievement Award, among others. In 2010, he was awarded the National Humanities Medal by President Barack Obama, and in 2016, he was the recipient of the Ivan Sandrof Life Achievement Award from the National Book Critics Circle. Berry lives...See more
WENDELL BERRY , an essayist, novelist, and poet, has been honored with the T. S. Eliot Prize, the Aiken Taylor Award in Modern American Poetry, the John Hay Award of the Orion Society, and the Dayton Literary Peace Prize Richard C. Holbrooke Distinguished Achievement Award, among others. In 2010, he was awarded the National Humanities Medal by President Barack Obama, and in 2016, he was the recipient of the Ivan Sandrof Life Achievement Award from the National Book Critics Circle. Berry lives with his wife, Tanya Berry, on their farm in Henry County, Kentucky. See less
Personality Profile For Wendell Berry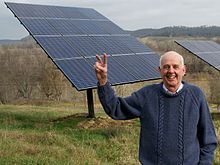 The following is a personality profile of Wendell Berry based on his work.
Wendell Berry is unconventional and boisterous.
He is empathetic, he feels what others feel and is compassionate towards them. He is intermittent as well: he has a hard time sticking with difficult tasks for a long period of time. But, Wendell Berry is also laid-back: he appreciates a relaxed pace in life.
More than most people, his choices are driven by a desire for self-expression.
Considers helping others to guide a large part of what he does: he thinks it is important to take care of the people around him. He is also relatively unconcerned with tradition: he cares more about making his own path than following what others have done.
---
Writing style analyzed by IBM Watson
---
Wendell Berry book subjects