Ursula K Le Guin
Ursula K. Le Guin published twenty-one novels, eleven volumes of short stories, four collections of essays, twelve books for children, six volumes of poetry and four of translation, and has received the Hugo, Nebula, Endeavor, Locus, Tiptree, Sturgeon, PEN/Malamud, and National Book awards and the Pushcart and Janet Heidinger Kafka prizes, among others. In recent years she received lifetime achievement awards from the World Fantasy Awards, Los Angeles Times , Pacific Northwest Booksellers...See more
Ursula K. Le Guin published twenty-one novels, eleven volumes of short stories, four collections of essays, twelve books for children, six volumes of poetry and four of translation, and has received the Hugo, Nebula, Endeavor, Locus, Tiptree, Sturgeon, PEN/Malamud, and National Book awards and the Pushcart and Janet Heidinger Kafka prizes, among others. In recent years she received lifetime achievement awards from the World Fantasy Awards, Los Angeles Times , Pacific Northwest Booksellers Association, and Willamette Writers, as well as the Science Fiction and Fantasy Writers of America Grand Master Award, the Library of Congress "Living Legend" award, and the National Book Foundation Medal for Distinguished Contribution to American Letters. Le Guin was the recipient of the Association for Library Service to Children's May Hill Arbuthnot Honor Lecture Award and the Margaret Edwards Award. She lived in Portland, Oregon, and her website is www.ursulakleguin.com. See less
Personality Profile For Ursula K Le Guin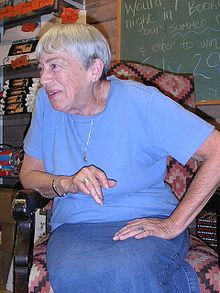 The following is a personality profile of Ursula K Le Guin based on her work.
Ursula K Le Guin is boisterous.
She is intermittent, she has a hard time sticking with difficult tasks for a long period of time. She is laid-back as well: she appreciates a relaxed pace in life. But, Ursula K Le Guin is also unconcerned with art: she is less concerned with artistic or creative activities than most people who participated in our surveys.
More than most people, her choices are driven by a desire for discovery.
Considers helping others to guide a large part of what she does: she thinks it is important to take care of the people around him. She is also relatively unconcerned with tradition: she cares more about making her own path than following what others have done.
---
Writing style analyzed by IBM Watson
---
Ursula K Le Guin book subjects