Tennessee Williams
Tennessee Williams (1911-1983), born Thomas Lanier in Columbus, Mississippi, won Pulitzer Prizes for his dramas A Streetcar Named Desire and Cat on a Hot Tin Roof . Other plays include The Glass Menagerie , Summer and Smoke , The Rose Tattoo , Camino Real , Suddenly Last Summer , Sweet Bird of Youth , and Night of the Iguana . He also wrote a number of one-act plays, short stories, poems, and two novels, The Roman Spring of Mrs. Stone and Moishe and the Age of Reason . He died at the age of...See more
Tennessee Williams (1911-1983), born Thomas Lanier in Columbus, Mississippi, won Pulitzer Prizes for his dramas A Streetcar Named Desire and Cat on a Hot Tin Roof . Other plays include The Glass Menagerie , Summer and Smoke , The Rose Tattoo , Camino Real , Suddenly Last Summer , Sweet Bird of Youth , and Night of the Iguana . He also wrote a number of one-act plays, short stories, poems, and two novels, The Roman Spring of Mrs. Stone and Moishe and the Age of Reason . He died at the age of seventy-two. See less
Personality Profile For Tennessee Williams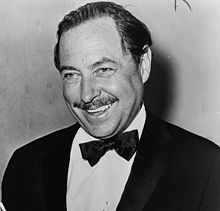 The following is a personality profile of Tennessee Williams based on his work.
Tennessee Williams is boisterous.
He is empathetic, he feels what others feel and is compassionate towards them. He is laid-back as well: he appreciates a relaxed pace in life. But, Tennessee Williams is also content: he is content with his level of accomplishment and does not feel the need to set ambitious goals.
More than most people, his choices are driven by a desire for discovery.
Considers helping others to guide a large part of what he does: he thinks it is important to take care of the people around his. He is also relatively unconcerned with achieving success: he makes decisions with little regard for how they show off his talents.
---
Writing style analyzed by IBM Watson
---
Tennessee Williams book subjects