Suze Orman
Suze Orman is the author of 10 consecu-tive New York Times bestsellers, a two-time Emmy Award-winning television host, and one of the top motivational speakers in the world today. She was named by Barron's Magazine as one of "The 100 Most Influential Women in U.S. Finance". The single most successful fundraiser in the history of PBS, Orman has received an unprece-dented eight Gracie Awards, which recognize the nation's best radio, television, and cable program-ming by, for, and about women....See more
Suze Orman is the author of 10 consecu-tive New York Times bestsellers, a two-time Emmy Award-winning television host, and one of the top motivational speakers in the world today. She was named by Barron's Magazine as one of "The 100 Most Influential Women in U.S. Finance". The single most successful fundraiser in the history of PBS, Orman has received an unprece-dented eight Gracie Awards, which recognize the nation's best radio, television, and cable program-ming by, for, and about women. Twice named to the TIME 100 and ranked among the World's 100 Most Powerful Women by Forbes , Orman was the host of The Suze Orman Show on CNBC for 13 years and a contributing editor to O: The Oprah Magazine for 16. Some may say, however, that her true claim to fame is having been spoofed on Saturday Night Live four times. Orman's incredible journey to becoming America's most recognized expert on personal finance began as a young broker at Merrill Lynch, helping clients of all backgrounds create a finan-cially secure retirement plan. Orman was an account executive at Merrill Lynch from 1980 to 1983, served as Vice President-Investments for Prudential-Bache Securities from 1983 to 1987, then directed the Suze Orman Financial Group from 1987 to 1997. Currently, Orman hosts the popular Women & Money podcast, serves as the official personal-finance educator for the United States Army and Army Reserve, and is a special advocate for the National Domestic Violence Hotline, bringing her message of awareness and empowerment to women who have suffered financial abuse. On her days off, you will find Suze and her wife, KT, spend-ing time out on the water in the Bahamas, follow-ing their newfound passion for wahoo fishing. See less
Personality Profile For Suze Orman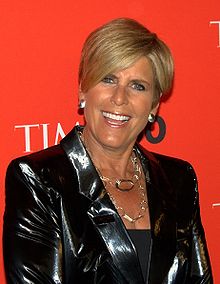 The following is a personality profile of Suze Orman based on her work.
Suze Orman is confident.
She is unconcerned with art, she is less concerned with artistic or creative activities than most people who participated in our surveys. She is assertive as well: she tends to speak up and take charge of situations, and she is comfortable leading groups. But, Suze Orman is also calm under pressure: she handles unexpected events calmly and effectively.
More than most people, her choices are driven by a desire for discovery.
Considers helping others to guide a large part of what she does: she thinks it is important to take care of the people around him. She is also relatively unconcerned with tradition: she cares more about making her own path than following what others have done.
---
Writing style analyzed by IBM Watson
---