Sam Harris
Sam Harris is the author of five New York Times bestsellers. His books include The End of Faith, Letter to a Christian Nation, The Moral Landscape, Free Will, Lying, and Waking Up. The End of Faith won the 2005 PEN/Martha Albrand Award for Nonfiction. His work has been published in more than twenty languages. Harris has written for the New York Times, the Los Angeles Times, the Economist, The Times, the Boston Globe, the Atlantic, Annals of Neurology, and other outlets. He received a degree in...See more
Sam Harris is the author of five New York Times bestsellers. His books include The End of Faith, Letter to a Christian Nation, The Moral Landscape, Free Will, Lying, and Waking Up. The End of Faith won the 2005 PEN/Martha Albrand Award for Nonfiction. His work has been published in more than twenty languages. Harris has written for the New York Times, the Los Angeles Times, the Economist, The Times, the Boston Globe, the Atlantic, Annals of Neurology, and other outlets. He received a degree in philosophy from Stanford University and a PhD in neuroscience from UCLA. Please visit his website at SamHarris.org. See less
Personality Profile For Sam Harris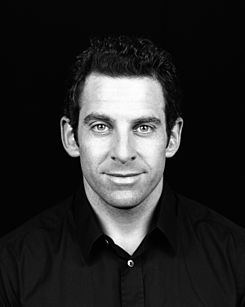 The following is a personality profile of Sam Harris based on his work.
Sam Harris is unconventional and expressive.
He is intermittent, he has a hard time sticking with difficult tasks for a long period of time. He is laid-back as well: he appreciates a relaxed pace in life. But, Sam Harris is also unstructured: he does not make a lot of time for organization in his daily life.
More than most people, his choices are driven by a desire for self-expression.
Considers helping others to guide a large part of what he does: he thinks it is important to take care of the people around him. He is also relatively unconcerned with tradition: he cares more about making his own path than following what others have done.
---
Writing style analyzed by IBM Watson
---