Ron Paul
Ron Paul, a ten-term congressman from Texas, is the leading advocate of freedom in our nation's capital. He has devoted his political career to the defense of individual liberty, sound money, and a non-interventionist foreign policy. Judge Andrew Napolitano calls him the Thomas Jefferson of our day. After serving as a flight surgeon in the U.S. Air Force in the 1960s, Dr. Paul moved to Texas to begin a civilian medical practice, delivering over four thousand babies in his career as an...See more
Ron Paul, a ten-term congressman from Texas, is the leading advocate of freedom in our nation's capital. He has devoted his political career to the defense of individual liberty, sound money, and a non-interventionist foreign policy. Judge Andrew Napolitano calls him the Thomas Jefferson of our day. After serving as a flight surgeon in the U.S. Air Force in the 1960s, Dr. Paul moved to Texas to begin a civilian medical practice, delivering over four thousand babies in his career as an obstetrician. He served in Congress from 1976 to 1984, and again from 1996 to the present. He and Carol Paul, his wife of fifty-one years, have five children, eighteen grandchildren, and one great-grandchild. Ron Paul, the New York Post once wrote, is a politician who cannot be bought by special interests. There are few people in public life who, through thick and thin, rain or shine, stick to their principles, added a congressional colleague. Ron Paul is one of those few. See less
Personality Profile For Ron Paul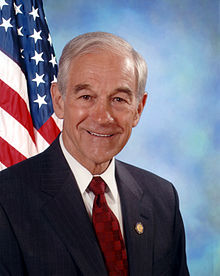 The following is a personality profile of Ron Paul based on his work.
Ron Paul is unconventional and shrewd.
He is unconcerned with art, he is less concerned with artistic or creative activities than most people who participated in our surveys. He is intermittent as well: he has a hard time sticking with difficult tasks for a long period of time. But, Ron Paul is also proud: he holds himself in high regard, satisfied with who he is.
More than most people, his choices are driven by a desire for well-being.
Considers helping others to guide a large part of what he does: he thinks it is important to take care of the people around him. He is also relatively unconcerned with tradition: he cares more about making his own path than following what others have done.
---
Writing style analyzed by IBM Watson
---