Ralph Waldo Emerson
Ralph Waldo Emerson (May 25, 1803 - April 27, 1882) was an American essayist, lecturer, philosopher, and poet who led the transcendentalist movement of the mid-19th century. He was seen as a champion of individualism and a prescient critic of the countervailing pressures of society, and he disseminated his thoughts through dozens of published essays and more than 1,500 public lectures across the United States. Emerson gradually moved away from the religious and social beliefs of his...See more
Ralph Waldo Emerson (May 25, 1803 - April 27, 1882) was an American essayist, lecturer, philosopher, and poet who led the transcendentalist movement of the mid-19th century. He was seen as a champion of individualism and a prescient critic of the countervailing pressures of society, and he disseminated his thoughts through dozens of published essays and more than 1,500 public lectures across the United States. Emerson gradually moved away from the religious and social beliefs of his contemporaries, formulating and expressing the philosophy of transcendentalism in his 1836 essay Nature. His first two collections of essays, Essays represent the core of his thinking. They include the well-known essays Self-Reliance, The Over-Soul, Circles, The Poet, and Experience. Together with Nature, these essays made the decade from the mid-1830s to the mid-1840s Emerson's most fertile period. Emerson wrote on a number of subjects, never espousing fixed philosophical tenets, but developing certain ideas such as individuality, freedom, the ability for mankind to realize almost anything, and the relationship between the soul and the surrounding world. Emerson is one of several figures who took a more pantheist or pandeist approach by rejecting views of God as separate from the world. He remains among the linchpins of the American romantic movement, and his work has greatly influenced the thinkers, writers and poets that followed him. In all my lectures, he wrote, I have taught one doctrine, namely, the infinitude of the private man. Emerson is also well known as a mentor and friend of Henry David Thoreau, a fellow transcendentalist. See less
Personality Profile For Ralph Waldo Emerson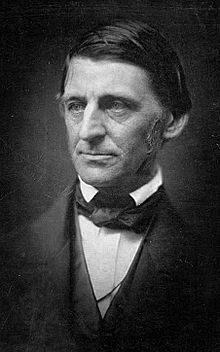 The following is a personality profile of Ralph Waldo Emerson based on his work.
Ralph Waldo Emerson is expressive and confident.
He is empathetic, he feels what others feel and is compassionate towards them. He is laid-back as well: he appreciates a relaxed pace in life. But, Ralph Waldo Emerson is also calm under pressure: he handles unexpected events calmly and effectively.
More than most people, his choices are driven by a desire for discovery.
He is also relatively unconcerned with tradition: he cares more about making his own path than following what others have done. Considers helping others to guide a large part of what he does: he thinks it is important to take care of the people around him.
---
Writing style analyzed by IBM Watson
---
Ralph Waldo Emerson book subjects