Paulo Coelho
One of the most influential writers of our time, Paulo Coelho is the author of thirty international bestsellers, including The Alchemist, Brida, Veronika Decides to Die, Manual of the Warrior of Light , and Eleven Minutes . He is a member of the Brazilian Academy of Letters and a United Nations Messenger of Peace. Paulo is the recipient of 115 international prizes and awards, among them, the Chevalier de l'Ordre National de la Légion d'Honneur (Legion of Honor). Born in Rio de Janeiro in 1947,...See more
One of the most influential writers of our time, Paulo Coelho is the author of thirty international bestsellers, including The Alchemist, Brida, Veronika Decides to Die, Manual of the Warrior of Light , and Eleven Minutes . He is a member of the Brazilian Academy of Letters and a United Nations Messenger of Peace. Paulo is the recipient of 115 international prizes and awards, among them, the Chevalier de l'Ordre National de la Légion d'Honneur (Legion of Honor). Born in Rio de Janeiro in 1947, he soon discovered his vocation for writing. He worked as a director, theater actor, songwriter, and journalist. In 1986, a special meeting led him to make the pilgrimage to Saint James Compostela (in Spain). The Road to Santiago was not only a common pilgrimage but a turning point in his existence. A year later, he wrote The Pilgrimage , an autobiographical novel that is considered the beginning of his literary career. He lives in Geneva, Switzerland. See less
Personality Profile For Paulo Coelho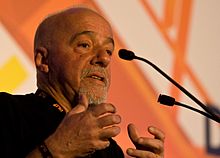 The following is a personality profile of Paulo Coelho based on his work.
Paulo Coelho is boisterous, unpretentious and sentimental.
He is intermittent, he has a hard time sticking with difficult tasks for a long period of time. He is content as well: he is content with his level of accomplishment and does not feel the need to set ambitious goals. But, Paulo Coelho is also assertive: he tends to speak up and take charge of situations, and he is comfortable leading groups.
More than most people, his choices are driven by a desire for self-expression.
Considers helping others to guide a large part of what he does: he thinks it is important to take care of the people around him. He is also relatively unconcerned with tradition: he cares more about making his own path than following what others have done.
---
Writing style analyzed by IBM Watson
---