Margaret Atwood
Margaret Atwood is the author of more than fifty books of fiction, poetry and critical essays. Her novels include Cat's Eye, The Robber Bride, Alias Grace , The Blind Assassin and the MaddAddam trilogy. Her 1985 classic, The Handmaid's Tale, was followed in 2019 by a sequel, The Testaments , which was a global number one bestseller and shared the Booker Prize. In 2020 she published Dearly , her first collection of poetry for a decade, and in 2022 Burning Questions , a collection of essays, was...See more
Margaret Atwood is the author of more than fifty books of fiction, poetry and critical essays. Her novels include Cat's Eye, The Robber Bride, Alias Grace , The Blind Assassin and the MaddAddam trilogy. Her 1985 classic, The Handmaid's Tale, was followed in 2019 by a sequel, The Testaments , which was a global number one bestseller and shared the Booker Prize. In 2020 she published Dearly , her first collection of poetry for a decade, and in 2022 Burning Questions , a collection of essays, was a Sunday Times bestseller. Atwood has won numerous awards including the Arthur C. Clarke Award for Imagination in Service to Society, the Franz Kafka Prize, the Peace Prize of the German Book Trade, the PEN USA Lifetime Achievement Award and the Dayton Literary Peace Prize. In 2019 she was made a member of the Order of the Companions of Honour for services to literature. She has also worked as a cartoonist, illustrator, librettist, playwright and puppeteer. She lives in Toronto, Canada. See less
Personality Profile For Margaret Atwood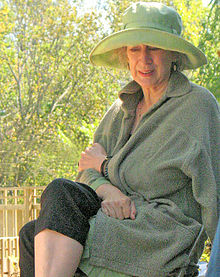 The following is a personality profile of Margaret Atwood based on her work.
Margaret Atwood is boisterous.
She is intermittent, she has a hard time sticking with difficult tasks for a long period of time. She is unconcerned with art as well: she is less concerned with artistic or creative activities than most people who participated in our surveys. But, Margaret Atwood is also empathetic: she feels what others feel and is compassionate towards them.
More than most people, her choices are driven by a desire for self-expression.
Considers helping others to guide a large part of what she does: she thinks it is important to take care of the people around him. She is also relatively unconcerned with tradition: she cares more about making her own path than following what others have done.
---
Writing style analyzed by IBM Watson
---