Mahatma Gandhi
Mohandas Karamchand Gandhi, was the prominent figure in the freedom struggle in India from the British rule. He is also known as the 'The Father of the Nation', in India. The author has written a number of books and some of them include Character & Nation Building, India of My Dreams, and All Men are Brothers. The author was born on the 2nd of October, 1869, in Porbandar, Gujarat. In the year 1942, he played a key role in launching the Quit India movement, which was intended at forcing the...See more
Mohandas Karamchand Gandhi, was the prominent figure in the freedom struggle in India from the British rule. He is also known as the 'The Father of the Nation', in India. The author has written a number of books and some of them include Character & Nation Building, India of My Dreams, and All Men are Brothers. The author was born on the 2nd of October, 1869, in Porbandar, Gujarat. In the year 1942, he played a key role in launching the Quit India movement, which was intended at forcing the British to leave the nation. As a result of launching this movement, he was thrown in prison and remained there for several years, due to other political offenses allegedly committed by him. At all times, he practised satyagraha, which is the teaching of non-violence. As the British rule ended, he was saddened by India's partition, and tried his best to bring peace among the Sikhs and Muslims. On the 30th of January, 1948, Mahatma Gandhi was shot dead by a Hindu nationalist, for allegedly being highly concerned about the nation's Muslim population. See less
Personality Profile For Mahatma Gandhi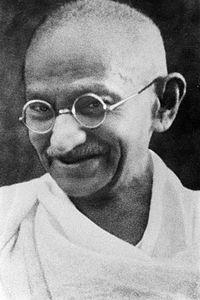 The following is a personality profile of Mahatma Gandhi based on his work.
Mahatma Gandhi is shrewd, somewhat inconsiderate and can be perceived as compulsive.
He is laid-back, he appreciates a relaxed pace in life. He is intermittent as well: he has a hard time sticking with difficult tasks for a long period of time. But, Mahatma Gandhi is also empathetic: he feels what others feel and is compassionate towards them.
More than most people, his choices are driven by a desire for discovery.
He is also relatively unconcerned with tradition: he cares more about making his own path than following what others have done. Considers helping others to guide a large part of what he does: he thinks it is important to take care of the people around him.
---
Writing style analyzed by IBM Watson
---
Mahatma Gandhi book subjects