Karl Marx
Karl Heinrich Marx (5 May 1818 - 14 March 1883) was a German philosopher, economist, historian, sociologist, political theorist, journalist and socialist revolutionary. Marx completed his doctoral thesis, titled The Difference Between the Democritean and Epicurean Philosophy of Nature, in 1841 and submitted it to the University of Jena. He was awarded a Ph.D. in April 1841. In 1844, Marx befriended Friedrich Engels, the German socialist and became a revolutionary communist. Marx's The Poverty...See more
Karl Heinrich Marx (5 May 1818 - 14 March 1883) was a German philosopher, economist, historian, sociologist, political theorist, journalist and socialist revolutionary. Marx completed his doctoral thesis, titled The Difference Between the Democritean and Epicurean Philosophy of Nature, in 1841 and submitted it to the University of Jena. He was awarded a Ph.D. in April 1841. In 1844, Marx befriended Friedrich Engels, the German socialist and became a revolutionary communist. Marx's The Poverty of Philosophy was published in 1847. Marx and Engels published ""The Communist Manifesto"", a political pamphlet summarizing their theories about the nature of society and politics, in 1848. One of the most important political documents of the world, this monumental text is highly influential and continues to remain widely read. The first volume, Capital, Volume I, of his magnum opus Capital (Das Kapital) was published in 1867. Marx continued to work on the remaining two volumes which were published after his death by Engels. Capital, Volume II was published in 1885 and Capital, Volume III in 1894. Considered to be his masterwork, Capital has been translated into all the major languages. See less
Personality Profile For Karl Marx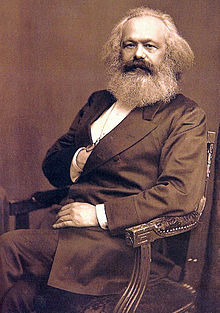 The following is a personality profile of Karl Marx based on his work.
Karl Marx is shrewd, skeptical and tranquil.
He is imaginative, he has a wild imagination. He is philosophical as well: he is open to and intrigued by new ideas and loves to explore them. But, Karl Marx is also calm under pressure: he handles unexpected events calmly and effectively.
More than most people, his choices are driven by a desire for discovery.
He is relatively unconcerned with both tradition and taking pleasure in life. He cares more about making his own path than following what others have done. And he prefers activities with a purpose greater than just personal enjoyment.
---
Writing style analyzed by IBM Watson
---