Jorge Luis Borges
JORGE LUIS BORGES naci� en Buenos Aires el 24 de agosto de 1899. Entre 1914 y 1921 vivi� con su familia en Europa. A su regreso funda las revistas Prisma y Proa , y publica Fervor de Buenos Aires (1923) e Historia universal de la infamia (1935). Autor de poes�a, cuento, ensayo y trabajos en colaboraci�n, en las d�cadas siguientes su obra crece, es traducida a m�s de veinticinco idiomas y alcanza reconocimiento mundial. Fue presidente de la Sociedad Argentina de Escritores, director...See more
JORGE LUIS BORGES naci� en Buenos Aires el 24 de agosto de 1899. Entre 1914 y 1921 vivi� con su familia en Europa. A su regreso funda las revistas Prisma y Proa , y publica Fervor de Buenos Aires (1923) e Historia universal de la infamia (1935). Autor de poes�a, cuento, ensayo y trabajos en colaboraci�n, en las d�cadas siguientes su obra crece, es traducida a m�s de veinticinco idiomas y alcanza reconocimiento mundial. Fue presidente de la Sociedad Argentina de Escritores, director de la Biblioteca Nacional, miembro de la Academia Argentina de Letras y profesor de la Universidad de Buenos Aires. Recibi� importantes distinciones de gobiernos extranjeros, y el t�tulo de doctor honoris causa de las universidades de Columbia, Yale, Oxford, Michigan, Santiago de Chile, La Sorbona y Harvard. Obtuvo, entre otros galardones, el Premio Nacional de Literatura (Argentina, 1956) y el Cervantes (Espa�a, 1979). Considerado uno de los m�s importantes escritores en lengua hispana de la historia de la literatura, muri� en Ginebra el 14 de junio de 1986. See less
Personality Profile For Jorge Luis Borges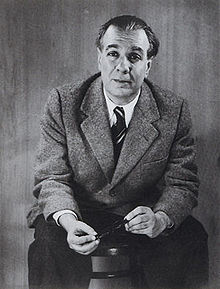 The following is a personality profile of Jorge Luis Borges based on his work.
Jorge Luis Borges is shrewd and skeptical.
He is unconcerned with art, he is less concerned with artistic or creative activities than most people who participated in our surveys. He is laid-back as well: he appreciates a relaxed pace in life. But, Jorge Luis Borges is also independent: he has a strong desire to have time to himself.
More than most people, his choices are driven by a desire for discovery.
He is also relatively unconcerned with tradition: he cares more about making his own path than following what others have done. Considers helping others to guide a large part of what he does: he thinks it is important to take care of the people around him.
---
Writing style analyzed by IBM Watson
---
Jorge Luis Borges book subjects