John Updike
John Updike was born in 1932, in Shillington, Pennsylvania. He graduated from Harvard College in 1954, and spent a year in Oxford, England, at the Ruskin School of Drawing and Fine Art. From 1955 to 1957 he was a member of the staff of The New Yorker , and since 1957 has lived in Massachusetts. He is the father of four children and the author of fifty-odd previous books, including collections of short stories, poems, and criticism. His novels have won the Pulitzer Prize, the National Book Award...See more
John Updike was born in 1932, in Shillington, Pennsylvania. He graduated from Harvard College in 1954, and spent a year in Oxford, England, at the Ruskin School of Drawing and Fine Art. From 1955 to 1957 he was a member of the staff of The New Yorker , and since 1957 has lived in Massachusetts. He is the father of four children and the author of fifty-odd previous books, including collections of short stories, poems, and criticism. His novels have won the Pulitzer Prize, the National Book Award, the American Book Award, the National Book Critics Circle Award, the Rosenthal Award, and the Howells Medal. See less
Personality Profile For John Updike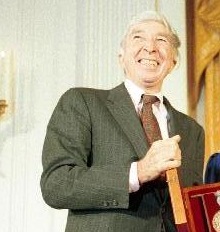 The following is a personality profile of John Updike based on his work.
John Updike is unconventional.
He is empathetic, he feels what others feel and is compassionate towards them. He is laid-back as well: he appreciates a relaxed pace in life. But, John Updike is also proud: he holds himself in high regard, satisfied with who he is.
More than most people, his choices are driven by a desire for self-expression.
Considers helping others to guide a large part of what he does: he thinks it is important to take care of the people around him. He is also relatively unconcerned with tradition: he cares more about making his own path than following what others have done.
---
Writing style analyzed by IBM Watson
---