John Irving
John Irving was born in Exeter, New Hampshire, in 1942. His first novel, Setting Free the Bears , was published in 1968, when he was twenty-six. He competed as a wrestler for twenty years, and coached wrestling until he was forty-seven. He is a member of the National Wrestling Hall of Fame in Stillwater, Oklahoma. In 1980, Mr. Irving won a National Book Award for his novel The World According to Garp . In 2000, he won the Oscar for Best Adapted Screenplay for The Cider House Rules . In 2013, he...See more
John Irving was born in Exeter, New Hampshire, in 1942. His first novel, Setting Free the Bears , was published in 1968, when he was twenty-six. He competed as a wrestler for twenty years, and coached wrestling until he was forty-seven. He is a member of the National Wrestling Hall of Fame in Stillwater, Oklahoma. In 1980, Mr. Irving won a National Book Award for his novel The World According to Garp . In 2000, he won the Oscar for Best Adapted Screenplay for The Cider House Rules . In 2013, he won a Lambda Literary Award for his novel In One Person . Internationally renowned, his novels have been translated into almost forty languages. His all-time bestselling novel, in every language, is A Prayer for Owen Meany . A dual citizen of the United States and Canada, John Irving lives in Toronto. See less
Personality Profile For John Irving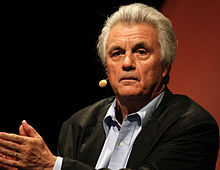 The following is a personality profile of John Irving based on his work.
John Irving is unpretentious, sentimental and easily rattled.
He is unconcerned with art, he is less concerned with artistic or creative activities than most people who participated in our surveys. He is intermittent as well: he has a hard time sticking with difficult tasks for a long period of time. But, John Irving is also laid-back: he appreciates a relaxed pace in life.
More than most people, his choices are driven by a desire for prestige.
Considers helping others to guide a large part of what he does: he thinks it is important to take care of the people around him. He is also relatively unconcerned with taking pleasure in life: he prefers activities with a purpose greater than just personal enjoyment.
---
Writing style analyzed by IBM Watson
---