Helen Keller
Helen Keller (1880-1968), born at Tuscumbia, Alabama, became deaf and blind at nineteen months. Her real life began when she was almost seven years old, on the day when Annie Sullivan, a twenty year-old graduate of the Perkins School for the Blind, came to be her teacher. They were inseparable until Annie's death in 1936. Helen went on to graduate cum laude from Radcliffe College with a Bachelor of Arts degree in 1904, becoming the first deaf and blind person to graduate from college. She...See more
Helen Keller (1880-1968), born at Tuscumbia, Alabama, became deaf and blind at nineteen months. Her real life began when she was almost seven years old, on the day when Annie Sullivan, a twenty year-old graduate of the Perkins School for the Blind, came to be her teacher. They were inseparable until Annie's death in 1936. Helen went on to graduate cum laude from Radcliffe College with a Bachelor of Arts degree in 1904, becoming the first deaf and blind person to graduate from college. She attained high distinction as a lecturer, writer, scholar, and prominent worker for social reform. Her books include The Story of My Life (1902), The World I Live In (1908), Out of the Dark (1913), My Religion (1927), Midstream: My Later Life (1929), and Let Us Have Faith (1940). Ms. Keller received the Presidential Medal of Freedom as well as many honorary degrees. Her burial urn is in the National Cathedral in Washington, DC. See less
Personality Profile For Helen Keller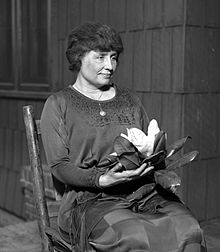 The following is a personality profile of Helen Keller based on her work.
Helen Keller is unconventional and excitable.
She is laid-back, she appreciates a relaxed pace in life. She is intermittent as well: she has a hard time sticking with difficult tasks for a long period of time. But, Helen Keller is also empathetic: she feels what others feel and is compassionate towards them.
More than most people, his choices are driven by a desire for discovery.
Considers helping others to guide a large part of what she does: she thinks it is important to take care of the people around her. She is also relatively unconcerned with tradition: she cares more about making her own path than following what others have done.
---
Writing style analyzed by IBM Watson
---