Gretchen Rubin
Gretchen Rubin is the author of several books, including the #1 New York Times and international bestseller, The Happiness Project, an account of the year she spent test-driving the wisdom of the ages, the current scientific studes, and the lessons from popular culture about how to be happier. On her well-known blog, The Happiness Project, ... she reports on her daily adventures in the pursuit of happiness. Gretchen Rubin started her career in law, and she was clerking for Supreme Court Justice...See more
Gretchen Rubin is the author of several books, including the #1 New York Times and international bestseller, The Happiness Project, an account of the year she spent test-driving the wisdom of the ages, the current scientific studes, and the lessons from popular culture about how to be happier. On her well-known blog, The Happiness Project, ... she reports on her daily adventures in the pursuit of happiness. Gretchen Rubin started her career in law, and she was clerking for Supreme Court Justice Sandra Day O'Connor when she realised that she really wanted to be a writer. She lives in New York City with her husband and two daughters. The Happiness Project is more than a book and a blog, it's a movement. Happiness Project groups have sprung up from San Francisco to Lexington, Kentucky to Johannesburg, where people meet to discuss their own happiness projects. Dozens of blogs have been launched by people following Gretchen's example; hundreds of book groups have discussed the book; and rights for more than 35 foreign editions have been sold. The Happiness Project was even an answer on the game-show Jeopardy! Gretchen, an enthusiastic proponent of using technology to engage with readers about ideas, has a wide, active following on social media outlets such as Twitter 'twitter.com/gretchenrubin', Facebook 'facebook.com/gretchen.rubin.9', YouTube 'youtube.com/user/GretchenRubinNY', her monthly newsletter, and her daily 'Moment of Happiness' email. See less
Personality Profile For Gretchen Rubin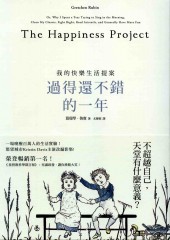 The following is a personality profile of Gretchen Rubin based on her work.
Gretchen Rubin is a bit compulsive.
She is intermittent, she has a hard time sticking with difficult tasks for a long period of time. She is empathetic as well: she feels what others feel and is compassionate towards them. But, Gretchen Rubin is also fiery: she has a fiery temper, especially when things do not go her way.
More than most people, his choices are driven by a desire for discovery.
Considers helping others to guide a large part of what she does: she thinks it is important to take care of the people around her. She is also relatively unconcerned with tradition: she cares more about making her own path than following what others have done.
---
Writing style analyzed by IBM Watson
---