Erica Jong
Erica Jong is an American writer famously known for her debut novel, Fear of Flying . Published in 1973, it revolutionised conventional beliefs about women, marriage, and sexuality. Erica created an outlet for every woman's inner voice, and her frank discussions of sex and sexuality has made her one of the world's most iconic writers. With her work being published in 45 languages worldwide, Erica Jong is a hero to millions and admired by writer such as John Updike, Henry Miller, Anthony Burgess...See more
Erica Jong is an American writer famously known for her debut novel, Fear of Flying . Published in 1973, it revolutionised conventional beliefs about women, marriage, and sexuality. Erica created an outlet for every woman's inner voice, and her frank discussions of sex and sexuality has made her one of the world's most iconic writers. With her work being published in 45 languages worldwide, Erica Jong is a hero to millions and admired by writer such as John Updike, Henry Miller, Anthony Burgess, and Jennifer Weiner. Since beginning with Fear of Flying , Erica has published over 25 books spanning fiction, non-fiction, and poetry. Her works have been lauded around the globe, winning The Fernanda Pivano award in Italy, The Sigmund Freud Award in Italy, the Deauville Award in France, and The United Nations Award for Excellence in Literature. Her most recent novel, Fear of Dying , is a culmination of her career, not just of writing, but of reflection, questioning, and lifting up a generation of women. Erica is currently working on her autobiography and adapting her novel Fanny for television. She is invited to speak on women's rights all over the world. See less
Personality Profile For Erica Jong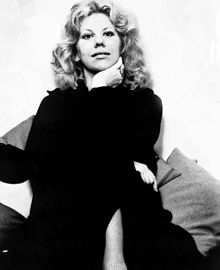 The following is a personality profile of Erica Jong based on her work.
Erica Jong is boisterous and unpretentious.
She is laid-back, she appreciates a relaxed pace in life. She is intermittent as well: she has a hard time sticking with difficult tasks for a long period of time. But, Erica Jong is also assertive: she tends to speak up and take charge of situations, and she is comfortable leading groups.
She is motivated to seek out experiences that provide a strong feeling of organization.
Considers helping others to guide a large part of what she does: she thinks it is important to take care of the people around him. She is also relatively unconcerned with achieving success: she makes decisions with little regard for how they show off her talents.
---
Writing style analyzed by IBM Watson
---