E M Forster
English novelist Edward Morgan Forster was born on 1 January 1879 at 6 Melcombe Place, Dorset Square, London. He was the only child of Welsh architect Edward Morgan Llewellyn Forster and Anglo-Irish Alice Clara "Lily" (née Whichelo). Forster tutored Syed Ross Masood, a 17-year-old Indian future Oxford student, in Latin, he fell in love in 1906. Forster worked with the British Red Cross in Alexandria, Egypt, as a Chief Searcher (for missing personnel) during the First World War as a...See more
English novelist Edward Morgan Forster was born on 1 January 1879 at 6 Melcombe Place, Dorset Square, London. He was the only child of Welsh architect Edward Morgan Llewellyn Forster and Anglo-Irish Alice Clara "Lily" (née Whichelo). Forster tutored Syed Ross Masood, a 17-year-old Indian future Oxford student, in Latin, he fell in love in 1906. Forster worked with the British Red Cross in Alexandria, Egypt, as a Chief Searcher (for missing personnel) during the First World War as a conscientious objector. To his close friends, Forster was open about his homosexuality, but not to the general public. During his participation in the Bloomsbury group in the 1930s and 1940s, Forster came to be associated with the British Humanist Association. In 1946, Forster was chosen to be an honorary fellow at King's College in Cambridge. In 1949, he was offered a knighthood; in 1953, he was appointed a Companion of Honor. At the age of 82, Forster completed his final short tale, Little Imber. At the Buckinghams' house in Coventry, Warwickshire, Forster died from a stroke on June 7, 1970, at the age of 91. His ashes, mixed with Buckingham's, were afterward dispersed in the crematorium's rose garden, close to Warwick University. See less
Personality Profile For E M Forster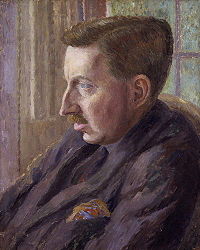 The following is a personality profile of E M Forster based on his work.
E M Forster is a bit compulsive and explosive.
He is laid-back, he appreciates a relaxed pace in life. He is intermittent as well: he has a hard time sticking with difficult tasks for a long period of time. But, E M Forster is also empathetic: he feels what others feel and is compassionate towards them.
More than most people, his choices are driven by a desire for self-expression.
Considers helping others to guide a large part of what he does: he thinks it is important to take care of the people around him. He is also relatively unconcerned with tradition: he cares more about making his own path than following what others have done.
---
Writing style analyzed by IBM Watson
---