Charles Bukowski
Charles Bukowski is one of America's best-known contemporary writers of poetry and prose and, many would claim, its most influential and imitated poet. He was born in 1920 in Andernach, Germany, to an American soldier father and a German mother, and brought to the United States at the age of two. He was raised in Los Angeles and lived there for over fifty years. He died in San Pedro, California, on March 9, 1994, at the age of seventy-three, shortly after completing his last novel, Pulp . Abel...See more
Charles Bukowski is one of America's best-known contemporary writers of poetry and prose and, many would claim, its most influential and imitated poet. He was born in 1920 in Andernach, Germany, to an American soldier father and a German mother, and brought to the United States at the age of two. He was raised in Los Angeles and lived there for over fifty years. He died in San Pedro, California, on March 9, 1994, at the age of seventy-three, shortly after completing his last novel, Pulp . Abel Debritto , a former Fulbright scholar and current Marie Curie fellow, works in the digital humanities. He is the author of Charles Bukowski, King of the Underground , and the editor of the Bukowski collections On Writing , On Cats , and On Love . See less
Personality Profile For Charles Bukowski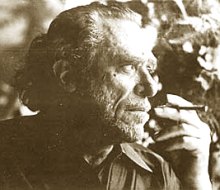 The following is a personality profile of Charles Bukowski based on his work.
Charles Bukowski is boisterous, social and sentimental.
He is content, he is content with his level of accomplishment and does not feel the need to set ambitious goals. He is intermittent as well: he has a hard time sticking with difficult tasks for a long period of time. But, Charles Bukowski is also outgoing: he makes friends easily and feel comfortable around other people.
More than most people, his choices are driven by a desire for discovery.
Considers independence to guide a large part of what he does: he likes to set his own goals to decide how to best achieve them. He is also relatively unconcerned with tradition: he cares more about making his own path than following what others have done.
---
Writing style analyzed by IBM Watson
---
Charles Bukowski book subjects