Benjamin Franklin
Benjamin Franklin (1706-1790) was one of America's most influential Founding Fathers. He was an author, printer, politician, postmaster, scientist, musician, inventor, statesman, and diplomat. Franklin invented the lightning rod, the Franklin stove, a carriage odometer, and bifocals. He served as President of Pennsylvania (which would be Governor today), United States Minister to France, United States Minister to Sweden, and United States Postmaster General. At 70, he was the oldest signer of...See more
Benjamin Franklin (1706-1790) was one of America's most influential Founding Fathers. He was an author, printer, politician, postmaster, scientist, musician, inventor, statesman, and diplomat. Franklin invented the lightning rod, the Franklin stove, a carriage odometer, and bifocals. He served as President of Pennsylvania (which would be Governor today), United States Minister to France, United States Minister to Sweden, and United States Postmaster General. At 70, he was the oldest signer of the Declaration of Independence. He was a publisher; most famously of Poor Richard's Almanack, which was published from 1732 to 1757. Franklin biographer Walter Isaacson calls him "the most accomplished American of his age and the most influential in inventing the type of society America would become." See less
Personality Profile For Benjamin Franklin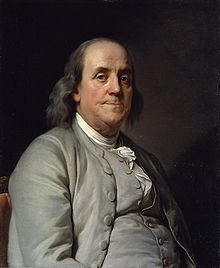 The following is a personality profile of Benjamin Franklin based on his work.
Benjamin Franklin is unconventional, somewhat inconsiderate and opinionated.
He is laid-back, he appreciates a relaxed pace in life. He is intermittent as well: he has a hard time sticking with difficult tasks for a long period of time. But, Benjamin Franklin is also cautious of others: he is wary of other people's intentions and does not trust easily.
More than most people, his choices are driven by a desire for stability.
Considers helping others to guide a large part of what he does: he thinks it is important to take care of the people around him. He is also relatively unconcerned with tradition: he cares more about making his own path than following what others have done.
---
Writing style analyzed by IBM Watson
---