Barbara Ehrenreich
Barbara Ehrenreich (1941-2022) was a bestselling author and political activist, whose more than a dozen books included Nickel and Dimed , which the New York Times described as "a classic in social justice literature", Bait and Switch , Bright-sided , This Land Is Their Land , Dancing In the Streets, and Blood Rites . An award-winning journalist, she frequently contributed to Harper's , The Nation , The New York Times, and TIME magazine. Ehrenreich was born in Butte, Montana, when it was still...See more
Barbara Ehrenreich (1941-2022) was a bestselling author and political activist, whose more than a dozen books included Nickel and Dimed , which the New York Times described as "a classic in social justice literature", Bait and Switch , Bright-sided , This Land Is Their Land , Dancing In the Streets, and Blood Rites . An award-winning journalist, she frequently contributed to Harper's , The Nation , The New York Times, and TIME magazine. Ehrenreich was born in Butte, Montana, when it was still a bustling mining town. She studied physics at Reed College, and earned a Ph.D. in cell biology from Rockefeller University. Rather than going into laboratory work, she got involved in activism, and soon devoted herself to writing her innovative journalism. See less
Personality Profile For Barbara Ehrenreich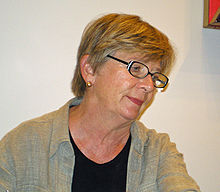 The following is a personality profile of Barbara Ehrenreich based on her work.
Barbara Ehrenreich is shrewd, somewhat inconsiderate and can be perceived as indirect.
She is unconcerned with art, she is less concerned with artistic or creative activities than most people who participated in our surveys. She is intermittent as well: she has a hard time sticking with difficult tasks for a long period of time. But, Barbara Ehrenreich is also self-focused: she is more concerned with taking care of herself than taking time for others.
More than most people, her choices are driven by a desire for prestige.
Considers helping others to guide a large part of what she does: she thinks it is important to take care of the people around him. She is also relatively unconcerned with taking pleasure in life: she prefers activities with a purpose greater than just personal enjoyment.
---
Writing style analyzed by IBM Watson
---
Barbara Ehrenreich book subjects