Arthur Miller
Arthur Miller was born in New York City in 1915. After graduating from the University of Michigan, he began work with the Federal Theatre Project. His first Broadway hit was All My Sons, closely followed by Death of a Salesman, The Crucible and A View from the Bridge. His other writing include Focus, a novel; The Misfits, first published as a short story, then as a cinema novel; In Russia, In the Country, Chinese Encounters (all in collaboration with his wife, photographer Inge Morath) and ...See more
Arthur Miller was born in New York City in 1915. After graduating from the University of Michigan, he began work with the Federal Theatre Project. His first Broadway hit was All My Sons, closely followed by Death of a Salesman, The Crucible and A View from the Bridge. His other writing include Focus, a novel; The Misfits, first published as a short story, then as a cinema novel; In Russia, In the Country, Chinese Encounters (all in collaboration with his wife, photographer Inge Morath) and 'Salesman' in Beijing, non-fiction; and his autobiography, Timebends, published in 1987. Among his other plays are: Incident At Vichy, The Creation of the World and Other Business, The American Clock, The Last Yankee, Resurrection Blues and Finishing the Picture. His novella, Plain Girl, was published in 1995 and his second collection of short stories, Presence, in 2007. He died in February 2005 aged eighty-nine. See less
Personality Profile For Arthur Miller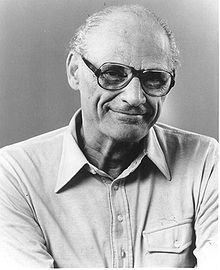 The following is a personality profile of Arthur Miller based on his work.
Arthur Miller is boisterous and expressive.
He is empathetic, he feels what others feel and is compassionate towards them. He is laid-back as well: he appreciates a relaxed pace in life. But, Arthur Miller is also intermittent: he has a hard time sticking with difficult tasks for a long period of time.
More than most people, his choices are driven by a desire for discovery.
Considers helping others to guide a large part of what he does: he thinks it is important to take care of the people around him. He is also relatively unconcerned with tradition: he cares more about making his own path than following what others have done.
---
Writing style analyzed by IBM Watson
---
Arthur Miller book subjects