Annie Besant
Annie Besant was born 1 October 1847 in Clapham London to parents of Irish roots. After the early death of her father in 1852, the family were brought up in relative poverty and Annie was looked after by a friend of the family Ellen Marryat. This enabled Annie to gain a good education and travel around Europe. In 1867, aged only 19, she married a clergyman Frank Besant, seven years her senior. They went to live in Sibsey, Lincolnshire, where Frank was a vicar. However, the marriage soon...See more
Annie Besant was born 1 October 1847 in Clapham London to parents of Irish roots. After the early death of her father in 1852, the family were brought up in relative poverty and Annie was looked after by a friend of the family Ellen Marryat. This enabled Annie to gain a good education and travel around Europe. In 1867, aged only 19, she married a clergyman Frank Besant, seven years her senior. They went to live in Sibsey, Lincolnshire, where Frank was a vicar. However, the marriage soon experienced difficulties. Annie became increasingly radicalised in her political views - whereas Frank was generally conservative. Annie instinctively supported the rights of workers and poor farmers. Annie also began writing, but her husband didn't allow her to keep her earnings. More seriously Annie began questioning the religion of her birth and, in 1873, she stopped receiving Communion because she no longer felt she could call herself a Christian. "...but I could no longer attend the Holy Communion, for in that service, full of recognition of Jesus as Deity and of His atoning sacrifice, I could no longer take part without hypocrisy." Annie Besant, An Autobiography Chapter IV This was the final straw for the marriage and Annie left her husband taking her daughter to London. Looking back on her marriage, she reveals a temperament not suited to the Victorian expectations of a passive wife. "...for under the soft, loving, pliable girl there lay hidden, as much unknown to herself as to her surroundings, a woman of strong dominant will, strength that panted for expression and rebelled against restraint, fiery and passionate emotions that were seething under compression-a most undesirable partner to sit in the lady's arm-chair on the domestic rug before the fire." Annie Besant, An Autobiography Chapter IV In London, she became noted for her radical political views. She espoused freedom of thought, women's rights, secularism, birth control and the rights of the working class.; she was also highly critical of the influence and teachings of Christianity. See less
Personality Profile For Annie Besant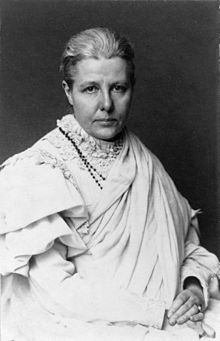 The following is a personality profile of Annie Besant based on her work.
Annie Besant is shrewd and somewhat insensitive.
She is philosophical, she is open to and intrigued by new ideas and loves to explore them. She is empathetic as well: she feels what others feel and is compassionate towards them. But, Annie Besant is also calm under pressure: she handles unexpected events calmly and effectively.
More than most people, her choices are driven by a desire for discovery.
She is also relatively unconcerned with tradition: she cares more about making her own path than following what others have done. Considers independence to guide a large part of what she does: she likes to set her own goals to decide how to best achieve them.
---
Writing style analyzed by IBM Watson
---
Annie Besant book subjects