A P Herbert
Sir Alan Patrick Herbert was born in 1890 and educated at Winchester and Oxford. Having achieved a first in Jurisprudence, he then joined the Royal Navy and served both at Gallipoli and in France during the First World War. He was called to the Bar in 1918, but never practised, having established himself at a young age as a lauded writer of verses. Later, he went on to become Member of Parliament for Oxford University from 1935 to 1950. Throughout his life A.P. Herbert was a prolific writer,...See more
Sir Alan Patrick Herbert was born in 1890 and educated at Winchester and Oxford. Having achieved a first in Jurisprudence, he then joined the Royal Navy and served both at Gallipoli and in France during the First World War. He was called to the Bar in 1918, but never practised, having established himself at a young age as a lauded writer of verses. Later, he went on to become Member of Parliament for Oxford University from 1935 to 1950. Throughout his life A.P. Herbert was a prolific writer, delighting his many readers with his witty observations and social satires in the columns of Punch. He often used his column in aid of causes, and was a tireless campaigner for reform, especially of the then divorce laws, the denouncing of injustice, and also as a dedicated conserver of the River Thames. He conducted a long standing campaign against jargon and 'officialese'. However, this was always done utilising his characteristic wry humour and a great sense of fun. He created a host of colourful characters - notably Topsy, Albert Haddock and Mr Honeybubble - and wrote novels, poems, musicals, essays, sketches and articles. By the time of his death in 1971, Herbert had gained a considerable following and was highly regarded in literary circles. J.M. Barrie, Hilaire Belloc, Rudyard Kipling and John Galsworthy all delighted in his work, and H.G. Wells once applauded him stating: 'You are the greatest of great men. You can raise delightful laughter and that is the only sort of writing that has real power over people like me.' See less
Personality Profile For A P Herbert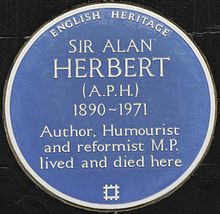 The following is a personality profile of A P Herbert based on his work.
A P Herbert is unconventional.
He is empathetic, he feels what others feel and is compassionate towards them. He is intermittent as well: he has a hard time sticking with difficult tasks for a long period of time. But, A P Herbert is also self-controlled: he has control over his desires, which are not particularly intense.
More than most people, his choices are driven by a desire for discovery.
Considers helping others to guide a large part of what he does: he thinks it is important to take care of the people around him. He is also relatively unconcerned with tradition: he cares more about making his own path than following what others have done.
---
Writing style analyzed by IBM Watson
---
A P Herbert book subjects