Need that book by December 24? You'll find help in our Holiday Shipping Guide and in the following answers to our top holiday questions from customers like you.
How do I make sure my book will arrive in time for the holidays?
The most important thing to know is that we display a snowflake

in the listing for each book that should be delivered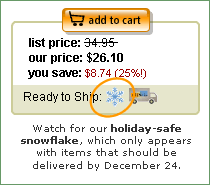 by December 24. When you're browsing specific items, look for the snowflake in the Add to Cart box. As the holidays approach, we will remove the snowflakes from listings that are no longer eligible for holiday delivery.
Also: Check our Holiday Shipping Guide for suggestions about what type of shipping to choose, depending on the date you are shopping. And if you're mailing to an unusual or remote location, we've detailed delivery times, shipping costs, and more on our Shipping Information page.
Can you gift wrap items in my order?
Sorry, we do not currently offer a gift wrap option.
Can gift orders ship directly to the recipient?
Absolutely. But you must place a separate order for each shipping address to which you'd like to mail your gift items. Enter the recipient's name and address in the Shipping Address field during checkout.
Does Alibris offer overnight shipping?
We offer One Day Air and Two Day Air for orders that only contain books that are listed as shipping from Alibris. These are designated with the Super Value Shipping

truck. (You must be shipping to a U.S. address.) We do not offer overnight shipping for items that are shipped directly from an independent seller, nor do we offer overnight shipping on "mixed" orders that contain some books that are listed as shipping from Alibris and others that are from one or more independent sellers.
What if I need to return an order?
Alibris guarantees the condition of every book as it is described on our Web site—both those from independent sellers and from our own warehouse. Please read our Returns Policy for details and instructions.