A Meal Put Together from Viva Vegan
When I went to Cuba at the turn of the millennium, I was thrilled to discover state-run vegetarian cafeterias, supposedly part of Cuba's efforts to reduce heart disease. Authentic Cuban vegetarian is a rare treat. After all, the quintessential vegetarian foodstuff is the soybean and—as tasty as tofu is—it doesn't lend itself to Spanish food.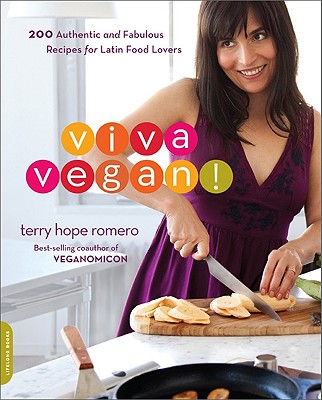 Since that trip many years ago, I've never encountered Latin vegetarian recipes.
That's why I was so excited to discover Viva Vegan from Terry Hope Romero, the author of the best-selling cookbook, The Veganomicon. Viva Vegan shows readers how to make 200 different Latin vegan recipes. The book is divided not by country but by type of food. Romero fills readers in on on the pantry and tools typical to the Latin kitchen. Appendices include shopping lists and menu ideas, but today I've decided to share a menu of my own.
Viva Vegan has recipes from all over the Spanish-speaking world, but I want to share those that remind me of Cuba. I got in touch with the publishers to put together this incredible meal that includes, sangria, "chicken" and yellow rice, and sweet fried plantains. I chose arroz con pollo because it's the meal I most associate with my bisabuela's cooking and vegan chicken and yellow rice is a rare find. Romero uses seitan as a substitute for chicken. Seitan can be purchased in the health food section of your grocery store, or you can use the seitan recipe she provided for us below.
Finally, annatto oil is a common ingredient in many Latin recipes, including our main course. In a pinch, you may find it at your grocery store. But we've provided Romero's own homemade annatto oil recipe. Let's get started!
To Wet Your Whistle: Sangria
It's not a Spanish meal without this timeless blend of wine, brandy, and fruit juice. Although sangria is often associated with the Old World, it's enjoyed all over the Americas. Oranges, lemons, or apples are classic additions, but I gravitate toward tropical fare such as papaya, mango, or pineapple. It is strong, but you can go easy on the brandy, if you like, or toss in an ice cube for a gentler sangria.
A good sangria can be—or even should be—crafted out of inexpensive dry red wine and brandy. Rigging up wine with fruit and liquor would ruin that spendy twenty-year-old vintage. But say you do want special-­occasion sangria. Then it's time to invest in a good brandy such as ­apple-scented Calvados, stir in a few shots of Grand Marnier, and power-boost that sangria with a crushed (and vegan) port wine.
Sangria Ingredients
Makes 2 liters
Time: 30 minutes
Gluten Free, Soy Free
1 orange (preferably a Valencia or "juice" orange)
1 lemon
1⁄2 cup simple syrup (page 218 or find it in the bar section of the grocery)
2⁄3 cup brandy
1⁄2 cup freshly squeezed orange juice
2 tablespoons freshly squeezed
lemon juice
3 cups mixed fresh fruit, such as apple, papaya, pineapple, mango, any melon, strawberries, or raspberries, chopped into bite-size pieces
1 (750 ml) bottle dry red wine, chilled
Ice cubes (optional)
How to Make Sangria
1. Wash the orange and lemon well. Use a heavy, sharp chef's knife to quarter the fruit and slice each piece into paper-thin slices, discarding any seeds. In a large glass pitcher, combine the simple syrup, brandy, orange juice, lemon juice, sliced orange, lemon, and chopped fruit. Stir and set aside for 30 minutes for the fruit to absorb the brandy flavors.
2. Before serving, pour the chilled red wine into the pitcher and stir into the brandy mixture. To serve, pour the sangria into 16-ounce glasses and use a large spoon to ladle in plenty of fruit. Serve immediately. If desired, add a few ice cubes to help temper the alcohol.
Make-ahead Tip: Prepare the fruit and soak in the brandy mixture up to a day in advance of stirring into the wine.
From Viva Vegan!: 200 Authentic and Fabulous Recipes for Latin Food Lovers by Terry Hope Romero. Reprinted courtesy of Da Capo Lifelong Books.
The Appetizer: Sweet Fried Plantains
Sweet plantains, lightly caramelized, fried golden-brown on the outside and meltingly ­tender on the inside. Got your attention, no? Fried sweet plantains, known as plátanos maduros or sometimes just maduros, are a classic side to any Latin dinner plate. Along with the beans, rice, main protein, and veggies, the fried plátano maduro makes up what's often nicknamed a bandera ("flag") in many regions, maybe because the whole ensemble resembles the stripes of a particularly tasty flag. One large plantain makes one side or appetizer portion per person.
Sweet Plantains Ingredients
Makes 1 serving per plantain
Time: 20 minutes or less
Gluten Free, Soy Free
Ripe plantains (1 plantain per serving)
Vegetable oil for frying, such as canola or a blend
Lime juice or salt (optional)
Sweet Plantains Recipe
1. When those plantains are ready and ripe, generously pour enough oil into a cast-iron or large nonstick skillet to cover the bottom by 1/4 inch and preheat over medium-high heat. The idea is to pan-fry—not deep-fry—the plantains. On a cutting board, slice both ends off a plantain and use a sharp paring knife to slice a shallow cut—just deep enough to slice through the skin only—from one end of the plantain to the other. Use your thumbs to peel off the skin, working your nail under the peel. This should be considerably easier than removing the skin from a green plantain. If the plantain is insanely ripe it may be very mushy, but that's okay; just gently remove the peel and place the flesh on the cutting board.
2. There are many options for slicing up a plátano maduro for frying; try a few to see which suits your entrée or meal best.
Slice diagonally on a 45-degree angle into 1- to 11/2-inch-thick slices for easy-to-fry plátanos.
Or, slice the entire plantain horizontally into two long pieces for a long, plantain shape that looks great along the edges of dinner plates.
Or, slice in half, then slice each plátano again in half, horizontally.
3. Any way you cut it, slide the slices into the hot oil and fry for 10 to 14 minutes, flipping a few times, until the maduros are golden-brown and caramelized. Do not overcrowd the pan. If you like, gently press down on the plantains when they're very soft from cooking, to help them spread slightly and encourage further browning. Add a little more oil to your pan if maduros start to stick or don't seem to be caramelizing enough.
4. To serve: slide the hot plantains directly onto a serving plate and sprinkle with a little lime juice or nothing at all. Draining fried sweet plantains is optional; I like them best when they're just a little greasy, but you can always gently blot them with a paper towel, if desired.
From Viva Vegan!: 200 Authentic and Fabulous Recipes for Latin Food Lovers by Terry Hope Romero. Reprinted courtesy of Da Capo Lifelong Books.
 Homemade Seitan
Steam up a batch of this soy-free seitan for "chicken"- and "pork"-style dishes in this book, or anytime for seitan that's fast and relatively mess free. This seitan is very chewy (more so than the Red Seitan) and is well suited for cooking with moist foods (stews, rice dishes) or slicing very thin, marinating, and grilling or roasting (heavenly heavenly in a Cubano Vegano Sandwich [page 66]). This seitan (and the red recipe, too) are also firm enough to grate for surprisingly realistic-looking ground "meat." This recipe makes four compact loaves for use in two recipes.
Homemade Seitan Ingredients
Makes four seitan "loaves," each loaf serving 2, generously incorporated into entrées and other dishes
Time: Less than 45 minutes
Soy Free (be sure to use soy-free vegetable broth)
1 1⁄2 cups cold vegetable broth or "chicken"-flavored vegetable broth
4 cloves garlic, grated
2 tablespoons olive oil
1 1⁄2 cups vital wheat gluten flour
1⁄4 cup chickpea (garbanzo) flour
1⁄4 cup nutritional yeast
1 teaspoon dried thyme
1⁄2 teaspoon ground sweet paprika
1⁄2 teaspoon ground cumin
1 teaspoon salt, or more to taste
1. In a measuring cup, whisk together the broth, garlic, and olive oil. In a large bowl, combine the wheat gluten, chickpea flour, nutritional yeast, thyme, paprika, cumin, and salt, and form a well in the center. Pour the liquid ingredients into the well and stir with a rubber spatula until the dough leaves the sides of the bowl. Knead the dough for two to three minutes to develop the gluten. Let the dough rest for 10 minutes; knead again for 30 seconds. Place the dough on a cutting board and with a sharp knife, cut the dough into four equal pieces and lightly knead each piece a few times. Shape each into a loaf shape.
2. Tear off four 12-inch-square sheets of aluminum foil. Place a piece of dough in the center of a piece of foil. Fold the short sides of foil over the loaf, then fold over the ends. The foil should be secure but there should be a little give around the dough to allow it to expand during steaming. Repeat with the other three pieces of dough. Place the wrapped dough in a steamer basket and steam for 30 minutes. Allow the dough to cool to the touch before chilling in the fridge for an hour or overnight.
3. Store the seitan in the fridge, tightly sealed in a plastic bag or airtight container, for up to two weeks.
From Viva Vegan!: 200 Authentic and Fabulous Recipes for Latin Food Lovers by Terry Hope Romero. Reprinted courtesy of Da Capo Lifelong Books.
The Main Course: Vegan Arroz con Pollo: Arroz con Seitan
("Chicken" and Yellow Rice)
A veggie tribute to the enduring Hispanic dish (arroz con pollo) that lets the chicken cross the road for yet another day. Steamed White Seitan (recipe above) or purchased seitan is lightly browned and cradled in lively yellow rice pilaf. Beer adds depth and richness to this dish but it's not essential; veggie broth will do the job just as well. Serve with a green or cabbage salad.
Arroz con Seitan Ingredients
Serves 4 to 6 generously
Time: About 1 1⁄2 hours
Seitan
1⁄2 recipe (two loaves) Steamed White Seitan (see above), or 12 ounces commercially prepared seitan, sliced into thick strips about 3 or 4 inches long
1 tablespoon lime juice
2 tablespoons olive oil
Big pinch dried oregano
Sofrito and Arroz
2 tablespoons Annatto-Infused Oil (see below)
1 tablespoon olive oil
5 large cloves garlic, minced
1⁄2 pound yellow onion, finely chopped
1⁄2 pound green bell pepper, seeded and finely chopped
2⁄3 cup plain tomato sauce
1 cup light-colored Mexican beer or vegetable broth
1 1⁄2 teaspoons dried oregano
1 teaspoon ground cumin
1 bay leaf
1⁄4 teaspoon salt, or more as desired
1 1⁄2 cups long-grain white rice
1 1⁄4 cups water or vegetable broth or a combination of the two
1 cup fresh or frozen small green peas (petit pois, small sweet peas are best)
1 carrot, peeled and diced small
1⁄2 cup sliced pimiento stuffed green olives
1⁄4 cup capers (optional)
1⁄4 cup finely chopped cilantro
Freshly ground black pepper
Preparing Arroz con Seitan
1. Prepare the seared seitan: In a large bowl whisk together lime juice, olive oil, and dried oregano. Add the seitan strips, using tongs to toss and coat them with the marinade. Marinate for ten minutes, tossing occasionally. Heat a cast-iron skillet or grill pan over medium-high heat and generously coat with cooking spray or brush with peanut oil. Add a layer of marinated seitan strips, taking care not to crowd the pan. Fry seitan on each side for one to two minutes, flipping once (metal tongs work nicely here). Seitan should be crisp and dark on the edges but still look juicy. Remove from pan and set aside.
2. While preparing the seitan, prepare the sofrito: In a large Dutch oven or enamel-glazed cast-iron pot with a tight-fitting lid, combine Annatto-Infused Oil, olive oil, and garlic over medium heat. Fry until the garlic is fragrant (about 30 seconds). Add the onion and bell pepper and fry uncovered, stirring occasionally, until vegetables are very soft and juicy, about 12 to 14 minutes.
3. Stir in the tomato sauce, beer (or vegetable broth), dried oregano, cumin, and bay leaf and simmer for 4 minutes. Stir in the salt, rice, water or vegetable broth, peas, and carrots; cover the pot, and bring the mixture to a boil. Remove the lid, reduce the heat to a low simmer, and push seared seitan strips down into the rice mixture. Sprinkle sliced olives and capers, if using, over everything, cover the pot, and cook for 30 to 35 minutes or until rice is tender, fluffy, and all of the liquid is absorbed.
4. Remove from heat, keeping the pot covered, and set it aside for 10 minutes to cool slightly. Add chopped cilantro and gently fluff the rice. Sprinkle with freshly ground pepper and serve right away.
Annatto-Infused Oil
(Aciete de Achiote)
Annatto seeds, known as achiote, are as ­all-American a seasoning as you may ever hope to find. Annatto trees are native to the tropical Americas and the seeds are a natural powerhouse of bright orange color. Achiote-infused oil is used in Latin American cooking to add a vibrant splash of red-orange to rice, soups, breads, tamales, and beyond. My papá makes an occasional batch to tint empanada dough. The flavor of annatto is very subtle, perhaps a little nutty, so you don't have to worry about it clashing with other elements in your recipes.
Making this oil takes only a few minutes and it lasts forever stashed away in the spice cabinet. If you prefer ground achiote seeds, as a general rule, use 1 tablespoon of oil for every ½ teaspoon of ground achiote seeds.
Annatto-Infused Oil Ingredients
Makes 1⁄2 cup oil
Time: Less than 10 minutes
Gluten Free, Soy Free
2 tablespoons annatto (achiote) seeds
1⁄2 cup mild vegetable oil, such as canola or grapeseed or light olive oil
Making Annatto-Infused Oil
1. Combine the annatto seeds and vegetable oil in a small saucepan.
2. Bring the oil to a simmer over medium-low heat, then lower the heat to low.
3. Simmer for 2 to 3 minutes, until oil turns a very dark orange. Remove from the heat and let cool completely.
4. Using a fine-mesh metal strainer, strain the oil into a small, clean glass jar and cap tightly. Discard the seeds.
Annatto oil can be stored at room temperature and lasts almost forever.
All recipes from Viva Vegan!: 200 Authentic and Fabulous Recipes for Latin Food Lovers by Terry Hope Romero. Reprinted courtesy of Da Capo Lifelong Books.
Loves nachos, Oakland, and books.