Winners have just been announced for one of my favorite prizes, the Pushcart Prize. I'm not the only one, Publisher's Weekly named it "among the most influential projects in the history of American publishing." This is a prize that's given only to works that were originally published by alternative presses in the previous year, and all these stories are gathered into a yearly anthology. Surely if you are shopping at the leading indie book distributor you also love indie presses, so I bet this is an anthology you'll want.
There is so much to love about these anthologies. They include a diverse selection of fiction, poetry and essays. Now in their 39th year, the selection committee is one of the few surviving literary co-ops in America. It's a way to support alternative presses and alternative voices. And how great is to imagine that you win a small press story-writing contest, only for that story to win a Pushcart Prize? Surprises abound. But at the end of the day, the best part is that the writing is really good.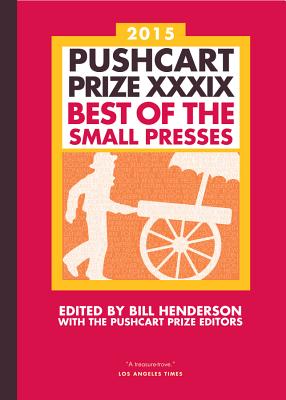 Personally, I can be overwhelmed by all the various literary magazines out there. Should you pick up Ploughshares or is Stoneslide Corrective more your groove? Tin House or Axe Factory? Is the Quarterly your style or do you prefer Quarterly West? Seriously, just yesterday I ran a search for "literary magazine" on Twitter and found more presses than I could stuff in a Twitter list! And all that is just the magazines, to say nothing of alternative presses publishing print books. Maybe that's why World Literature Today say it's "Like discovering yet one more galaxy."
The Pushcart Prize Anthology is a way to get the very best short literary fiction while learning which literary magazines are right for you. The end of each anthology includes an index of every literary magazine/press that won the honor this year as well as an author index of every contributor who has won the prize since its founding in 1976.
The list of 2015 winners includes Marilyn Hacker, Philip Levine, and Louise Glück, but truly this isn't a series you read for the familiar names. It's about finding something new to fall in love with. Our theme this month is exploration. You can explore from the comfort of your easy chair by trying out the 65 fresh authors celebrated here.
Loves nachos, Oakland, and books.