Sororities, by their very design as secret institutions, drive speculation and gossip about what happens behind their closed doors. Supposedly the devotion to volunteering and respectability that our grandmothers associate with sorority life have been replaced by depravity and abuse. But is it true? Bestselling journalist Alexandra Robbins set out to find out; the result is her book Pledged: The Secret Life of Sororities.
Robbins first hit pay dirt with her book about secret ivy league societies like Skull and Bones, Secrets of the Tomb. So it makes sense that she would follow that up with a book about a different kind of select collegiate club. However, Robbins set out to write the book soon after MTV's hit show Sorority Life painted fraternal organizations as dangerous dens of iniquity. Because of this, fraternities nationwide set a strict policy not to speak with any members of the media. Robbins was forced to do her research on the sly. She chronicles the life of four sorority sisters (names changed of course), from pledging to choosing who will be their new sisters at the next year's pledge. In between Robbins covers everything one might associate with sororities: hazing, volunteering, homecoming, secret songs, assorted parties and, of course, the debauchery of spring break.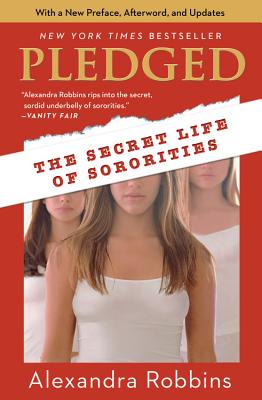 The result works well, because following the trials and tribulations the girls face is a bit like reading a summary of a soap opera. I kept turning the pages to find out who would get asked to the party, which roommates would get sick of each other, how they would get revenge, etc. One nice, perhaps unintended, effect of trailing the lives of four girls is that their individuality and intelligence keeps the reader from painting them by stereotypes they might otherwise fit into. The girls deal with issues that are supposedly cliche among sororities girls, but we see how these issues fit into the girl's lives. Though there is certainly plenty of drugs and drinking among the girls she follows, most of the shocking behavior is, to my mind, the level of conformity expected of them. The girls are pressured to only date within certain fraternities and even to dress and style their hair like their sisters.
These narratives are then contextualized with sections of statistics that back up the anecdotal experiences Robbins observed, and relevant pieces of interviews she did with hundreds of sorority girls.For example, after a section of the book where one of the girls deals with pressure to fit expectations of how to look, Robbins shares snippets of interviews that relate to the widespread incidence of bulimia. She reports of a variety of women she interviewed who claimed their sororities regularly had to call plumbers to clear out the broken pipes for that very reason.
Conversely, the most heinous scandals her reporting details are softened by the more tame narrative of the girls' daily lives. For example, Robbins writes of a sorority who allegedly had their sister date raped to rid her of her virginity. Of course this atrocious story is not typical of most sorority sister's experiences. However, one of the girls Robbins chronicles on is assaulted during her reporting, and the coverup and denial from everyone involved is shocking precisely because it is so typical. This gives Pledged a nice balance. You read the most licentious of cases and statistics, while seeing the full breadth of what four real sorority girls actually experienced, which is usually not as scandalous as the most egregious cases cited.
Alexandra Robbins has now written five New York Times best-sellers and reports for The New York Times, The New Yorker, Vanity Fair, The Washington Post, Forbes, and The Atlantic. She regularly appears on national television on shows such as 60 Minutes, the Today show, The View,and  CNN News and she has appeared as an on-air expert on hundreds of other shows on dozens of networks. Point being, she knows her stuff. If you want an unbiased report on what really happens inside a sorority house, Pledged will give you the skinny.
Loves nachos, Oakland, and books.