It's really hard to find good party planning books. Not because there aren't any books written on the topic; there are tons of them. The problem is that most of them aren't really about hosting a party at all. They are cookbooks disguised as party books. Often a publisher will have a big hit with some cookbook author and, trying to capitalize on that success, will release a sequel under the guise of the hospitality category. In fact, most booksellers don't even have a separate section for party planning, and if they do it's a small shelf in the cookbook section.
Trust, this is something I know a thing or two about. Back in the Stone Age when I was in college, I prided myself on throwing the parties that people wouldn't want to miss, and I did this at one of the top party schools in the nation (it's good to have collegiate pride, isn't it?). As a book nerd and an inexhaustible hostess, naturally I sought out books to teach me how to throw a killer party. Alas, the few books that actually aren't about cooking tend to focus on parties for kids or weddings. The few remaining books tend to focus on the most cliched of themes: how to make a sombrero for Cinco de Mayo or how to put food coloring in your punch for Halloween.
If I was going to have a theme party, it wouldn't be the same cheesy theme that you would find in these books. Forget Cinco de Mayo, I had a pajama party where you had to wear some form of lingerie or jammies to gain entrance. I threw a party in honor of a political science major where every room was themed around a country, and had a signature cocktail for that country (all attendees were given a passport that they could stamp when they drank the drink from that room). I only ever kicked out one party-goer for staying too late, and I made him pancakes before booting him off my living room floor. I loved the process of building a playlist, inviting a hundred people, and obsessing over the details.
I'm going to give you a few tips on throwing a kickass house party, the kind of stuff that should be in most so-called hostessing books but isn't. Following that I'll point you towards a few books that really do have party planning tips, beyond how to make a cake in the shape of a football.
Party Planning Tips for the Best House Party Ever
Be strategic about your furniture placement. For example, make sure the couch (or other primary seating) isn't near the speakers. The area near the speakers should be for standing only. You want people to dance, don't you? Then don't make the people sitting and conversing compete with the music.
Put a blacklight in the bathroom, and hang a mirror just outside the bathroom. That way you won't have anyone putting on lipstick and touching up make up while a line of people desperately wait to pee or puke.
Lighting is important to achieving the house party feel. Cover your lights with tissue paper, or replace your bulbs with colored lights. Remember that people look more attractive under red lighting. Tape off the light switches you don't want people to use. I've been at countless parties where someone (ahem, me) kept leaning on the light switch, intermittently filling the room with hideously bright light.
 Don't buy decor from the party store. Better to have a few strategically chosen items then a bunch of garbage hanging from the walls. I would budget for one party-decor item every party, and after throwing a few parties would start to have a collection. For example, a strobe light, an infinity mirror (see #2), a bubble machine, all these can be used again and again. Streamers, not so much.
Have a theme. It will make your party stand out from the rest, and give you ideas for decorating, music, and invitations.
Designate an off-limits room, and lock the damn door. Here's where you put family heirlooms, expensive electronics, anything you would be heartbroken if it were to be destroyed. It's also the medic's room in case someone is freaking out or sick. Finally it's where you can toss stuff that is useful to your life but detracts from your decor (e.g. bags of kitty litter, that pile of mail you've been meaning to go through).
Decorate the kitchen or put the booze in the living room. People will gather where the liquor and food are. Many a host spends hours making the living room look nice, only to find guests insist on congregating in the brightly-lit and undecorated kitchen. Don't make the same mistake.
Give invitees a month notice, and remind them of the party at least a week before. When friends have said to me, "I think I'll throw a party tonight" I roll my eyes. People have plans, and even if they don't, they know that something you threw together at the last minute is not going to be the party of a lifetime.
Ask people to contribute in ways that will make them feel special. Most party goers are happy to give back, and without guidance will bring a six pack. But if you ask them to do or bring something specifically suited to their talents, they are more likely to come to the party and it is more likely to be awesome. By encouraging musicians to bring their instruments, I've had impromptu concerts break out. For an Easter bash, I asked an artist to surprise me by filling and hiding eggs, which turned out to be a huge hit. I'm not saying if you know a professional DJ you should ask her to work for free. I'm saying that if your invitation feels personal, they are more likely to feel obligated to show up. This may be as simple as telling that same DJ friend, "hey, I picked out some songs I know you will love. Promise you'll dance with me when they play."
Death to BYOB! Asking people to bring the booze is a bit like asking them to host the party. For $100 you can get enough booze for a packed apartment. Plenty will bring wine or six packs anyhow, and if that runs out, only then should you pass the hat.
Useful Party Planning Books
As I said, most "party planning" books are really just cookbooks in disguise. However if you love to cook and that's the kind of book you're after, why not read one that is full of hostessing advice and good jokes too? Amy Sedaris is best known as the star of Strangers with Candy but with this book she proves she has another calling as Martha-Stewart-on-crack (hey, her words not mine!). You get 70 quick and easy recipes, tons of photos, and genuine hosting advice mixed in with Sedaris's kitschy humor. This book was a huge bestseller for a reason.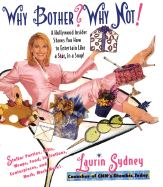 Once you get past Laurin Sydney's overuse of festive fonts, this is a terrific party book. Sydney gets that every party needs to be personalized, so many of her tips are anecdotes about parties she's planned. For example, for the invites for a Miss America-themed birthday party, the invitations were written on long strips of satin ribbon, which the guests could wear as contestant sashes at the party. Sydney also shares ideas for thank you gifts, based on the celebrities she's worked with. I appreciate that even though she works with big Hollywood stars, her ideas will work just as well with smaller budgets. She divides tips into "Baby Bothers" and "Small Bothers," as it's understood that some occasions call for more effort than others.
Danny Seo's books are books I think the Pinterest crowd will enjoy. There are a ton of DIY projects that look cute, and flipping through his book is like perusing a party-planning vision board. What makes Seo's projects unique is that they are all using recycled materials. This is great for the environment and for your pocketbook, plus all these projects are really easy to make. If you enjoy this one, note that he's written a similar book, Simply Green Parties.
Party Like a Rock Star: A Celebrity Party Planner's Tips and Tricks for Throwing an Unforgettable Bash
In her introduction, celebrity party planner Jes Gordon says "This industry is desperate for an honest, in-depth, and easy-to-follow guide on celebrating, and that's what I've written…I for one am tired of gazing upon glossy, picture-laden coffe-table books about entertaining that have a lot of beauty but not a lot of substance." YES!  She goes on to say that it isn't laid out like other books, "which are organized by type of gathering." YES again! She's not going to have pages of Cinco de Mayo recipes and tacky New Year's place settings. Party Like a Rock Star is the nuts and bolts of party planning, from setting a budget to mid-party etiquette. I only wish I'd known about this book in college.
Loves nachos, Oakland, and books.