Did you know that January is National Hobby Month? Usually thought of as a time for new beginnings and resolutions… why not indulge in something that sparks your interest and brings you joy instead. Whether getting back into an old hobby you set aside or pursuing a new passion, we have a vast selection of books and guides to get you on your way or take your skills to the next level. 2021 looks to be a wild ride, so be sure to take some time for yourself.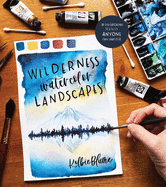 From striking desert sunsets to misty mountains to fields of gorgeous wildflowers, Kolbie Blume's projects help you learn basic watercolor skills and techniques with the added bonus of resulting in beautiful paintings worthy of prominent display in your home. Each chapter teaches progressively more advanced techniques and subjects, allowing you to build upon your skills as you work through the projects. With all the tips, tricks and techniques you need to dive into watercolor painting, this collection of brilliant watercolor projects is the perfect guide for the beginner painter and any artist looking to improve their landscape skills.
---
Bring the power of the Force to your needles with the first official Star Wars knitting pattern book. Featuring 28 knits pictured in gorgeous full-color photography, Star Wars: Knitting the Galaxy includes patterns for toys, apparel, and home decor inspired by your favorite movie moments, characters, droids, ships, and more. Projects range from simple patterns to more complex projects and even includes patterns for knitted replicas of a few iconic costume pieces, such as Luke Skywalker's cropped flight vest. With projects for knitters at all levels and a variety of techniques to practice, it's the perfect book for knitting fans across the galaxy.
---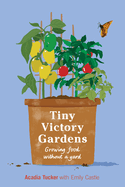 Climate activist and farmer Acadia Tucker fell in love with container gardening after glimpsing its potential to produce food–lots of food. By applying select growing practices, and managing for square inches rather than square feet, she has come up with instructions for growing a small-scale farm in your patio, on your stoop, or in your dining room. If all you want is a garden just big enough to line a windowsill, she's got you covered there too. Her goal is to make it easier for anyone with access to a patch of sun to grow and harvest food. No backyard required. Tiny Victory Gardens includes step-by-step guidance on finding the right containers, prepping your soil, growing plants indoors and outdoors, and raising crops all year long. She offers tips on attracting pollinators, and how to build microbe-rich living soil. She shares hacks that help you cut back on watering, and how to ditch harmful pesticides and fertilizers. She also makes a case for why it's practical to develop food gardening skills in a climate-whipped world. Tiny Victory Gardens is both a call to action, and guidebook. It's for people who don't have much space and want to make the most of it.
---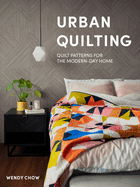 Perfect for beginners, this quilting book features simple illustrations and easy-to-follow steps that teach you how to make up to 30 beautiful quilts in a short amount of time! A comprehensive guide for both first-time quilters and those looking for a refresher course, Urban Quilting teaches you everything you need to know about this timeless craft. Each pattern contains instructions for three different quilt sizes, with designs that feature bold colors and geometric shapes that will stand out and look stunning in your home. Insightful information on the history of quilting and how today's quilters are modernizing the craft.
---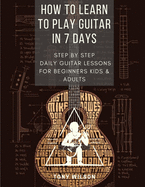 The goal of this manual is to get you playing the guitar quickly and easily. You will see daily improvement. All your practice is already planned from start to finish. This is the key to your success, and it helps you achieve in one week what many people take years to learn. This is a simple book with clear, practical, and easy-to-follow instructions and illustrations. Learning to play the guitar will be a rewarding experience if you stick with it. How to Learn to Play Guitar in 7 Days is an enriching experience with many rewards along the way.