Before the interview I must disclose that I know Corina Vacco from a writers group in Berkeley. But please don't think this is a situation where I'm eager to share the writing of a friend. No! It's quite the opposite: from my first exposure to her prose I determined to ingratiate myself into her world. I'm like the scheming school girl who calculates her rise to power by hobnobbing with the appropriate athletes, except in my case switch skilled cheerleaders and footballers for talented poets and novelists. And Corina Vacco is just such a talent; you must expect climbers like me perpetually grasping at her limbs.
Her writing has it all: fast-paced plots, witty dialog, clever characters you want to care about. But what I love most about Vacco's prose is the imaginative world she creates. In her debut novel, My Chemical Mountain, she paints the toxic dump where the boys play as a truly magical place. You feel the wonder they feel at the strange things they discover, and share the protagonist's desire to protect the specialness of that place. At the same time the reader knows that the chemical mountain—and the villains who created it—are more dangerous and unstable than the boys realize. The tension created by this dramatic irony is just one element in an already arresting plot. Did the company that dumped the toxins kill Jason's father? Will Jason get revenge? How did Cornpup get those strange bumps? Will Charlie destroy himself? Will Jason's mother find peace? Will the mountain be destroyed? Vacco's prose pulls you from one page to the next.
Thus, while it is true that I know Corina Vacco, it is only because when I meet a fantastic writer I scheme to befriend her. Unfortunately for Corina, she is a total gem of a person who had no idea what a rogue she was getting mixed up with. But fortunately for you, it means now you can get to know this fantastic writer too.
I've read My Chemical Mountain, but could you describe it in your own words?
My Chemical Mountain is a coming-of-age story about three lifelong friends whose reactions clash when a rogue chemical company kills one boy's father and blatantly contaminates their blue collar town and favorite summertime swimming hole. It's a story about revenge, eco-terrorism, landfill folklore, industrial wonderlands, undying loyalty, imperfect love, and huge mistakes.
Your book has a really strong environmental theme. How did that come about?
When I was living in New York, one of my friends invited me on a "toxic tour" of her neighborhood. We visited a contaminated landfill, a radioactive creek, and some boarded-up homes. She and her husband told stories about growing up amid unspeakable pollution—splashing in puddles the color of anti-freeze, navigating their bikes down the landfill's slopes, crazy stuff—and I was blown away. My main character's voice appeared in my mind soon thereafter. I asked him questions: What is it like to live near one of the most poisonous landfills in the world? Why do you and your friends swim in the creek when you know it's not safe? Are you furious about what happened to your father? He answered, "Yeah, I'm furious. And I want revenge." I ended up driving out to the industrial yards alone, parking my car at the foot of a radioactive landfill, and drafting the outline for this book then and there.  
Do you think your books will all have a strong environmental theme? Or a strong social theme? Or is that just what you happened to be excited about for My Chemical Mountain?
Definitely. But the darkness and intensity of My Chemical Mountain took a lot out of me, so you can expect to see lighter, more playful works from me from now on!
I love that despite the environmental theme of your novel, you never come across as didactic. How do you avoid sounding preachy? Any tips you can give to authors in that regard?
I can't stand preachy books—hated them as a kid, still hate them now—so for me, it was instinctual. I never wrote a sentence I wouldn't want to encounter as a reader. My focus was on telling a compelling story and introducing memorable, interesting characters. These characters had very different coping mechanisms and chose very different paths, so lots of perspectives were given airtime. Then I left it up to my readers to decide what speaks to them and where to go from here. My advice to authors in this regard is to always, always, always make it about the story.
Your settings are so imaginative, that even when you are writing about something set in the present reality we know, it has an otherworldly feel. Do you do research for your setting, or does it all just flow right out of your head?
When I wrote My Chemical Mountain, I was living near some of the most contaminated landfills in the entire country, so I could smell the air, and see the ugliness, and feel the hopelessness all around me, and it seemed I had no choice but to process it all through the written word. But I wanted to infuse it with something special, wanted to convey the wonder my characters felt (as children) growing up near creeks the color of antifreeze, crumbling abandoned factories, and fields of buried barrels, how it had become their territory in a way. That part—the industrial wonderland part—was pure imagination. My works in progress (middle grade mysteries) are very different in that they're all set on islands that don't exist, so I'm free to pull anything and everything from my imagination—although I should note that my travels (to Cambodia especially) and newspaper clippings of bug infestations from around the world have definitely given me fodder.
Your novel has a young male protagonist. Is it because you yourself have a son? What were the challenges of writing a male protagonist?
I wrote My Chemical Mountain before I knew I'd be a mother, let alone the mother of a son, so that wasn't a factor. What was a factor was my protagonist himself. Jason's voice appeared in my head, and he wouldn't leave. I couldn't have written him as a girl if I'd tried. I think that's when you know you've got a solid character: when that character's voice drowns out your own. I wouldn't say there were challenges to writing Jason's voice, but there were definitely challenges in letting him steer the story the way he did. Jason and his friends do many, many things I would never do, they take risks I would never take, and they make some heartbreaking choices. Of course I wanted to reel them in and protect them from themselves, but I couldn't. I had to let them be. That was hard, especially when it came time to write the ending.
What books have influenced your writing?
Anything by Stephen King, who taught me to write on the edge; or Roald Dahl, who gave me permission to unleash my weird, wild imagination; or Anita Shreve and Laurie Halse Anderson who showed me how to write lyrical prose; or Tim Tharp, who's a master of the ever-elusive "voice"; or Chuck Palahniuk, who challenged me to always be original; and all the authors in-between. I read constantly, and I read everything. The books that most influenced My Chemical Mountain in particular were S.E. Hinton's The Outsiders, and Stephen King's short story "The Body," which was later adapted into the film Stand By Me. But the books that have influenced my current works in progress are more playful: Charlie and the Chocolate Factory, The Golden Compass, and the Sammy Keyes mysteries come to mind.

I adore The Golden Compass. Who are some current YA authors you admire? Or under-the-radar books you're obsessed with?
Tim Tharp, who's not technically under the radar (his book The Spectacular Now won the National Book Award), but I have to mention him because he's brilliant. Books I've read recently and loved include the hilarious Side Effects May Vary by Julie Murphy, the creepy Beware the Wild by Natalie Parker, the mysterious Greenglass House by Kate Milford; and then I'm going to throw in a middle grade book that I'm thoroughly enjoying, the delightful Here Be Monsters! (also known as the inspiration for the film The Boxtrolls) by Alan Snow.
How long did it take you to write the novel? What were the biggest challenges and struggles in bringing it all together?
It took under a year to write the book. From there, the real work began. I revised and revised, got really great feedback from agents, revised some more, went to SCBWI conferences, revised even more, circulated the manuscript through my critique group, and revised even more after that. All-in-all—because it was my first book and I deviated so much from my original outline and had so much to learn overall—it took nearly five years from idea to contract. My subsequent books have been much faster, because now I know all the things I didn't know before.
What is your next novel going to be about?
It's a middle grade mystery about a fashionista who visits her estranged father on Lush Island, the only place in the world where birds and butterflies still exist, and ends up falling in love with all its strange wonder. She hatches a plan to stay on the island and reunite her parents via her very own Island Punk fashion show, but she's up against her scheming almost-sister (daughter of her father's snarky new fiancé), some seriously suspicious bug infestations, and an unknown villain who's secretly importing a poison that's sure to scorch the entire island. Stay tuned…
An Excerpt from My Chemical Mountain by Corina Vacco
Charlie takes Dad's switchblade from his pocket. It springs open. I remember how Dad used the blade to prune tomato plants.
"What's that for?" I ask him.
He stabs a tire, and it deflates quickly. The truck is now leaning forward and to the right. He stabs another tire and another.
"Don't," I say.
For Charlie, this is not about Mareno Chem of Phenzorbiflux or a fence around the creek. He just wants to destroy something, to hear the hiss of a ruined tire.
"Stop," I say.
Cornpup takes a can of spray paint from his paper bag. He shakes it, and i can hear the little metal ball bouncing around inside the canister. I look at him like he's nuts.
"They started it," he says. "They're the ones dumping chemicals illegally. This is me being nice. They deserve worse than spray paint."
He sprays STOP DUMPING HERE in red on one side of the nearest truck.
The fumes remind me to take off Dad's jacket. I turn it inside out and fold it into a neat square, which I then place on a ledge about ten feet away from Cornpup and the red spray paint.
"Here." Cornpup tosses me a canister of black. "Write something. It feels good."
I hesitate only a couple of seconds before shaking the can and spraying MONSTERS alone one side of the truck. Along the other side I spray GET OUT OF HERE. Cornpup is right, this does feel good. We're sending a message to the people who took Dad away from me.
Cornpup writes, YOU COLOR OUR WATER, WE COLOR YOUR TRUCKS.
There is a burst of light.
We squint at the brightness.
A man yells, "What the hell is going on in here?"
Charlie says, "Oh crap."
We drop our paint cans and run.
I remember last summer when Cornpup opened the Freak Museum in his bedroom. He started with a two-headed frog in a relish jar, and a huge, tumor-covered fish from Lake Erie in a jar that once held pickled eggs. Later he displayed a dead blue jay with deformed wings. Then I donated an old tennis shoe that melted when I stepped in a green puddle outside the dye facility. Charlie showed up with two dead squirrel babies, joined at the head. Almost once a week we would swim the creek with jars, until we had a whole collection of colored wtare samples that still shine like stained glass when you hold a flashlight to them. We were hunters, always looking for something strange and gory. When Cornpup found the corpse of a snake that exploded from trying to eat a mutant rat, Charlie said, "That's what I'd do if a snake tried to eat me. I'd burst right out of its stomach."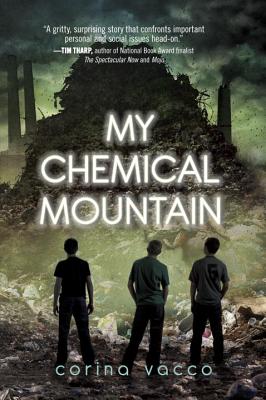 by Corina Vacco
Winner of the Thirtieth Annual Delacorte Press Prize for a First YA Novel
Bank Street Best Book of 2014

Jason and his friends live for the rush of racing their dirt bikes on Chemical Mountain and swimming in chunky orange Two Mile Creek. But they hate wealthy and powerful Mareno Chem, the company responsible for invading their territory, polluting their town, and killing Jason's father. The boys want to get even. But revenge has a price—and more than one person will pay.
Loves nachos, Oakland, and books.