Which Fitness Books Should You Buy? Which Should You Avoid?
Dr. Karl Knopf Shares the Skinny on Getting Skinny
As part of our celebration of this brand-spanking New Year we're getting to know some of the top fitness books to help you tackle those New Year's resolutions. Everything I learned about physical fitness comes from Dr. Karl Knopf, author of 24 fitness books and the current Director of Fitness Therapy and Adaptive Fitness for the International Sports Sciences Association. I had a chat with Dr. Knopf to get some tips on sticking to those exercise goals so many of us have made in 2015.
KB: As professionals like you advance the science, inevitably formerly common exercise techniques fall out of favor. Are there some things that you often see written in fitness books that just aren't true any more?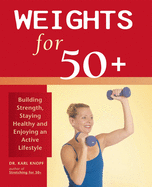 Dr. Knopf: Yes, I find in the fitness world what is "old" is new again. Boot camps are in, but ask any old soldier and they hated it. Even kettle bells are in and they were "in" a hundred years ago.  The problem with us Americans is we want results now!  Health and fitness is a lifetime activity. Fitness is just like brushing your teeth, you can't just brush your teeth once in awhile; you have to do it daily over a lifetime.  The funny thing about "health clubs" is that it's not about health at all, it is about sales of personal training and memberships.
Be careful of full squats, dead lifts and explosive boot-camp moves.  Flipping truck tires or hammering tires with a hammer may make you strong but at what cost to your joints ten years from now? Look at most professional athletes who trained hard but not smart and can't walk today.  I suggest mild to moderate exercise is the key and if you feel worse tomorrow then that exercise is not for you.
KB: When reading a fitness book, is it important to read it from cover-to-cover first? Or can you just read the introduction, dive in and start on the first exercise?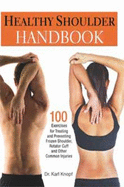 Dr. Knopf: That is hard question—it depends on your personality. Most of us are in a rush to get fit so we dive right in; some people are thinkers, so they think so much about getting started they never start.  In a perfect world, try to ask your health professional their thoughts about the book.  If you do just jump in, start slow and see how your body responds. Slow and steady wins the fitness race.
KB: Some of your books are focused on exercise for those with injuries, like The Healthy Shoulder Handbook, or books for seniors like Weights for 50+. How can those of us without personal trainers avoid exacerbating whatever injuries we have?
Dr. Knopf: Listen to your body—the best personal trainer is yourself.  If it does not leave you feeling better find another exercise. The only perfect exercise is the one you enjoy and that doesn't leaving you hurting.
KB: You know a lot about healthy living, but what you have you learned from writing fitness books and living and teaching fitness for 40 years?
Dr. Knopf: I have exercised most my life. On a good day I weigh the same weight I weighted when I wrestled in college. However, after living in this world for almost 63 years, I have learned try to be active everyday. Cross-train walk one day, swim the next, lift weights several days per week. Try to get foods that come from around the perimeter of the store, avoid the aisles where the processed foods are. Eat foods as close to the way Mother Nature made them.  If you cannot pronounce the ingredients try to avoid them.
KB: If readers can schedule ten minutes a day for fitness, what one simple exercise would you recommend?
Dr. Knopf: WALK. Take the stairs, stand when talking on the phone—move it or lose it.  Try to do functional exercises, sit to stand, stretch, smile more and be nice to everyone. Research shows that having a positive attitude is maybe more important than being skinny.
KB: What's the best tip you can give for sticking to those New Year's fitness resolutions?
Dr. Knopf: Forget New Year's resolutions; you will not follow them.  Make a contract with yourself, and give yourself a reward if you complete it.  Consider this—What you do today determines your tomorrows.
Try to be active everyday—park far away in the parking lot, smile at children, say hi to strangers. Try to drink and eat healthy 80% of the time, be kind to yourself in word and deed.  Fire any trainer who says, "work harder go faster." Train smart not hard, a little bit of anything is better than a lot of nothing.
KB: Aside from your own books, what are some of your favorite fitness books?
Dr. Knopf: I love an old book titled Rating the Exercises by Charles Kuntzleman. While it is dated he is current about exercises to avoid.  Another old book that it great is The Exercise Health Connection by David Nieman Ph.D. [I also like] the third edition of ACSM's Exercise Management for Persons with Chronic Diseases and Disabilities.
KB: What is one of your favorite exercises from your many books?
Dr. Knopf: My favorite exercise is the resistance bands—you can pack them in a suitcase and get a total body work out right in your hotel room or on the beach, in the park or your back yard.
KB: Anything else you'd like to add?
Research supports the conclusion that we can control many aspects of our own aging. Many scientists believe that with a healthy and strong lifestyle, we may be able to turn back the biological clock 10 to 20 years or at least slow it down.  Fortunately for all of us, the fountain of youth has been discovered. It is not found in a bottle or in a pill or even in an injection. It is found in a daily dose of prudent exercise that includes strength training. Unfortunately, I had a client come up to me and say "If I knew I was going to live this long I would have taken better care of myself," don't let that person be you.  Research shows that it is never to late to feel great and a sensible exercise strength-training program is the way to begin.
Loves nachos, Oakland, and books.